Bless My Soul! Get ready to celebrate 50 fabulous years of the sensational Science Fiction Double Feature as Richard O'Brien's Rocky Horror Show gets ready to thrill once more at Blackpool Grand Theatre from Monday 13 to Saturday 18 February 2023.
Tickets are already selling fast for the boldest bash of them all! Book yours now!
Bursting at the seams with timeless classics, including Sweet Transvestite, Damn it Janet, and of course, the pelvic-thrusting, floor-filler Time Warp; The Rocky Horror show is a guaranteed non-stop party that's ready to delight you once again with its frothy, fun, and naughty moments, much-encouraged audience participation and, of course, outrageous outfits!
Follow squeaky clean college sweethearts Brad and Janet on an adventure they'll never forget when, by a twist of fate, their car breaks down outside a creepy mansion whilst on their way to visit their former college professor. There they meet the scandalous Dr Frank N Furter, the rippling Rocky and the vivacious Magenta and the cute couple's lives will never be the same again…
Since it first opened in London in June 1973 at the Royal Court Theatre Upstairs, Richard O'Brien's The Rocky Horror Show has become the world's favourite Rock 'N' Roll musical, having been performed worldwide over 45 years in more than 30 countries and translated into 20 languages.
This musical extravaganza continues to play to packed houses and shows no signs of slowing down! This is theatre is in full throttle and this extraordinary new cast of West End stars includes Stephen Webb (Jersey Boys/Legally Blonde) taking on the iconic role of Frank N Furter. We talked to Richard about the phenomenon that is the Rocky Horror Show and how it all began…
How does it feel to see the incredible success the Rocky Horror Show has had?
Richard O'Brien – "I hope what I've done professionally on stage has entertained and made people feel a little bit better when they leave the theatre. I've never done anything for back-slapping purposes, to make myself feel elevated in any kind of way. I'm just so grateful that I've been part of something that has so uniquely left its mark.
I remember a director once told me, 'There's only one thing you should do in your life, Richard, and that's realise your dreams. A lot of people will try and stop you achieving those dreams but the only real person who can stop you is yourself.' I was young and he was old and it was the first time a grown-up had ever said anything so joyous to me, so wonderfully liberating. Everybody else said, 'Be careful, get a proper job, get your degree as a plumber. Don't get these lofty ideas.' As it says in the show, "Don't dream it, be it."
Why do you think Rocky Horror is still so popular?
"It's very inclusive, it's very easy to watch. It's not rocket science as far as narrative is concerned - Brad and Janet are a couple that we kind of recognise as Adam and Eve or Romeo and Juliet, like a stereotypical couple - we can all relate to them. It is a fairytale - we even like the nasty characters, we love the Cruella De Vil kind of character, Frank N Furter. The fact that it is such light-hearted naughtiness, combined with root fairy tales has a lot to do with its longevity."
What was happening in your life at the time you wrote The Rocky Horror Show?
"I was a recent father of my first child and out of work when I wrote the show. 1972-73 was a moment of change. Glamrock and overt sexuality was around, gay people were coming out and there was a 'buzz' in the air. There are certain parts of the world where we are a little bit more free to be ourselves. London is certainly one of them. Back in the Seventies you had gay bars, but now you don't need to because if you walk into most bars in London there will be a gay man behind the bar. That is rather nice."
What was your inspiration when writing the show?
"I have a very low-brow approach to life, I like Populist kinds of themes - comics and rock'n'roll and B movies. The plot and dialogue for The Rocky Horror Show are raids on populist things: from advertising, from comics, from B movies, from sci-fi. It's a complete and utter raid upon all those elements; a joyous raid."
Do you have a favourite character?
"I would have loved to have played Rocky, that would have been cool, wouldn't it? But one thing is essential, you have to be rather handsome and you know, muscular, and that ain't going to work. I could have played Janet. They're all so stupidly wonderful these characters, they're iconographic."
How do you think the live shows compare to the film?
"The live show has an energy that the movie doesn't have - it wasn't intentional, but the film was very slow. Once some fans came up to me and said, "did you leave the gaps between the lines so that we the audience could say our lines?". I said, "Well, ok yes". But no we didn't. The movie is a very surreal, almost dreamlike journey, the live show is far more rock and roll."
What advice do you have for anyone that is new to Rocky Horror?
"None - just come with an open heart and a good will or not at all. I always worry that maybe the fans might steal the evening. I don't ever want the show to be just a few people having fun and the rest of the audience thinking that they've arrived at a party that they weren't invited to, so that's important."
What's your favourite part of the show?
"The noise at the end of Rocky is wonderful – it is empowering and exhilarating at the same time it is quite joyous. Rocky never fails to deliver. Each performance lifts the heart and the nightly laughter and roars of approval leave the whole cast with a sense of wellbeing and accomplishment that you rarely get from any other shows."
What sets Rocky Horror apart from other musicals?
"When it was written, it didn't follow any kind of formula. The songs aren't showbizzy. So many new musical numbers you hear now, if you didn't know what song it was you would instantly know it was a Broadway song. I find that a bit annoying. If you're going to spend a bit of money on a night out it's good to know that you're spending it on something you're going to enjoy. It's a rock'n'roll show with a storyline on one level, it's a fairy tale on another level, and it's as enjoyable and silly as a Carry On on another."
How different do you think your life might have been without Rocky?
"I have no idea but, I would have had a good life because I am made that way. My journey has been a different one than others. I guess some people have a game plan. I would imagine they're rather humourless. Most of us get an opportunity and we wing it. Luck plays an awfully big part in our lives. You should never underestimate that. I am the luckiest person on the planet. I shall be happy as long as I can keep singing."
Show producer Howard Panter said: "Rocky Horror has always been a show I loved, since its earliest days in the Kings Road. Richard O'Brien and I are delighted this non-stop party continues to thrill audiences across the world, and we look forward to the next 50 years!"
Is it your first time to the Rocky Horror Show? Don't worry Rocky Horror virgins, you don't have to dress up in fishnet stockings, suspenders and a basque! Although you will fit right in if you do and, of course, females may also wear these items!
Be a sexy French maid like Magenta, sport a top hat and shorts like Columbia, dress preppy and clean-cut like Brad and Janet or go full Dr Frank 'n' Furter in a glamorous lace corset and high heels – it's up to you! Or just wear something casual and comfortable for the rockiest night of your life! Everyone is welcome.
Book your seats now and get ready to dress to impress for a fabulous night of fun, frolics and frivolity!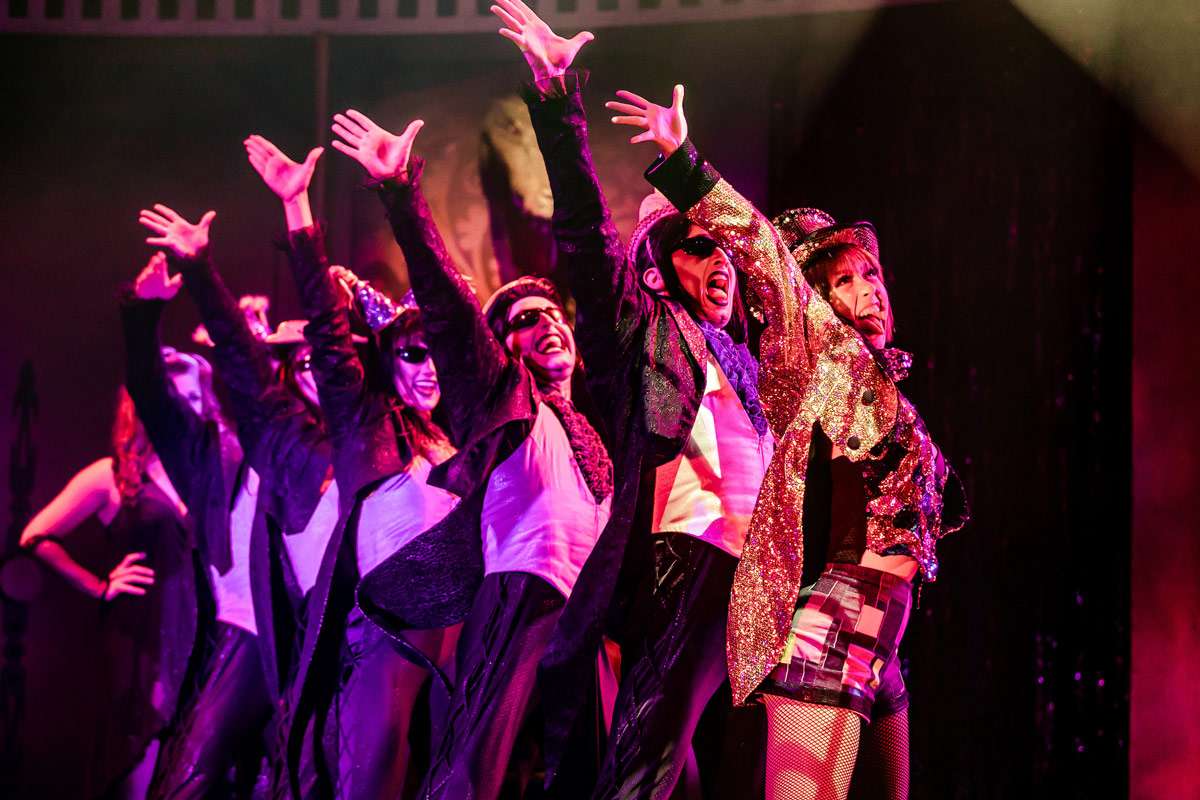 The Rocky Horror Show is at Blackpool Grand Theatre from Monday 13 to Saturday 18 February 2023. Monday to Thursday at 8pm. Friday & Saturday 5.30pm & 8.30pm.
Book now by visiting blackpoolgrand.co.uk or call the box office on 01253 290 190.
Related
2 Comments