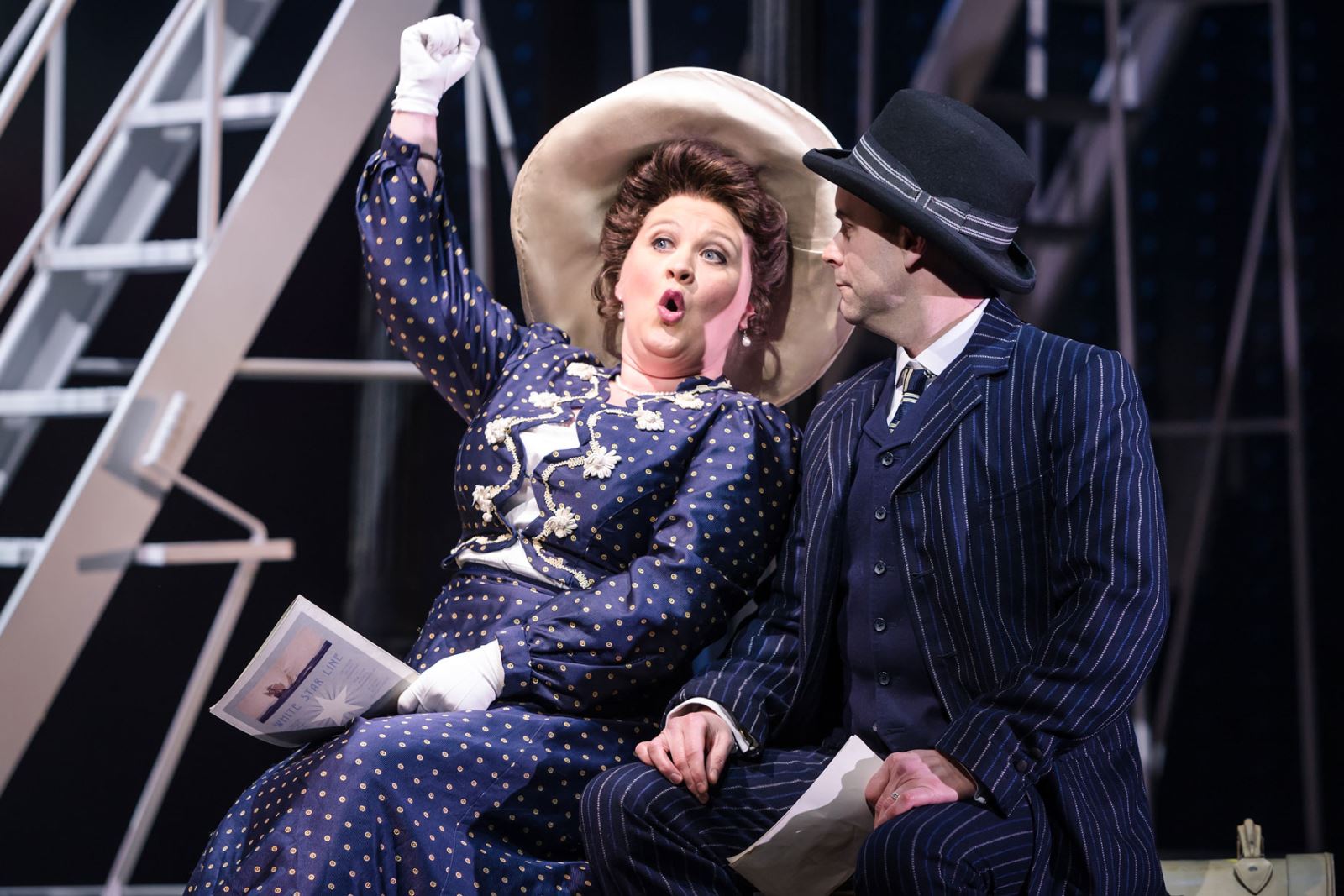 Bring some much-needed colour to your long, dark January nights and book tickets for an amazing line-up of live entertainment at Blackpool Grand Theatre that's guaranteed to lift the heart!
Experience the sheer magic of beautiful live ballet with Giselle, Swan Lake and The Nutcracker; the magnificent West End musicals Rocky Horror Show and Titanic; or the must-see dramas Around the World in 80 Days and How Not To Drown this winter. It's the perfect way to beat the January Blues!
The New Year is traditionally a time for new beginnings and optimistic thinking - but for some there can be a sharp dip in that positivity during the bleak January days and nights. In the US, these feelings are famously called the Holiday Blues and Blue Monday, which falls on 16 January this year, is said to be the most depressing day of the year…
But never fear! Blackpool Grand Theatre is here to help with a whole host of heart-warming shows on offer from January right through to March to help you enjoy the incredible shared experience of live theatre and light up your lives this winter!
World-class Ballet dances back into Blackpool Grand in January with spectacular performances from the critically acclaimed Varna International Ballet & Orchestra. Fall in love with the exquisitely emotional tale of Giselle on Friday 13 January, fly to get tickets for the greatest romantic ballet of all time as Swan Lake is brought beautifully to life on Saturday 14 January by Tchaikovsky's haunting and unforgettable score, and treat the whole family to the most famous of fantasy ballets The Nutcracker on Sunday 15 January.
Marvellous Musicals include Richard O'Brien's riotous Rocky Horror Show bursting at the seams ready to thrill once again in its fabulous 50th anniversary show from Monday 13 to Saturday 18 February with its frothy, fun and naughty numbers, and the five-star theatrical masterpiece Titanic the Musical from Tuesday 21 to Saturday 25 March with the stirring acclaimed production that has enraptured theatregoers time and time again.
Quality Drama offers us the chance to experience exciting events we can only imagine and makes us question our preconceptions. Race for tickets for the madcap new telling of Jules Verne's famous tale Around the World In 80 Days from Tuesday 28 February to Saturday 4 March, captivating everyone from young to old in a real circus of a show! and renowned theatre company ThickSkin presents the stirring story of positivity, hope and adventure How Not To Drown from Wednesday 15 to Friday 17 March - a fast-paced physical theatre production sharing the uplifting and inspirational true story of an eleven-year-old unaccompanied asylum-seeker, performed by an ensemble cast starring Dritan Kastrati himself. Not to be missed!
The Grand's glorious live show guide will also continue right throughout 2023 with even more big-hitting musicals and dazzling dramas:
Get ready for a real monster of a family show with Shrek the Musical from Blackpool Operatic Players from Wednesday 5 to Saturday 8 April; Rave On with the rock'n'roll spectacle Buddy - The Buddy Holly Story making a rocking return from Tuesday 25 to Saturday 29 April; there's no place like The Grand to be swept away by Blackpool & Fylde Light Opera Company with the Royal Shakespeare Company's amazing stage adaptation of The Wizard of Oz from Wednesday 31 May to Saturday 3 June, and Disney's Winnie the Pooh bounces in from Monday 14 to Wednesday 16 August with a sweet new adventure through Hundred Acre Wood.
Period Drama goes Pop as the award-winning Pride and Prejudice (*sort of) perfectly joins Jane Austen's legendary tale of love and marriage with top pop hits in this hilarious modern-day musical from Tuesday 2 to Saturday 6 May; Hail Caesar! The Royal Shakespeare Company marches in from Tuesday 16 to Saturday 20 May with William Shakespeare's fast-paced political thriller Julius Caesar; Dickens goes digital as Oliver Twist gets a marvellously modern re-telling from author and poet Michael Rosen in Unexpected Twist from Tuesday 23 to Saturday 27 May; celebrate 70 years of Agatha Christie with the genre-defining murder mystery The Mousetrap; and Northern Broadsides' revival of JM Barrie's delicious comedy Quality Street from Tuesday 27 June to Saturday 1 July stirs in a good helping of Yorkshire wit from the retired workers of the Halifax factory where Quality Street have been proudly made since 1936.
The Blue Monday date was first published in a press release under the name of Dr. Cliff Arnall, who was at the time a tutor at the Centre for Lifelong Learning, a Further Education centre attached to Cardiff University. Dr Arnall considered a range of factors when creating his famous formula - including emotional connectedness, levels of kindness, honesty and fun.
He also devised the mathematical formula for happiness as 'K + C + P + (A5 x W) – EO'
(Full details in Editor's Notes). Arnall himself now campaigns against the concept of Blue Monday via Twitter as he wants Blue Monday 'to inspire people to take action and make bold life decisions.'
Five top tips to help beat the January Blues:
1. Make the most of the daylight - While it might not always seem appealing due to the cold weather, being outdoors in the sunlight can make you feel better and give you more energy. Exposure to natural light increases the levels of serotonin in the brain, which is associated with improved mood
2. Exercise - One of the best ways to improve wellbeing and mood is to get some exercise. A brisk walk with friends can be a great way to get some fresh air and release endorphins which will make you feel better
3. Eat properly - What we put in our bodies can make a huge difference to our mood. When feeling down, you're more likely to eat poorly, and either eat too much or too little. Having a varied, balanced diet can work wonders to improve your mood
4. Get lost in a great live entertainment show - Take the good Doctor's advice and book your seats for a sensational live show at Blackpool's Grand to experience the very best in ballet, musicals and drama. They are the ultimate feelgood factor.
5. Be kind to yourself - Many people set unrealistic New Year resolutions and then feel a sense of deflation and failure when they can't keep them. Remember to slow down and make some time for yourself.
Make it your resolution to experience the joy of live theatre in 2023…
Please call the Blackpool Grand Theatre Box Office on 01253 290190 or visit www.BlackpoolGrand.co.uk for full listings, bookings and further information on all our live show events.
Related
0 Comments