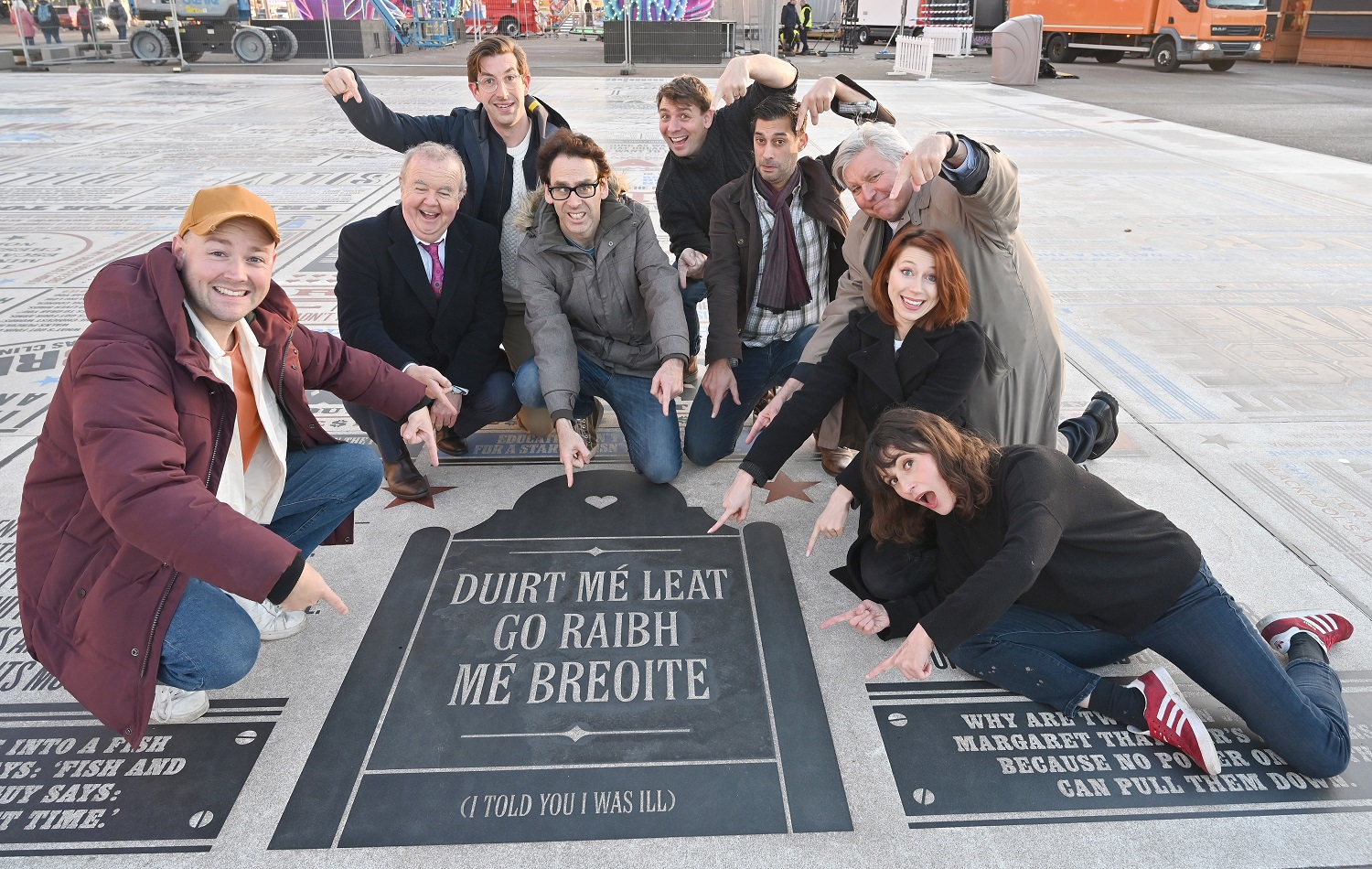 It's good to be alive! A full star cast for the celebrated Spike Milligan comedy SPIKE has been announced for Blackpool Grand Theatre from Tuesday 15 to Saturday 19 November.
Radio sensations The Goons are back! Robert Wilfort (Gavin and Stacey, Bridgerton) will play the infamous Spike Milligan, Patrick Warner (The Crown, One Man, Two Guvnors) is Peter Sellers and Jeremy Lloyd (The Comedy About a Bank Robbery, Trial by Laughter) is Harry Secombe in the absurdly funny new play SPIKE about the life and career of the inimitable comedy genius.
Top TV comedienne and podcaster Margaret Cabourn-Smith (Motherland, Miranda, Buffering) will also join the famous Eccles, Count Jim Moriarty and Bluebottle to reprise her role as Janet the irrepressible sound assistant.
It's 1950s austerity Britain, and out of the gloom comes Goon mania as men, women and children across the country scramble to get their ear to a wireless for another hilariously anarchic instalment of The Goon Show. While Harry Secombe and Peter Sellers get down to the serious business of becoming overnight celebrities, fellow Goon and chief writer Spike finds himself pushing the boundaries of comedy and testing the patience of the BBC.
Flanked by his fellow Goons, Spike takes a flourishing nosedive off the cliffs of respectability and mashes up his haunted past to create the comedy of the future. His war with Hitler may be over, but his war with Auntie Beeb - and ultimately himself - has just begun…
Will Spike's dogged obsession with finding the funny elevate The Goons to soaring new heights, or will the whole thing come crashing down with the stroke of a potato peeler?
Delve into the inner workings of one of our most unique and brilliantly irreverent comedy minds with the latest exciting project from talented co-writers Ian Hislop (BBC's Have I Got News For You team captain and editor of Private Eye) and Nick Newman (writer and satirical cartoonist).
Ian Hislop said: "It's a privilege to take SPIKE on tour, exploring the genius of Britain's most inspirational and ground-breaking comedian. And of course, it's another chance to steal all his jokes and pass them off as our own. Spike Milligan may be Goon, but he's not forgotten."
"I'm not acting crazy. I'm the genuine article" – Spike Milligan
And there's more where that came from…
Do you want to know more about the glorious Goon Show?
The Goon Show was a radio comedy broadcast by the BBC in the UK between May 1951 and January 1960. There were ten series in total and the ever-popular shows were also released in other countries across the world including Australia, South Africa, New Zealand, India and Canada. The Goons changed the face of British comedy and influenced many later comedy stars including Monty Python, Eddie Izzard and more. Episodes of The Goons continue to be repeated around the world today.
The Goons contained a very large number of characters. With only 3 main cast members, not only did each of them take on multiple roles, but the musicians and announcer were also often to be found in it - right in it!
Here's a handy guide to the Goons…
Ned Seagoon - played by Harry Secombe - An honest but gullible idiot, around whom the plot revolves. The patriotic Neddie is always willing to lay down his life for his country. He is often unemployed, some episodes begining with him accepting a new job which leads him into to trouble. Many jokes are made about his short yet rounded appearance. Catchphrases include "Hello folks", "Needle nardle noo", "What,what,what,what,what" and "I don't wish to know that".
Eccles - played by Spike Milligan - The Famous Eccles - a complete and utter idiot. An amiable, well-meaning man with no wits or understanding. When people tell him to shut up, he frequently joins in and often goes on telling himself to shut up long after everyone else has given up. Eccles often finds himself helping Ned Seagoon alongside Bluebottle. His idiotic logic is considered to epitomize Goon humour. Catchphrases include "Hello der", "Fine, fine, fine", "I'm the famous Eccles" and "Shut up Eccles".
Bluebottle - played by Peter Sellers - A young, lustful boy scout with a squeaky voice who normally gets blown up in each episode. He is often a companion of Eccles and is willing to help anyone for sweets, although he frequently fails. Bluebottle is noted for using tools or weapons made from cardboard and string. He often reads his stage directions out loud and is always greeted with a deliberate round of applause from the audience. The character is based on real scout master with a squeaky voice. Catchphrases include "Enter Bluebottle, waits for applause...Not a sausage", "You rotten swine, you deaded me" and "I don't like this game".
Spike Milligan and Peter Sellers also played the marvellously madcap supporting characters Henry Crun, Minnie Bannister, Major Dennis Bloodnok, Hercules Grytpye-Thynne and Count Jim Moriarty among others. Visit www.thegoonshow.net for a full insight into the wonderfully wacky world of The Goons!
Relive the weird and wonderful time of The Goons once more with Ian Hislop and Nick Newman's SPIKE at Blackpool Grand Theatre from Tuesday 15 to Saturday 19 November starring Robert Wilfort (Gavin and Stacey, Bridgerton), Patrick Warner (The Crown, One Man, Two Guvnors), Jeremy Lloyd (The Comedy About a Bank Robbery, Trial by Laughter) and TV comedienne and podcaster Margaret Cabourn-Smith. It's not to be missed!
Book now! Tickets starting from £17.50, concessions and member discounts available
Contains strong language, references to suicide, loud bangs, strobe lighting and the use of prop cigarettes and guns on stage. Recommended 10yrs+
Book now by visiting blackpoolgrand.co.uk or call the box office on 01253 290 190.
LISTINGS
SPIKE – Tue 15 to Sat 19 Nov 2022 at 7.30pm
Wed, Thu & Sat matinees at 2pm
Grand Theatre, 33 Church Street, Blackpool FY1 1HT
Box Office 01253 290 190
blackpoolgrand.co.uk
Facebook - @blackpoolgrand
Twitter - @Grand_Theatre
Instagram - grandtheatrebpl
Related
0 Comments