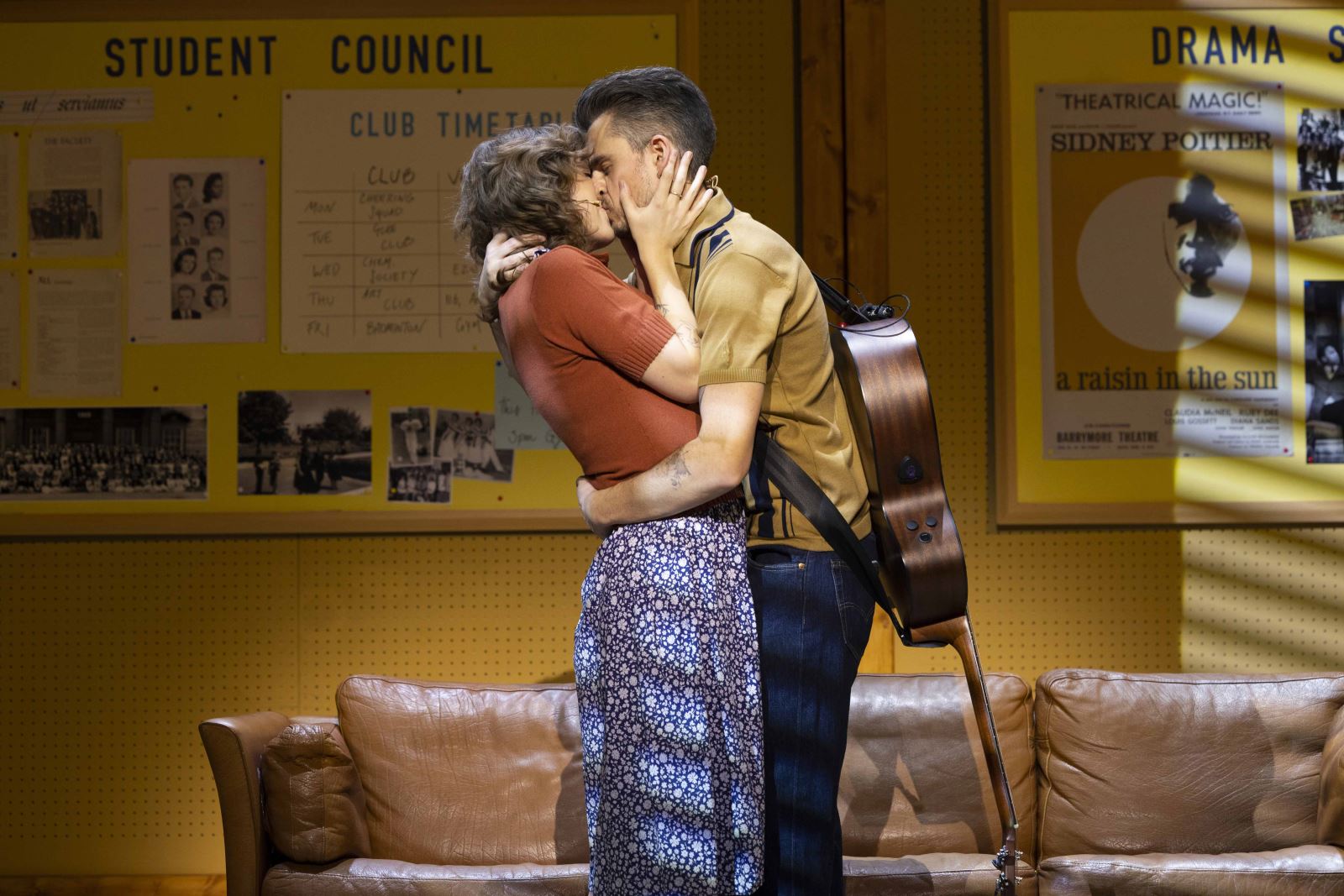 Top theatre star Molly-Grace Cutler (The Worst Witch, Girls Don't Play Guitars) hits all the right notes as music legend Carole King in the powerful new production of Beautiful – The Carole King Musical at Blackpool Grand Theatre from Tuesday 18 to Saturday 22 October!
The magnificent Molly-Grace takes lead vocal to perfectly portray Carole King's remarkable rise from schoolgirl singer/songwriter to chart-topping music superstar, through the soundtrack of a generation.
But what can audiences expect when they come see this smash-hit West End and Broadway show? We asked Molly to tell all:
"It's done by a full company of live musicians, which is very different to the original Broadway and West End productions and previous tours," said Molly. "It's a really feel-good musical. It's emotional and very heartwarming, to say the least."
How would you describe Carole King as a character? And do you feel any pressure about bringing her to life on stage?
"She's an incredible music icon. She's very driven and very determined, and you get to see how resilient she is as her story goes on. As for feeling the pressure, yes there's a lot of that - especially given that she's still to this day a living legend. But I'm very happy that I'm getting to play her and her music. The big challenge is in playing someone who is still around, so people will inevitably compare you to her as well as other people who have played the role before. It's about doing your own thing whilst also paying respect to the people before along with to Carole herself."
How did you research the role?
"When we started rehearsals, I watched as many interviews as I could find, although there isn't a lot because she's notoriously shy but the ones that I did find were very helpful. Then I watched clips of her performing and thankfully there are a lot more of those than there are interviews."
How easy was it to nail the songs during rehearsals?
"She's a great pop songwriter and that's similar to what I'm used to performing. She's very specific in her technique and the way she writes so it was fun to get into her way of playing. And I was already a fan. I had her Tapestry album on vinyl from when I was a kid. My granddad gave it to me when I was seven or eight years old, so I've been listening to her music for a long time. She wrote so much for so many other singers and musicians. A lot of people don't realise how much music she actually wrote and who she wrote for. That's a great thing in the show, that you get to see how much she contributed to the music industry."
From researching the role, is there anything you were surprised or intrigued to learn about her?
[Laughs] "That she married many times after Gerry Goffin. I also learned she was incredibly resilient and let nothing stand in the way of her success. She wrote from the heart, and that's evident in every song she's ever written. They're very emotional."
There are so many great numbers in the show. Do you have any favourites to perform?
"I'd have to say (You Make Me Feel Like) A Natural Woman because it's such an honest, emotional song about her relationship with Gerry."
As an actor and musician, it must be great getting to bring all your skills to the table?
"Absolutely. We're very lucky that we have such a talented cast of actors and musicians who create this amazing sound. Being an actor-musician is what I trained to do but I think these kinds of productions are still pretty new for the theatre industry, which is why I'm excited to share it with people."
What do you see as the key message of the show?
"Carole knows what she wants to do and she's not going to let anything get in her way. She's very driven and determined, as I say, and that's a great message to get out there."
It's such a diverse cast, isn't it?
"It is, yes, and that's how it should be. It should be standard by now and the industry is thankfully evolving. It should just be the norm."
Beautiful aside, what have been your other favourite theatre roles?
"My first ever job I did after finishing my training was a show called Oxy & the Morons, where I played a punk rocker called Sheena. Doing a punk show straight out of drama school was very cathartic. I've since done a mixture of everything really. I did a panto of Beauty and the Beast, I did Priscilla Queen of the Desert, and I did a show in Liverpool before the pandemic called Girls Don't Play Guitars and that was an incredible role, playing a lead guitarist in the 60s for a rock-and-roll band. I've had some great jobs."
What are you most enjoying about taking Beautiful around the country?
"It's about getting to share some incredible music with people who don't necessarily realise just how much they love it until they hear it played live. That's an absolute joy, as is getting to share Carole's story. A lot of people don't know enough about her so it's nice to show what she went through and how much she's achieved. I love her. She's amazing."
Don't miss Molly as she belts out countless King classics from (You Make Me Feel Like) A Natural Woman, Take Good Care of My Baby, You've Got a Friend and So Far Away to It Might as Well Rain Until September and Up on the Roof. This show really is Some Kind of Wonderful!
Beautiful takes audiences back to the heart of King's landmark 1971 album Tapestry, which held the Billboard number one for fifteen consecutive weeks and remained on the charts for nearly six years. The album collected four Grammy Awards, including Album of the Year, Best Female Pop Vocal Performance, Record of the Year and Song of the Year.
Carole fought her way into the record industry as a teenager and sold her first hit Will You Love Me Tomorrow when she was just seventeen. By the time she was twenty she was writing number ones for the biggest acts in rock 'n' roll, including The Drifters, The Shirelles, Aretha Franklin and The Monkees. But her greatest challenge was to find her own voice and finally step into the spotlight…
Follow King's incredible musical journey through her relationship with husband and song-writing partner Gerry Goffin, their close friendship and playful rivalry with fellow song-writing duo Barry Mann and Cynthia Weil, to her remarkable rise to stardom and becoming one of the most successful solo acts in popular music history.
Don't miss this magnificent musical celebration of one of the most iconic singer/songwriters of all time.
It's not Too Late baby! Book your tickets now!
Leicester Curve, Theatre Royal Bath Productions and Mayflower Theatre Southampton present Beautiful – The Carole King Musical at Blackpool Grand Theatre from Tuesday 18 to Saturday 22 October. Matinee and evening performances. Age Advice: 10+
Visit BlackpoolGrand.co.uk or call the box office on 01253 290 190 for bookings and further information.
LISTINGS
Beautiful – The Carole King Musical – Tue 18 to Sat 22 Oct at 2.30pm & 7.30pm.
Grand Theatre, 33 Church Street, Blackpool FY1 1HT
Box Office 01253 290 190
blackpoolgrand.co.uk
Facebook - @blackpoolgrand
Twitter - @Grand_Theatre
Instagram - grandtheatrebpl
Related
0 Comments