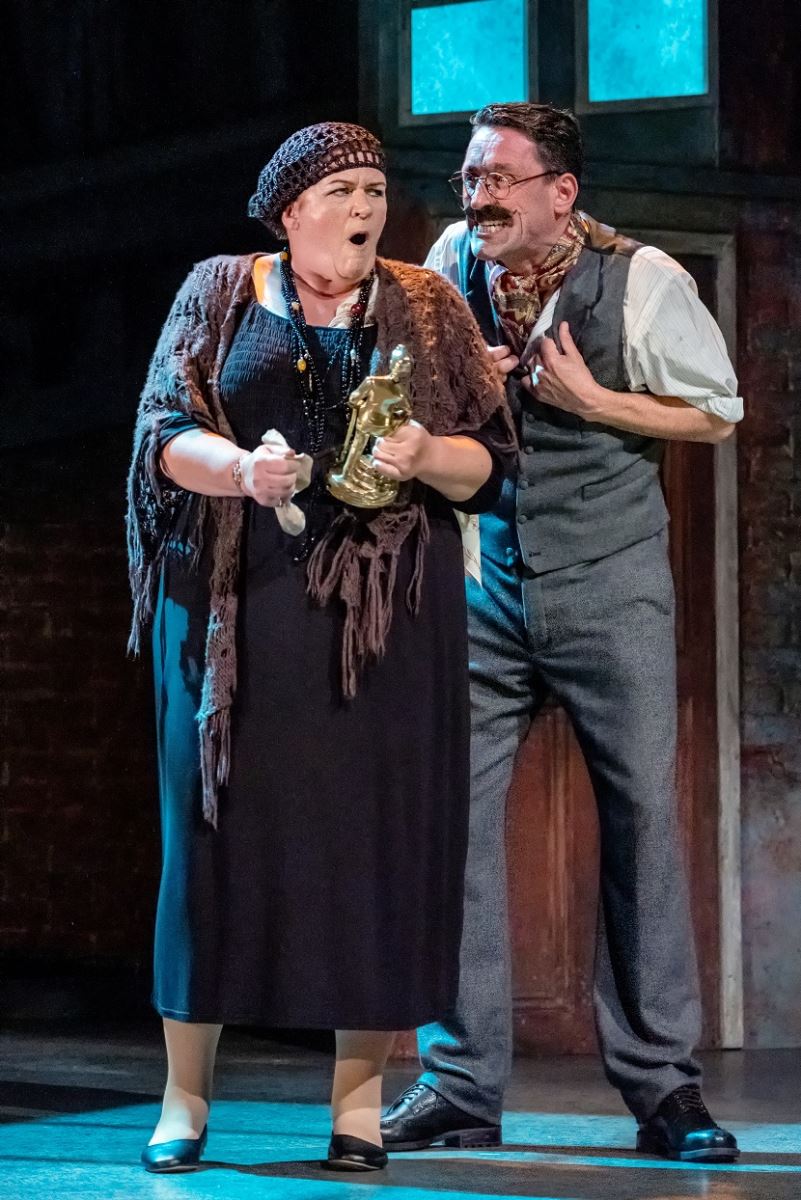 Do a double take!
Top theatre star Daniel Taylor keeps double time this week as he stars in the BBC's brand-new relationship show Unbreakable with life partner and Strictly judge Shirley Ballas, while also starring in Helen Forrester's stunning period drama Twopence to Cross the Mersey at Blackpool Grand Theatre from Tuesday 4 to Thursday 6 October!
Tune into Unbreakable on BBC1 this Thursday 6 Oct at 8pm as comedian Rob Beckett hosts the riveting new reality show where six famous faces and their romantic partners will compete to prove they have the strongest relationship. Funny, relatable and occasionally terrifying - it's the ultimate relationship test as Rob coaxes and cringes as the six celeb couples battle to prove they're the perfect pair.
Danny and Shirley will take on famous pairings such as Denise Welch & Lincoln Townley, Charlie Mullins OBE & RaRa and Simon Weston CBE & Lucy Weston in a series of physical, emotional and mental challenges designed to test their bond. Relationship experts Anjula Mutanda and Maria McErlane will analyse the way the couples work together and one by one the couples will be eliminated, until an Unbreakable celebrity duo is crowned winner.
Danny said of the new BBC show: "I wanted to do something out of my comfort zone and it felt like a great opportunity to learn more about each other and strengthen our already strong relationship. The one thing that we probably have learnt to do better, and are always working at, is to communicate better and to work as a team."
Danny is also very much a team player in the gifted nine-strong cast for Twopence to Cross the Mersey who play over 40 unforgettable characters each night at Blackpool Grand Theatre this week! Twopence is set in the early 1930s in the midst of the Great Depression and tells the captivating biographical story of author Helen Forrester's difficult early years and was published in 1974 to critical acclaim, later becoming a bestseller and establishing her as a major writer.
This fully revamped stage production of the renowned writer's most famous work will feature Daniel Taylor (Unbreakable, Blood Brothers) as Mr Ferris alongside TV favourites Mark Moraghan (Brookside, Coronation St) and Parry Glasspool (Hollyoaks)with talented theatre stars Lynn Francis (Two, Desperate Scousewives) and Jenny Murphy (Oliver Twist, Pride & Prejudice).
Busy Danny will also star in The Grand Theatre's magical pantomime Sleeping Beauty this Christmas from Friday 3 December to Sunday 1 January alongside TV favourites Steve Royle and Hayley Tamaddon, and then return once more with his smash-hit, one-man show The Very Best of Tommy Cooper on Sunday 23 July 2023. Just like that!
Danny said: "I love Blackpool, and Blackpool's iconic Grand Theatre in particular, and as well as starring in Twopence to Cross the Mersey this week I'm delighted to say I will be appearing at Blackpool's No.1 Panto venue with UK Productions as King in Sleeping Beauty. I can't wait to join renowned pantomime star Steve Royle and everyone's favourite Hayley Tamaddon! Shirley is definitely excited to come see the show! And in 2023, I'm more than thrilled be to brining my own show The Very Best of Tommy Cooper."
Don't miss your chance to catch Daniel in Helen Forrester's Twopence to Cross the Mersey from Tuesday 4 to Thursday 6 October Matinee and evening performances.
The fabulous family pantomime Sleeping Beauty starring Daniel Taylor, Dancing on Ice champion and Emmerdale star Hayley Tamaddon, Steve Royle and Philip Meeks is from Friday 2 December 2022 to Sunday 1 January 2023 with matinee and evening performances. Accessible performances will also be available.
Tickets are already selling fast! Book your seats now!
The Very Best of Tommy Cooper starring Daniel Taylor is on Sunday 23 July 2023.
Visit blackpoolgrand.co.uk or call the box office on 01253 290 190 for all bookings and further information.
LISTINGS
Helen Forrester's Twopence to Cross the Mersey – Tue 4 to Thu 6 Oct 22 at 2.30pm & 7.30pm
Sleeping Beauty Pantomime – Fri 3 Dec 2002 to Sun 1 Jan 2023. Times vary
The Very Best of Tommy Cooper – Sun 23 July at 7.30pm
Grand Theatre, 33 Church Street, Blackpool FY1 1HT
Box Office 01253 290 190
blackpoolgrand.co.uk
Facebook - @blackpoolgrand
Twitter - @Grand_Theatre
Instagram – grandtheatrebpl
Related
0 Comments