Autumn is a fantastic time for nature lovers looking to visit WWT Martin Mere Wetland Centre with lots of migration taking place as the months begin to get colder. Including, the arrival of up to 30,000 of the much-loved stars of the season, the pink-footed geese, as they stop off at Martin Mere before heading south to spend the winter there.
To celebrate their arrival, there are several special events, from Dawn Flights to free late night openings, and the North West Bird Watching Festival, so that you can see the spectacle for yourself!
There is also some fun-filled family events which you don't want to miss out on - including the very popular Animal Magic event and brand new, spooktastic eek! week event.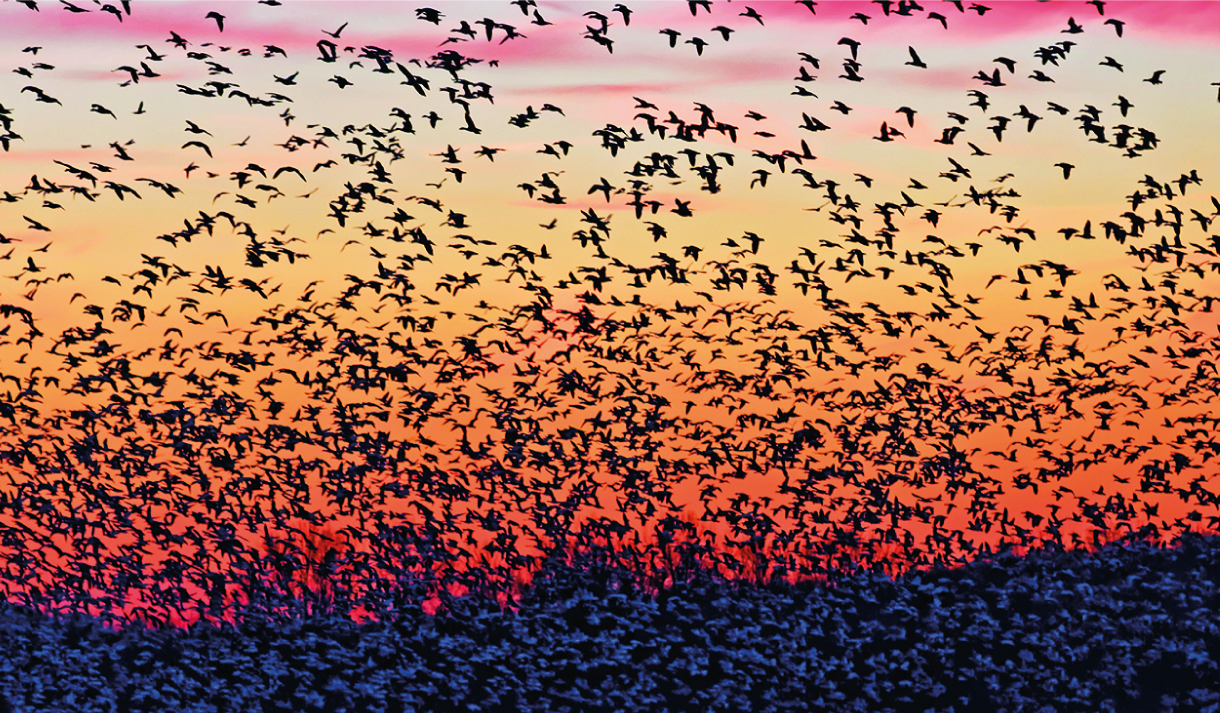 Here's what's on at our Lancashire wetland centre:
Animal Magic
Dates: Saturday 24 - Sunday 25 September
Cost: General admission prices. Members enter free
Over this weekend, WWT Martin Mere will be joined by National Exotics - Animal Rescue Service, Cheshire Falconry, and Holmes Chapel Zoo as they bring everything from cute skunks and slimy snakes to beautiful birds of prey. There will even be a guinea pig petting area for the chance to cuddle with a guinea pig!
Click here for more information.
Dawn Flights
Dates: Saturday 1, 8, 22, 29 October
Cost: £18.00 per person
A fantastic opportunity for nature lovers - participants will be able to experience the thrill of an early morning hide visit. You'll be joined by a warden and get exclusive access to the Discover Hide from 7am, offering the best view of the mere. Sit in the comfort of the hide and watch as the sun rises and thousands of pink-footed geese awaken and take off in a honking flurry. Then, you'll get to finish the day with a delicious full English breakfast in our cafe, a perfect end to an unforgettable experience.
Click here for more information.
Late Night Opening: Goose Spectacular
Dates: Saturdays and Wednesdays in October
Price: Free after 5:30pm
If you can't make it to our early morning Dawn Flights event, the Late Night Openings is another great opportunity to see the pink-footed geese on our reserve. We'll be opening from our Discovery Hide from 5:30pm until 7pm, to see up to 40,000 geese fly over the mere as the Autumn sun is setting - and entry is completely free!
Click here for more information.
Wildlife Photography Workshop with Heather Beckett
Date: Sunday 9 October
Price: £75 per person (includes admission)
Wildlife photographer Heather Beckett is hosting a beginner-friendly photography workshop, and what better setting for this than Martin Mere? You'll get to learn all of the basics, such as ISO, shutter, and aperture, and then put your new knowledge into practice as you tour the centre for some great photo opportunities with the guidance of Heather.
Click here for more information.
Introduction to Bird Photography with Ben Osborne
Date: Friday 14 October
Price: £80.00
Join professional wildlife and landscape photographer Ben Osborne as he covers the basics of wildlife photography at WWT Martin Mere. This 4-hour workshop will cover some of the basics of wildlife photography, including what kit to use and how to set up your camera to photograph wildlife.
More information.
North West Bird Watching Festival
Dates: 15 & 16 October
Price: General admission prices*. Members go free.
The North West Bird Watching Festival returns to Martin Mere in mid-October, jam-packed with wildlife-related activities for a fun day out from dawn till dusk. The centre will be open from 8am so you can watch the spectacle of thousands of pink-footed geese, and open later until 7pm on Saturday. We'll be joined by guest speakers and exhibitors, and there will be workshops and guided reserve walks.
Click here for more information.
*Some activities may occur an extra charge.
For further infomration, including how to book your tickets click here.
Related
0 Comments