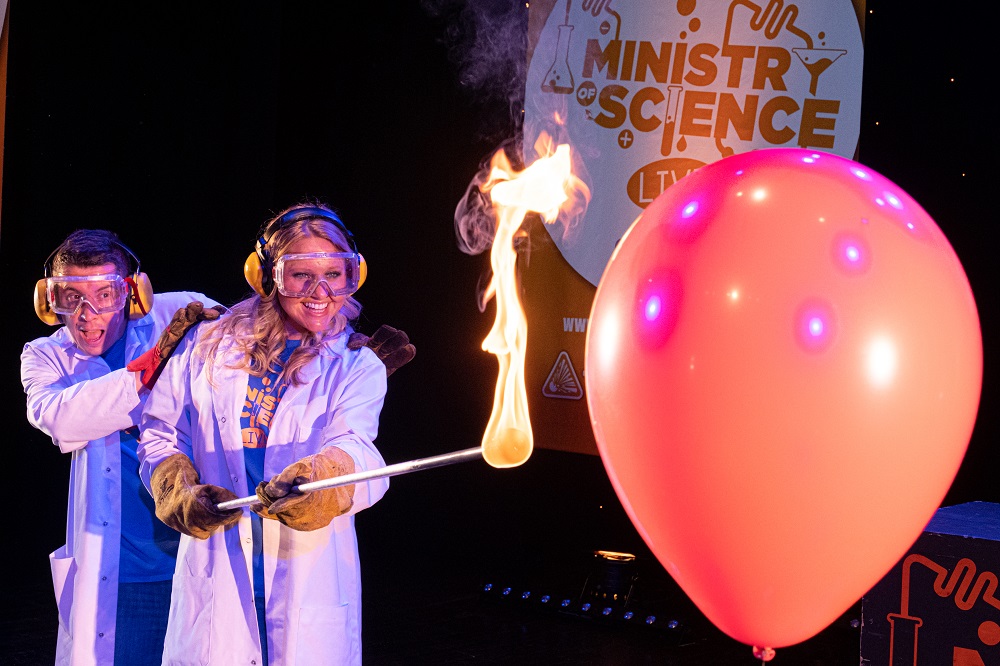 Fun-packed family shows are top of the bill at The Grand Theatre from September right through to 2023 as Blackpool lights up the world-famous Illuminations once again
Make it a fun-packed family trip to Blackpool Lights this season with top show picks for everyone from big to small at the glorious Grand Theatre. It's an illuminating night out for the whole gang!
Looking for some seaside family fun that lasts all year round?
Switch up your family day out ideas and snap up spectacular live show tickets for Blackpool's beautiful Grand Theatre before a trip through the world-famous Blackpool Illuminations.
Blackpool Lights big switch on this year is Friday 2 September and family fun at The Grand also lights up in right royal style with The Royal Shakespeare Company's fantastic introduction to the Bard's popular romantic comedy Twelfth Night in a new 90-minute show that's perfect for younger audiences from Thursday 29 September to Saturday 1 October.
Or why not join The Tiger Who Came to Tea as Britain's best-loved picture book comes alive in a grrrr-eat family show packed with oodles of magic, sing-a-long songs and clumsy chaos from Friday 7 to Sunday 9 October; delight the whole family with a captivating new production of Beauty and the Beast from the critically acclaimed Ballet Theatre UK on Friday 14 October; dare to experience the totally roarsome interactive Dinosaur Live on Tuesday 8 and Wednesday 9 November, get the whole family together for the magical Grand Christmas Concert bringing wonderfully traditional seasonal cheer on Monday 12 December, and don't forget our fabulous family pantomime Sleeping Beauty starring Britain's Got Talent finalist Steve Royle and Dancing on Ice champion Hayley Tamaddon from Friday 2 December to Sunday 1 January 2023. It's time to plan this year's festive family fun. Oh yes it is!
Blackpool Lights may finish on 2 January 2023, but it's still great to get outside and enjoy the fresh sea air before enjoying a heart-warming family show at Blackpool's beautiful Grand – making memories to last a lifetime…
Follow the yellow brick road for the wonderful Wizard of Oz from Blackpool and Fylde Children's Pantomime from Friday 27 to Sunday 29 January packed with high-energy routines and over 150 talented children; don't miss the breathtaking performers in the powerfully potent cocktail of dance, acrobatics, music, hip hop and comedy that is Tap Factory on Tuesday 7 February; partner up with Strictly champ Giovanni Pernice as he packs up his glitterball trophy and invites you to join him on Friday 10 March; get ready for a real monster of a family show with Shrek the Musical from Blackpool Operatic Players from Wednesday 5 to Saturday 8 April; fly in for the enchanting Ugly Duckling from the world-renowned Northern Ballet on Friday 21 April; We're Off To See The Wizard once again! as Blackpool & Fylde Light Opera Company sweep in with a spectacular full production of The Wizard of Oz from Wednesday 31 May to Saturday 3 June, and dive deep into the wonderful world of science in the explosive Ministry of Science on Sunday 18 June. Expect 20ft liquid nitrogen clouds, fire tornados, ignited methane and even a self-built Hovercraft!
Book your seats now for one of our sensational shows and enjoy some extra special family time. As Blackpool Lights up, let all your loved ones experience the joy of theatre…
This year's Big Switch On for Blackpool Lights is Friday 2 September 2022 and the world-famous Illuminations need little introduction. With six miles of traditional festoons, tableaux and interactive features along the Promenade, no wonder it's commonly known as the greatest free light show on Earth!
Ready to trip the Light fantastic? Here's ten totally fascinating facts about Blackpool Lights:
1. Blackpool was the first town to have electric street lighting and visitors first came to marvel at Blackpool Lights in 1879 when just eight arc lamps bathed the Promenade. This sparked Blackpool's long association with light and electricity.
2. The closest thing to modern-day displays were first staged in May 1912 to mark the first royal visit made by Princess Louise to Blackpool. The results were so impressive the Council bowed to pressure to stage the Lights again in September of the same year, and the rest, as they say, is history!
3. The Blackpool Illuminations shine for 66 nights a year. The display was extended by two months in 2020 for the first time in history.
4. Most of the Illuminations are made from wood, fibreglass, steel and aluminium.
5. Over one million LED lamps are used across the display. In fact, the electricity that is now used has been slashed by two thirds in ten years thanks to the use of LED technology.
6. Twenty staff, including talented artists, electricians, joiners, mechanics, painters, engineers and technicians work all year round to ensure the displays are ready.
7. Blackpool Lights are a free show. However, donation boxes are placed at the southern and northern gateways to the Illuminations. These donations are used to create new features and help with the maintenance of the Lights throughout the year.
8. The annual Switch On celebration marks the start of the Illuminations display. The Switch On is held at the Festival Headland directly in front of the iconic Blackpool Tower.
9. Celebrities to flick the switch have included the Top Gear cast, Robbie Williams, Alan Carr, Shirley Bassey and director Tim Burton. Animals also have got in on the act - a rather impatient Red Rum did the honours in 1977… and Kermit the Frog jumped at the chance two years later!
10. This year's Switch On star is legendary actor and comedian Johnny Vegas. Johnny will pull the famous switch on Friday 2 September, triggering four fabulous months of Illuminations.
Check out www.visitblackpool.com/things-to-do/blackpool-illuminations for lots more handy facts and info.
P.S. Grand Tips For Grown Ups: At Blackpool Grand Theatre we love it when children and families join us for shows, workshops or activities! But we know it can sometimes be a lot to think about! Visit our website for a handy guide to bringing your little terrors to Blackpool Grand - from baby changing facilities and booster seats to Visual Stories and PECS cards for children that struggle in busy spaces – we've got you covered. Click www.blackpoolgrand.co.uk/general-information/children-and-families for full details.
Bring the family together at The Grand and make magical memories to last a lifetime.
Book your seats now at Blackpool Grand Theatre for sensational seaside family fun!
And don't forget! August Bank Holiday Weekend is also a fantastic family spectacular at Blackpool Grand with the poptastic return of the Pop Princesses on Sunday 28 August 2022 at 6pm! The fab fairytale four sing a soundtrack of top pop hits, plus songs from all your favourite films and musicals. It's one hit family show that's not to be missed this summer!
Visit blackpoolgrand.co.uk or call the box office on 01253 290 190 for bookings and further information.
Related
0 Comments