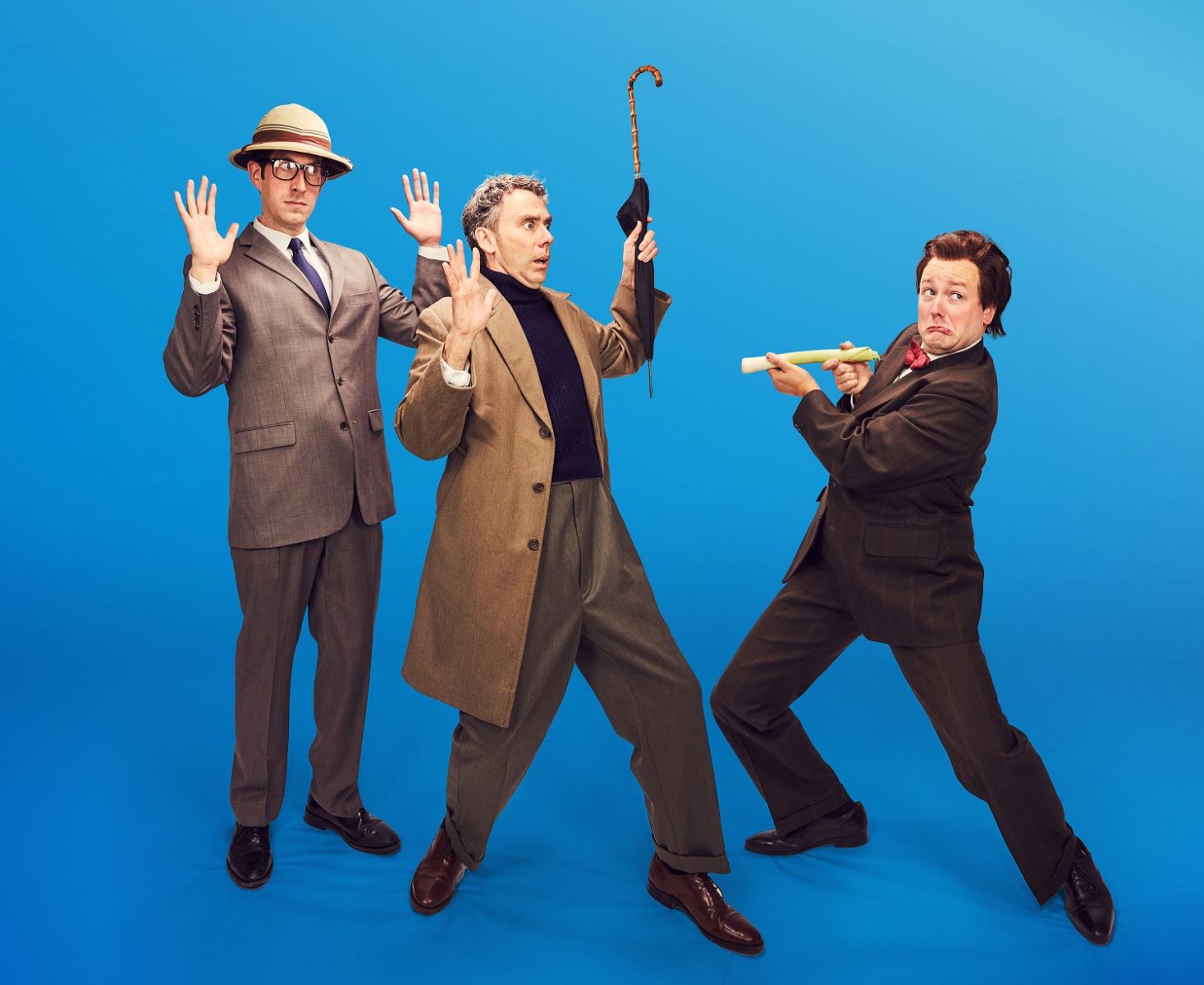 A blistering line-up of Top Comedy Stars are coming straight from your TV to the Blackpool Grand Theatre stage…
Buckle up for a cracking comedy rollercoaster ride that will leave you breathless with laughter as four comedy legends come together in one hilarious night in Jongleurs Legends on Sunday 2 October. Jarred Christmas has had audiences around the world howling over his hysterical and relatable past experiences, punctuated by his quick wit and impeccable comic timing. Former (double award-winning) Time Out Comedian of the Year, Paul Tonkinson, has long upheld his reputation as one of the finest stand-ups the UK has to offer. Ninia Benjamin was catapulted to stardom as one-third of BBC2′s 3 Non-Blondes and is a tour-de-force of comedy… she's outrageously rude, but above all sidesplittingly funny. Mike Gunn's misspent youth and series of grim jobs has cultivated his cuttingly funny cynical outlook on life. A self-confessed pessimist, he describes himself as "not a natural choice for a career in laughter". What a quality quartet of comedy! Jongleurs Legends is not to be missed! Age Recommendation – 14yrs+
Looking for more Top Comedy Stars live at The Grand?
Ah! go on and join seasoned stand-up comic Joe Rooney for A Celebration of Father Ted on Wednesday 12 October as he reminisces about his experiences playing the rebellious Father Damo in the classic TV comedy before a showing of his hilarious episode; there's gloriously daft nonsense from 'him with the shirts from Mock The Week' and Radio Four star Milton Jones in Milton Impossible on Thursday 13 October as Milton reveals the truth about being an international spy, before being given a disappointing new identity; Saturday night TV legend Harry Hill is starching up his big collar ready for the all-singing, all-dancing, one-man silly spectacular Pedigree Fun! on Saturday 15 October, and it's never too early to book for TV favourite and mild-mannered funny man Jon Richardson (Channel 4's 8 Out Of 10 Cats Does Countdown, Ultimate Worriers) who has added an extra date to his knockout new show The Knitwit due to popular demand. Grab tickets now for Friday 3 and Saturday 4 February 2023!
Big comedy shows also bring the big laughs and The Grand has a rib-tickling trio of delightfully funny dramas packed with Top Comedy Stars that perfectly fit the bill!
Roar with laughter on Saturday 12 November as TV's Gemma Bissix (EastEnders, Hollyoaks), join popular comic actress Sarah Dearlove from Housewives on Holiday and talented new stage star Amy Ambrose in the uproarious stage show Mum's The Word. Whether it's leaving the house without your bra, crying in the supermarket aisles for no reason, or secretly thinking you have given birth to E.T., you won't feel alone when watching this talented trio portray the 'beauty' of bringing new life into the world - or forgetting where they left it…
Mum's The Word is an uplifting, honest and heart-warming show that takes you on an emotional ride through trials and tribulations of parental life – from pregnancy pitfalls to teenage tantrums – and will have you roaring with laughter and reaching for the tissues! Book now!
It's good to be alive! Comedy genius Spike Milligan is back! Tune in to the famous Eccles, Count Jim Moriarty and Bluebottle once more as radio sensations The Goons return in the absurdly funny new play SPIKE from Tuesday 15 to Saturday 19 November! Robert Wilfort (Gavin and Stacey, Bridgerton) will play the infamous Spike Milligan, Patrick Warner (The Crown, One Man, Two Guvnors) is Peter Sellers, Jeremy Lloyd (The Comedy About a Bank Robbery, Trial by Laughter) is Harry Secombe and Top TV comedienne Margaret Cabourn-Smith (Motherland, Miranda, Buffering) will reprise her role as Janet the irrepressible sound assistant. This critically-acclaimed comedy drama delves into the inner workings of one of our most unique and brilliantly irreverent comedy minds and is the latest exciting project from talented co-writers Ian Hislop (BBC's Have I Got News For You team captain and editor of Private Eye) and Nick Newman (writer and satirical cartoonist).
Condragulations! The dazzling Death Drop is back and it's better than ever! Sashay to Blackpool Grand Theatre for the wickedly funny West End comedy Death Drop: Back In The Habit from Tuesday 3 to Saturday 7 January 2023 with a star cast still to be announced! It's the divinely hilarious drag murder mystery that 'nun' of you expected… A gaggle of glamorous nuns are trapped in their convent with a serial slayer slashing their way through the Sisters in this fantastic, all new follow up to the five-star West End phenomenon. As the clues are cleverly unearthed by Sis Marple, you'll be laughing in the pews as this fabulously fierce, all-drag killer comedy comes to its thrilling conclusion.
And don't forget our fabulous family pantomime Sleeping Beauty starring Britain's Got Talent finalist, family favourite and superbly silly stand-up star Steve Royle. Steve will be joined by Dancing on Ice champion and famous TV face Hayley Tamaddon as the Good Fairy and celebrated playwright and top soap screenwriter Philip Meeks (Emmerdale, Heartbeat, Doctors) as Nursie the Dame from Friday 2 December to Sunday 1 January. It's a fantastic night out of fun and frolics for all the family. Oh yes it is!
Blackpool Grand Theatre has a full fabulous line-up of Top Comedy Stars to tickle your funny bone all the way through this season and the next.
Join us for the ultimate feelgood night out and bring some much-needed laughter and light to your lives! What are you waiting for? Book your seats now!
Please call the Box Office on 01253 290190 or visit www.BlackpoolGrand.co.uk for full listings, bookings and further information on all our comedy events.
LISTINGS
Jongleurs Legends 2022 – Sun 2 Oct at 7.30pm
A Celebration of Father Ted with Joe Rooney – Wed 12 Oct at 7.30pm
Milton Jones: Milton Impossible – Thu 13 Oct at 7.30pm
Harry Hill: Pedigree Fun! – Sat 15 Oct at 7.30pm
Jon Richardson: The Knitwit – Fri 3 & Sat 4 Feb 2023 at 8pm
Mum's The Word – 12 Nov at 7.30pm
Ian Hislop & Nick Newman's SPIKE – Tue 15 to Sat 19 Nov at 7.30pm. Wed, Thu & Sat Matinees at 2pm
Death Drop – Tue 3 to Thu 5 Jan 2023 at 8pm, Fri 6 & Sat 7 Jan at 5.30pm & 8.30pm.
Sleeping Beauty pantomime – Fri 2 Dec 2022 to Sun 1 Jan 2023. Matinee and evening performances. Times vary.
Grand Theatre, 33 Church Street, Blackpool FY1 1HT
Box Office 01253 290 190
blackpoolgrand.co.uk
Facebook - @blackpoolgrand
Twitter - @Grand_Theatre
Instagram - grandtheatrebpl
Related
0 Comments