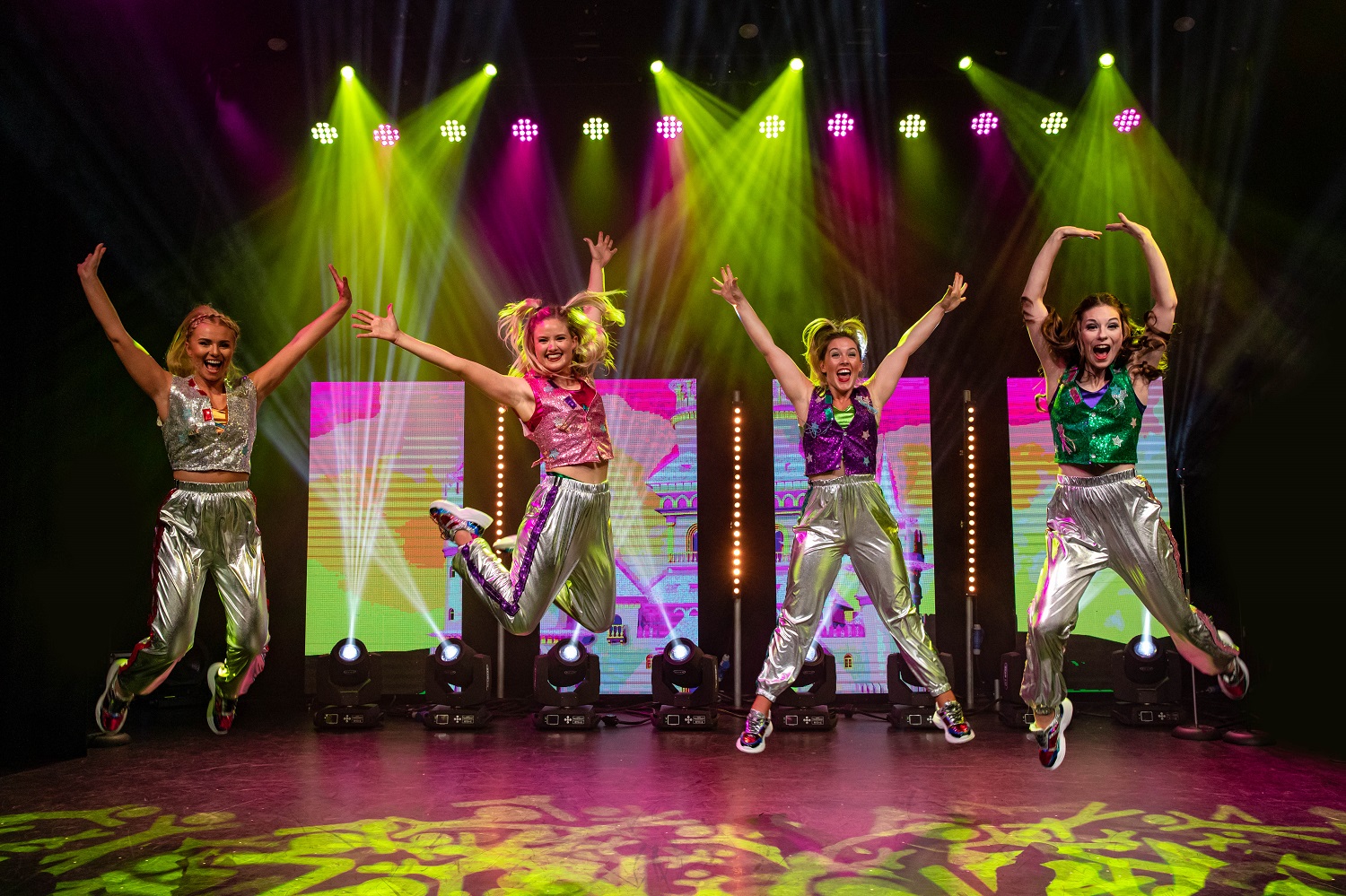 Pop to Blackpool Grand Theatre for some sparkling Seaside Fun that's a real hit with the kids!
Bring your little pop star to a children's live concert with a big difference on Sunday 31 July and Sunday 28 August as four fairytale Pop Princesses sing a sensational soundtrack of top pop hits. It's the number one show this Summer!
Once upon a time in a land far away, four princesses lived in the magical kingdom of Rainbow Dale. The four princesses just love to sing, so one fateful night the fairytale foursome decided to break free from their towers and unite their magnificent musical powers to form the ultimate musical squad – the Pop Princesses!
This new musical spectacular features a soundtrack of top pop hits live on stage with all the smash-hit songs from top recording artists such as Little Mix, Ariana Grande, Taylor Swift, Meghan Trainor and Miley Cyrus, plus all the best singalong tunes from all your favourite films and musicals - from Frozen and The Greatest Showman to Trolls! It's a truly magical show for all the family…
Check out the trailer for the fabulous Pop Princesses: https://www.youtube.com/watch?v=6ViIUJ_DcXI
It's the perfect mix of music, magic and seaside fun for all your mini pop stars this summer holidays!
Book your seats now!
There are also limited tickets available for a VIP Meet and Greet with the Princesses before each performance where participants will receive a signed poster and photo opportunity with the Princesses in full costume.
We know that lots of little ones dream of becoming a princess and why shouldn't they? But don't forget, there are also lots of other fantastic female role models for them to aspire to, all offering many important qualities worthy of emulation.
Here's our Top Ten of humanitarians, sportspeople and celebrities who we feel are some great female role models for young people to look up to:
1. Reese Witherspoon is an American actress, producer, and entrepreneur. The Academy Award winner is among the highest-paid actresses in the world and has been named one of the 100 most influential people in the world (Time)and one of the World's 100 Most Powerful Women (Forbes).
Witherspoon is also actively involved in children's and women's advocacy organisations, serving as honorary chair of the charitable Avon Foundation which focuses on breast cancer research and the prevention of domestic violence. She is a long-time supporter of Save the Children and serves on the board of the Children's Defense Fund - a child advocacy and research group.
2. Michelle Obama is an American lawyer and author who was the first African American First Lady of the United States. Obama campaigned for her husband's presidential bid, delivering a keynote address at the 2008 Democratic National Convention. She returned to speak for him at the 2012 Democratic National Convention. As First Lady, Obama worked tirelessly as an advocate for poverty awareness, education, nutrition, physical activity, and healthy eating. She also launched the Let's Move! Initiative - dedicated to solving the problem of obesity within a generation, so that children born today will grow up healthier and able to pursue their dreams.
3. Beyoncé Knowles Carter is a multi-platinum Grammy award winning recording artist, songwriter and actress who has spent her career exploring topics of feminism, racism, double standards for women, monogamy and marriage issues. She is the most nominated woman and most-winning woman in Grammy history, breaking the record in 2021 for the most wins ever by a female artist with 28 total wins during her career. She has also received more than 200 other awards for her songs, videos, movie and fashion contributions. In July 2020, Knowles directed, wrote and executive produced the visual album Black is King, which "reimagines the lessons of The Lion King for today's young king and queens in search of their own crowns."
4. Emma Watson is a British actress, model and renowned activist. Her first professional acting role was as Hermione Granger in the Harry Potter film series, having acted only in school plays previously. She went on to star as Belle in the hit musical film Beauty and the Beast (2017) and Meg in the coming-of-age film Little Women (2019), which was nominated for the Academy Award for Best Picture. Her modelling work has included campaigns for Burberry and Lancôme. In 2014 Watson was appointed as a UN Women Goodwill ambassador and helped launch the UN Women campaign HeForShe, which encourages all genders to work towards gender equality.
5. HRH The Duchess of Cambridge is a real-life Princess who is using her royal status to support a vast number of charitable causes and organisations, including those which are centred around providing children with the best possible start in life. Catherine Middleton married HRH Prince William in April 2011 and they have three young children. For several years The Duchess has been working with experts and organisations that are championing the importance of providing solid psychological, social and emotional platforms for children in their earliest years of life in order to support their mental health and emotional resilience, and to provide them with the foundations to lead to healthy and fulfilling adulthoods.
6. Ellie Simmonds OBE is a British Paralympian swimmer who came to national attention when she competed in the 2008 Summer Paralympics in Beijing, winning two gold medals for Great Britain, despite being the youngest member of the team, at the age of 13. In 2012 she again selected for the Great Britain squad, winning another two golds in London, including setting a World Record in the 400m freestyle, and a further gold medal at the Rio Paralympics in 2016, this time setting a world record for the 200m medley. Simmonds is a patron of the Dwarf Sports Association UK, an ambassador for The Scout Association and a Girlguiding leader in Manchester, where her nickname is Aqua Owl. Simmonds is also a WaterAid ambassador, an international non-governmental organisation, which focuses on water, sanitation and hygiene worldwide.
7. Dr Maggie Aderin-Pocock is a celebrated space scientist and one of the BBC's brightest new stars, who wants to get more inner-city pupils interested in the subject. She is an honorary research associate in University College London's department of physics and astronomy. Since February 2014, she has co-presented the long-running astronomy television programme The Sky at Night with Chris Lintott. Dr Aderin-Pocock is committed to inspiring new generations of astronauts, engineers, and scientists and she has spoken to over 25,000 children, many of them at inner-city schools, telling them how and why she became a scientist, busting myths about careers, class, and gender.
8. JoJo Siwa is a YouTube phenomenon, pop star, dancer, entrepreneur, social media influencer and New York Times bestselling author. She rose to fame at the age of nine on the popular American reality show Dance Moms and has since become a pop culture and LGBTQ+ icon aged just18. Siwa is known for promoting self-love and encouraging young fans to be themselves and express their personality through music and style. Since coming out online in 2021, she has been a huge advocate for the LGBTQ+ community, even taking part in the hit TV show Dancing With The Stars as part of the first same-sex pair on the show.
9. Malala Yousafzai, also known as Malala, is an outspoken advocate of female rights and female education in the Middle East. Since moving to the UK to live and work, she has bravely spoken in the United Nations and continues to fight for girls to get an education in all corners of the globe. She has inspired countless young people, including celebrities, with even the likes of Reese Witherspoon having called her a role model. Her bravery and determination to fight for what is right, against the odds and against persecution, encourages young people to step up and do what they know is right.
10. Dame Judi Dench is a BAFTA, Olivier, Golden Globe, Tony and Oscar winning actress, artist, author and national treasure. Dench made her professional debut in 1957 with the Old Vic Company and over the next two decades established herself as one of the leading British theatre performers, working for the National Theatre Company and the Royal Shakespeare Company. She has also received critical acclaim for her TV and film work, including playing M in the James Bond franchise from 1995 to 2012. An eight-time Academy Award nominee, Dench won Best Supporting Actress for her performance as Queen Elizabeth I in Shakespeare in Love in 1998. In June 2011, she received a fellowship from the British Film Institute (BFI), is a Fellow of the Royal Society of Arts (FRSA) and a vocal supporter of the theatre industry.
You can see from our list of role models that an interest in theatre and the arts at a young age is a great place to start encouraging positive personal growth!
Book your seats now for Seaside Fun for all the family with the Pop Princesses at Blackpool Grand Theatre this Summer…
Pop Princesses are at Blackpool Grand Theatre on Sunday 31 July and Sunday August at 6pm.
There are also limited tickets available for a VIP Meet and Greet with the Princesses. The Meet and Greet will happen at 5pm (1 hour prior to show) in the auditorium. Everyone must have a VIP ticket. You will receive a signed poster and photo opportunity with the girls in full costume.
Visit BlackpoolGrand.co.uk or call the box office on 01253 290 190 for bookings and further information.
Related
0 Comments