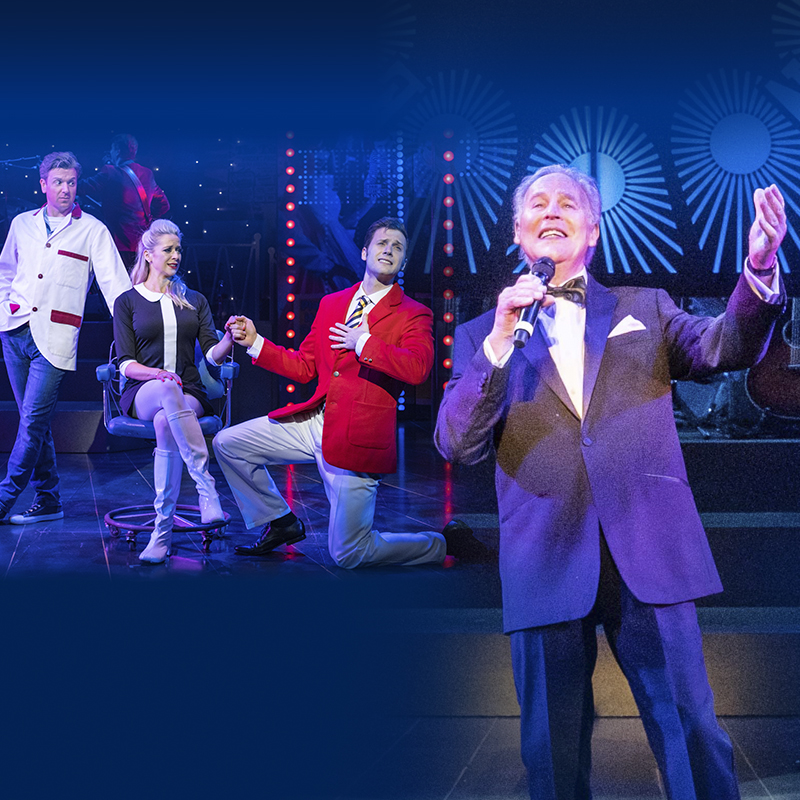 Jive down to Blackpool Grand Theatre and be a Venus in Blue Jeans once again from Tuesday 2 to Saturday 6 August as 1960s pop sensation Mark Wynter joins the cast of Dreamboats & Petticoats - Bringing On Back The Good Times as special guest star!
Dreamboats & Petticoats - Bringing On Back the Good Times features all your favourite Dreamboats characters from the much-loved musical, with some of the greatest hit songs ever written from Roy Orbison, The Shadows, Eddie Cochran, Billy Fury, Chuck Berry, The Supremes and many, many more. It's guaranteed to have you rocking and rolling back the years and jiving in the aisles!
Renowned recording artist and teen idol Mark Wynter (Venus in Blue Jeans, Go Away Little Girl, It's Almost Tomorrow) joins Dreamboats favourite Elizabeth Carter as Laura, along with new cast members Jacob Fowler (Heathers the Musical) as Bobby and Joseph Lukehurst (A Midsummer Night's Dream) as Norman, in the thrilling third installment of the musical inspired by the latest release in the series of multimillion-selling Dreamboats & Petticoats albums.
Catch up with Bobby & Laura, Norman, Sue & all the Dreamboats gang as they dance back together in this fabulous feel-good show for all the family, packed with all the wonderful wit, charm, and unforgettable songs from the golden era of Rock 'n' Roll.
Bringing on Back the Good Times finds Laura with a successful solo career, but Bobby - her partner on their number one hit record Dreamboats and Petticoats, has left the spotlight and decided to re-join his former group, Norman and The Conquests, at St Mungo's Youth Club.
Their new adventures include a season at Butlins and an appearance at The Eurovision Song Contest – but most of all, they lead them straight back into the arms of each other: bringing on back the good times indeed!
Don't miss out! Pop on your bobby socks and swing down to the Box Office to book your seats now!
Blackpool Grand is also delighted to be presenting a wide range of musicals for 2022/3 including Beautiful The Carole King Musical, Titanic, Shrek and Beyond The Barricade (a night of musical delights). The full list of hit musicals in on our website www.BlackpoolGrand.co.uk
Dreamboats & Petticoats – Bringing Back the Good Times is at Blackpool Grand Theatre from Tuesday 2 to Saturday 6 August 2022. Matinee and evening performances.
Tickets from just £17, member discounts available.
Book now by visiting blackpoolgrand.co.uk or call the box office on 01253 290 190.
LISTINGS
Dreamboats – Tue 2 to Sat 6 Aug at 7.30pm
Matinees - Wed, Thu & Sat at 2.30pm
Grand Theatre, 33 Church Street, Blackpool FY1 1HT
Box Office 01253 290 190
blackpoolgrand.co.uk
Facebook - @blackpoolgrand
Twitter - @Grand_Theatre
Instagram - grandtheatrebpl
Related
0 Comments