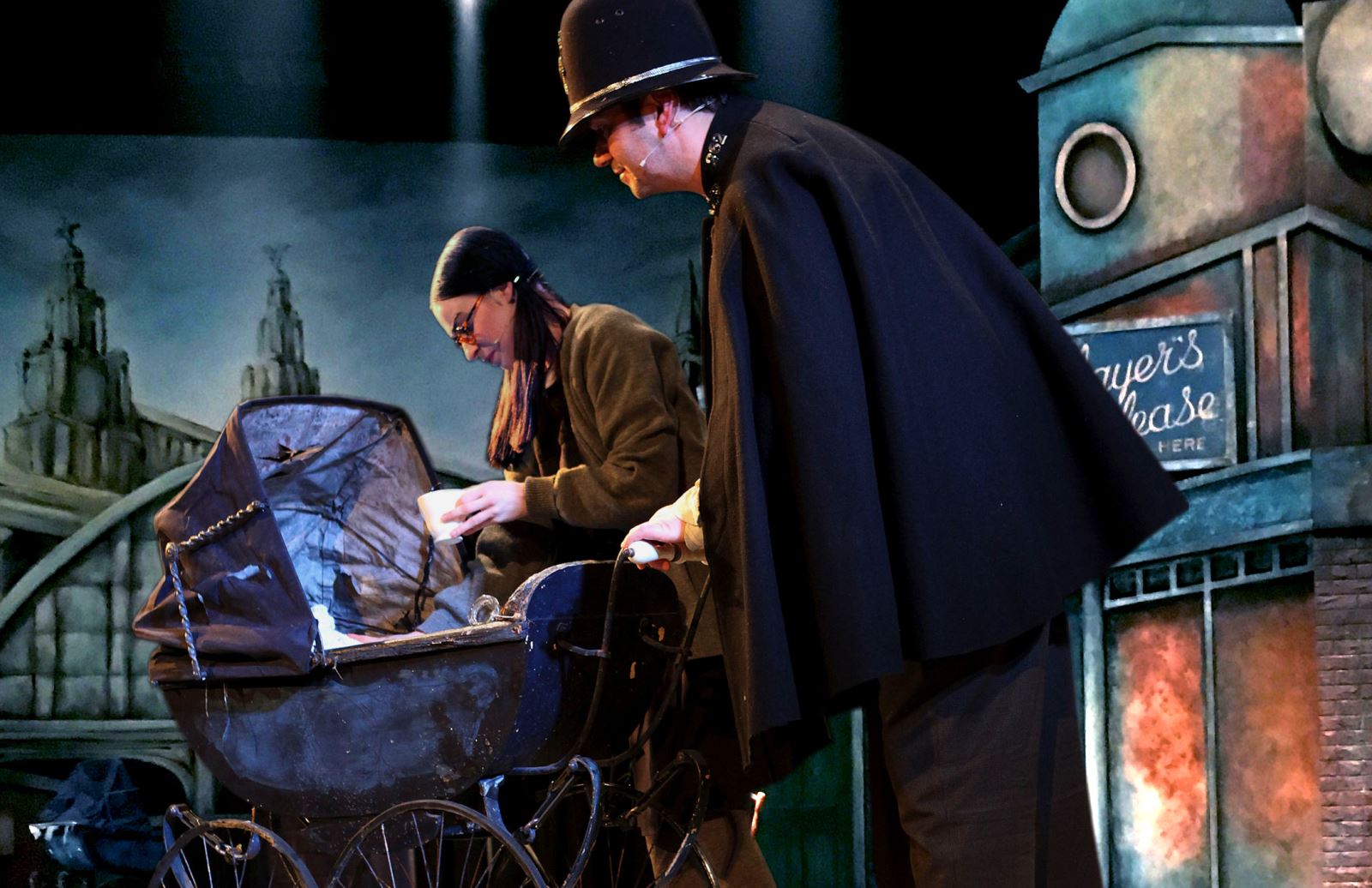 Settling in for a gripping drama can whisk you away from the everyday and into a world of excitement and intrigue. We all need to escape at times, and a top TV drama can take us miles from our comfort zone, offer us the chance to experience events we could only imagine and make us question our preconceptions.
But imagine if all that exhilarating action was taking place right in front of your eyes, where you can hear every breath, witness every single emotion and feel the incredible shared experience of live theatre…
Blackpool Grand Theatre has a whole host of thrilling treats for drama lovers this season that will challenge, delight and dazzle the senses. From the heart-rending emotion of Helen Forrester's Twopence to Cross the Mersey to the inspiring and deeply personal Riot Act and the breathtaking biopic Beautiful – the Carole King Musical, there are powerful and provocative plays for everyone to enjoy.
Book now for the spine-chilling ghost story When Darkness Falls from Thursday 15 to Saturday 17 September, inspired by terrifying true events; introduce your little ones to the wonderful world of Shakespeare with The RSC's fun-packed 90 minute production of Twelfth Night from Thursday 29 September to Saturday 1 October; take an unforgettable journey with Helen Forrester's stunning period drama Twopence to Cross the Mersey with a gifted nine-strong celebrity cast from Tuesday 4 to Thursday 6 October; the Game's afoot! Join Sherlock Holmes: The Valley of Fear from Tuesday 1 to Saturday 5 November for a mystery adventure crammed with brilliant deductions; tune in as comedy genius Spike Milligan is back with the Goons in the absurdly funny new play SPIKE by Ian Hislop from Tuesday 15 to Saturday 19 November, and can you solve Agatha Christie's magnificent murder mystery The Mousetrap on its sensational 70th anniversary tour from Monday 19 to Saturday 24 June 2023?
Two acclaimed comedy drama productions take place in our relaunched STUDIO space that are not to be missed. Make a date with the hilarious and political Riot Act in a one-man celebration of queer activism starring Alexis Gregory on Sunday 16 July and get ready for the biting contemporary social commentary The MP, Aunty Mandy and Me which explores consent, coercion and grooming within the gay male community on Wednesday 28 and Thursday 29 September.
Sing out quick for tickets to our marvellous musical dramas this season. Feel the Earth Move with the incredible Beautiful – The Carole King Musical from Tuesday 18 to Saturday 22 October as countless Carole King chart-toppers are cleverly weaved through her remarkable story to stardom, and you simply must catch the five-star theatrical masterpiece Titanic The Musical when it docks in Blackpool for one week only from Tuesday 21 to Saturday 25 March. This truly rousing and uplifting tribute to the passengers of the famously ill-fated vessel has enraptured theatregoers to return time and time again.
But why do the top TV dramas keep audiences so captivated? Quality dramas have the power to evoke strong emotions - from happiness and laughter right through to horror and tears, sometimes even evoking real shock – Netflix's Squid Game is a perfect case in point - and they are all cleverly designed to make you desperate for the next episode, with edgy cliff-hangers, relatable characters and razor-scripted storylines to keep you hooked.
The most-watched TV drama series of all time is still Sky Atlantic's fantasy epic Game of Thrones, but with incredible top TV drama being constantly released, another unmissable show is bound to battle its way into the top spot soon and 2022 could be the year it does. Let's have a look at five of the big contenders coming to TV screens this year:
House of the Dragon – the Game of Thrones prequel comes to HBO three years after the famous season ended and is set 200 years before the events of GOT, telling the story of House Targaryen. Doctor Who's Matt Smith takes the lead as Prince Daemon Targaryen. Expect big battles and even bigger dragons… Release date Aug 2022
The First Lady - Showtime's new series has quite the buzz around it thanks to an A-list cast. Viola Davis plays Michelle Obama, Michelle Pfeiffer plays Betty Ford and Gillian Anderson plays Eleanor Roosevelt in this much-awaited story of the American presidencies through the lens of the respective First Ladies. Release date 22 June 2022
Love & Death – the latest chilling creation from smash hit screenwriter David E Kelley (Big Little Lies, The Undoing) stars Elizabeth Olson in the true-life crime drama. Two church going couples are enjoying small town family life in Texas, then someone picks up an axe… Release date tbc 2022
The Lord of the Rings: The Rings of Power – Amazon's much-anticipated blockbuster is an epic five season fantasy series following the story of the inhabitants of Middle Earth both familiar and new and is set thousands of years before JRR Tolkien's novel trilogy. Release date 2 September 2022.
Westworld – the fourth and possibly final season of the often mystifying and always spectacular sci-fi show looks set to be bigger and better than ever, with even more mind-bending twists and turns, new worlds and lots and lots of robots. Release date 27 June 22.
Top TV drama can be a magnificent and memorable assault on the senses it's true, but don't forget that live stage drama is even better!
Blackpool Grand Theatre – bringing unmissable drama live in stage all through 2022 and 2023.
Please call the Box Office on 01253 290190 or visit www.BlackpoolGrand.co.uk for full listings, bookings and further information on all our live drama events.
LISTINGS
Riot Act 16 July
When Darkness Falls 15 to 17 Sep
The MP, Aunty Mandy & Me 28 & 29 Sep
Twelfth Night 29 Sep to 1 Oct
Twopence to Cross the Mersey – Tue 4 to Thu 6 Oct at 2.30pm & 7.30pm
Beautiful – The Carole King Musical 18 to 22 Oct
Sherlock Holmes and The Valley of Fear 1 Nov to 5 Nov
SPIKE 15 to 19 Nov
Titanic the Musical 21 to 25 Mar
The Mousetrap – Mon 19 to Sat 24 Jun 2023. Times vary
Grand Theatre, 33 Church Street, Blackpool FY1 1HT
Box Office 01253 290 190
blackpoolgrand.co.uk
Facebook - @blackpoolgrand
Twitter - @Grand_Theatre
Instagram - grandtheatrebpl
Related
0 Comments