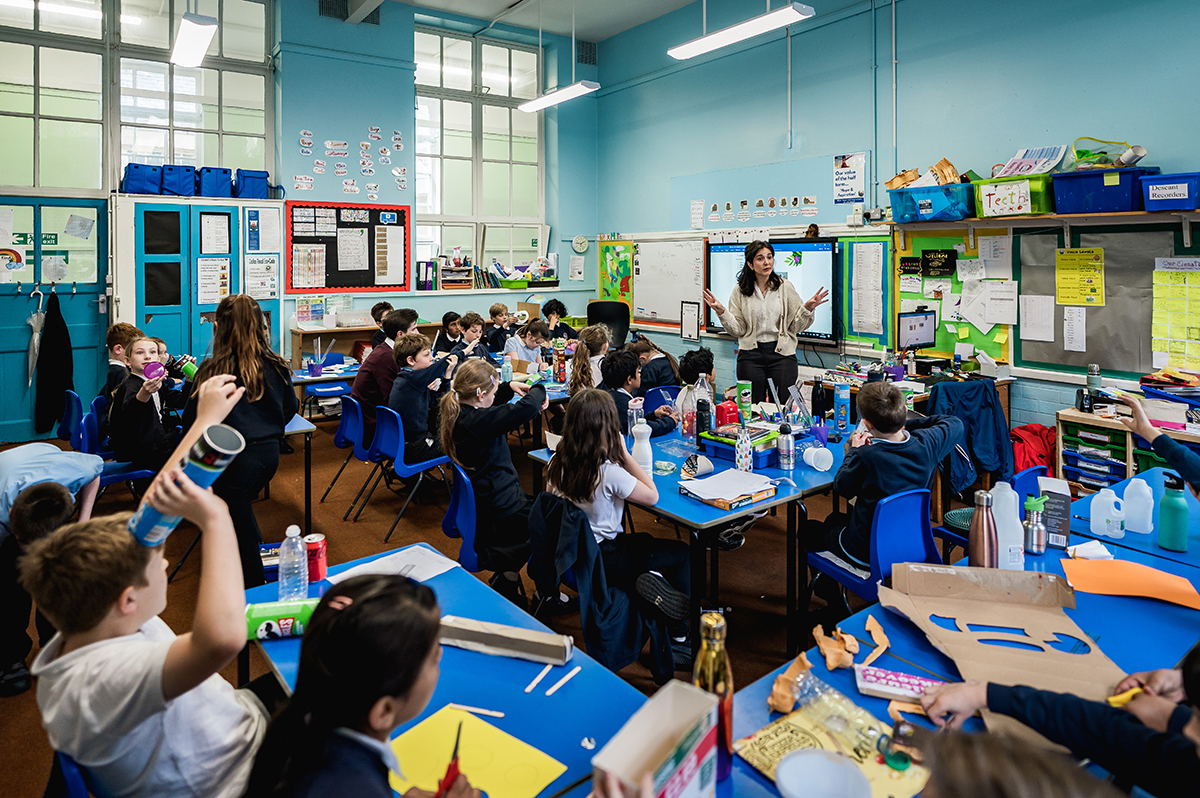 The Dukes in Lancaster have today taken over city centre shops as part of a Jungle Book trail to tie-in with the theatre's upcoming annual Summer 'Play in the Park' at Lancaster's Williamson Park, which this year is The Jungle Book from Friday 22 July – Sunday 28 August. The city centre trail takeover, which is supported by this year's sponsors Lancaster BID, runs until 22nd August.
The trail sees Jungle Book-themed puppets created by local school children takeover the storefronts of both local and national businesses to create a city centre trail which includes ten locations. At each location trail adventurers will find lots of jungle creatures and characters, with one lucky adventurer winning a family ticket to this year's park show.
The Dukes has been entertaining generations of families with their summer promenade shows since 1987, attracting a total of more than half a million people. The promenade production, which will be performed Tuesdays-Sundays at 7:15pm, will see audiences guided through a transformed Williamson Park where audiences travel across locations within the park as they follow the story.
The schools that took part in creating this year's trail were Glasson Dock C of E Primary School, Ryelands Primary School, Morecambe Bay Community Primary School, Sandylands Primary School, Dallas Road Primary School and The Loyne Specialist School.
Entry forms for the trail competition can be picked up in participating businesses (Marketgate, The Entertainer and V.I.C) around the city centre or can be downloaded from www.lancasterbid.org. For full details of how to enter, see the entry form. Trail maps can be found at Lancaster Visitor Information Centre, Coffee Shops, St Nics Arcade and will be available from The Dukes Website.
Step into the jungle of Lancaster's Williamson Park as this adventurous story is told by our heroic wolves, cheeky monkeys and jungle creatures as you are led through all the twists and turns of this famous story adapted by Andrew Pollard.
With the enchanting park as their backdrop, this epic setting for the story of Mowgli, Baloo and the fearsome villains Shere Kahn & Kaa is told as you follow the drama by moving from one wonderful jungle location to another.
Adapted by Andrew Pollard and directed by Sarah Punshon, who both worked on last year's acclaimed production of Grimm Tales, the cast for The Jungle Book are: Pushpinder Chani (Midnight's Children) as Bagheera, Lisa Howard as Shere Khan, Helen Longworth (The Archers) as Baloo, Purvi Parma as Akela and Jason Patel as Mowgli.
Rune Duncan, Headteacher, Thrunham Glasson C of E School said:
"Art encourages creativity and imaginative thinking for our children. It helps supports children to engage in out of the box thinking and can help them express their individuality and hone their creative problem-solving skills.
Being part of the Dukes' Jungle Box project has given our children a chance to express their ideas, build on their observational skills, gain confidence and further develop their creativity and imagination, as well as offering them time to reflect and most importantly have fun."
Kelly Burrell - Teacher, Morecambe Bay Primary
"We were very excited yesterday to have the opportunity to create jungle masks, using recycled materials. This is especially important to our school, as we are learning to look after our environment. We can't wait to see our jungle puppets in the shops in Lancaster and we can't wait to watch The Jungle Book.
A massive thank you to all of the inspiring staff that helped us yesterday and for providing such amazing ideas. We look forward to having them in school again."
Tony - Lancaster BID Manager
"Lancaster BID are delighted to be sponsoring Play in the Park in 2022. We are of course excited about the show itself but what was really important to us was connecting the city centre to the show at Williamson Park, and that is why the "Jungle Book takeover trail" will run through the Summer. We will be displaying puppets in shop windows across the city, all you have to do is find them to win £50 to spend anywhere of your choice in Lancaster and win a family ticket to the show. It's great to be partnered with The Dukes and we wish them all the success with Jungle Book this Summer."
This year's promenade production is sponsored by Lancaster BID and Supported by Lancaster University, Lancaster City Council and Arts Council England
Related
0 Comments