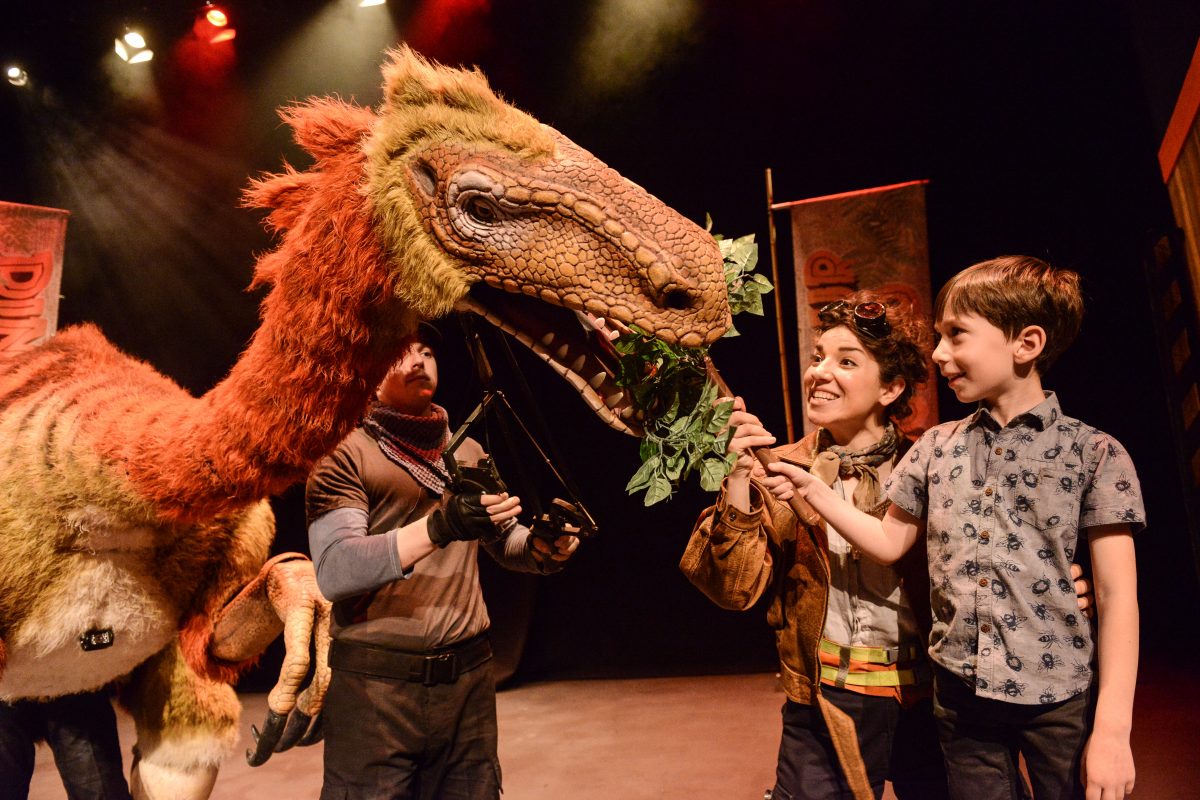 Skip those long airport queues and fly to Blackpool Grand Theatre for some show-packed seaside family fun that's guaranteed to give you that summer holiday feeling all year long. And you don't need to worry about renewing your passport!
Snap up your tickets now for our top show picks for everyone from grandparents to children and let all your loved ones experience the joy of live theatre…
Looking for seaside family fun this Summer? Join the legendary Johnny Ball for his magical tour of everything mathematical in Wonders Beyond Numbers on Saturday 2 July in an excitingly educational show filled with Johnny's infectious energy and inspiration; get ready for a road-trip full of fun adventures with the irrepressible Peppa Pig in the brand-new live stage show Peppa Pig's Best Day Ever on Saturday 16 and Sunday 17 July; bring your little pop star to a children's concert with a big difference on Sunday 31 July and Sunday 28 August as four fairytale Pop Princesses sing a soundtrack of top pop hits, plus songs from all your favourite films and musicals and jive right now to the Grand box office for the rocking return of Dreamboats & Petticoats - Bringing On Back The Good Times (with special guest star Mark Wynter) from Tuesday 2 to Saturday 6 August and let your young ones enjoy all the wonderful wit, charm and unforgettable songs from the golden era of rock 'n' roll.
The family fun continues right through 2022 with The Royal Shakespeare Company's fantastic introduction to the Bard's popular romantic comedy Twelfth Night in a new 90-minute show from Thursday 29 September to Saturday 1 October; Britain's best-loved picture book The Tiger Who Came to Tea roars into the Grand for a delightful family show packed with oodles of magic, sing-a-long songs and clumsy chaos from Friday 7 to Sunday 9 October; delight the whole family with a captivating new production of Beauty and the Beast from the critically acclaimed Ballet Theatre UK on Friday 14 October; Jurassic Park roars to life on stage with the delightfully interactive Dinosaur Live on Tuesday 8 and Wednesday 9 November, the glorious Grand Christmas Concert bring fabulous festive cheer on Monday 12 December, and don't forget our fabulous family pantomime Sleeping Beauty starring the superbly silly Steve Royle and Dancing on Ice champion Hayley Tamaddon from Friday 2 December to Sunday 1 January. It's never too soon to book for Christmas 2022. Oh no it isn't!
We know it's good to be prepared as a parent, so here are just some of our fantastic family shows for 2023 to book into your diary now! More to be announced…
Don't miss the breathtaking performers in the powerfully potent cocktail of dance, acrobatics, music, hip hop and comedy that is Tap Factory on Tuesday 7 February; partner up with Strictly champ Giovanni Pernice as he packs up his glitterball trophy and invites you to join him and an outstanding ensemble of dancers and singers on Friday 10 March; get ready for a real monster of a family show with Shrek the Musical from Blackpool Operatic Players from Wednesday 5 to Saturday 8 April, bringing back all the beloved characters to the stage and dive deep into the wonderful world of science in the explosive Ministry of Science on Sunday 18 June. Expect 20ft liquid nitrogen clouds, fire tornados, ignited methane and even a self-built Hovercraft!
Book your seats now for one of our sensational shows and enjoy spectacular seaside family fun this Summer and beyond…
Ten top tips for bringing children to the theatre:
At Blackpool Grand we love it when children and families join us for shows, workshops or activities! But we know it can sometimes be a lot to think about! Here's a handy guide to bringing your little terrors to Blackpool Grand:
1. Don't worry about the inevitable toilet trips! We offer baby changing facilities in the Stalls (ground floor) and an accessible toilet allowing more room (especially if you have a couple of children with you).
2. We have booster seats available so that your little ones won't miss a minute! Simply ask a Front of House team member on arrival.
3. Blackpool Grand has partnered with a wide selection of great places to Eat and Drink in our Take a sEAT promotion. Many offer great value and discounts on the day of your visit when showing your theatre tickets. Some even offer FREE child meals! Check out our website.
4. We offer Visual Stories and PECS cards for any children that struggle in busy spaces or that are better prepared knowing what the trip will involve. Visit our Accessibility website page.
5.Children are welcome in all our bars with soft drinks readily available, but we ask that parents/guardians keep a close watch on busy occasions.
6.Show merchandise is often available to buy in the foyer for children's and family shows. Who doesn't want a light up wand?
7.Lost Children – All our Front of House team are connected via headsets, if you experience any concerns, or need urgent assistance, they are immediately on hand.
8. Pushchairs and prams can be stored on the ground floor on the Stalls (unfortunately, you cannot take your pushchair to where you are sitting for safety reasons). Please speak with the Front of House team for any assistance.
9. Free Babes in Arms tickets for children aged under 2 are available for suitable shows and will be listed on the show's page.
10. And if you are coming to Blackpool on a trip, why not make a day or weekend out of it! Take a look at what else Blackpool has to offer to add to your experience at www.visitblackpool.com
We have lots more useful info for family theatre visits on our website:
https://www.blackpoolgrand.co.uk/general-information/children-and-families
Bring the family together at The Grand and make magical memories to last a lifetime.
Book your seats now at Blackpool Grand Theatre for sensational seaside family fun!
Visit blackpoolgrand.co.uk or call the box office on 01253 290 190 for bookings and further information.
LISTINGS
Grand Theatre, 33 Church Street, Blackpool FY1 1HT
Box Office 01253 290 190
blackpoolgrand.co.uk
Facebook - @blackpoolgrand
Twitter - @Grand_Theatre
Instagram - grandtheatrebpl
Related
0 Comments