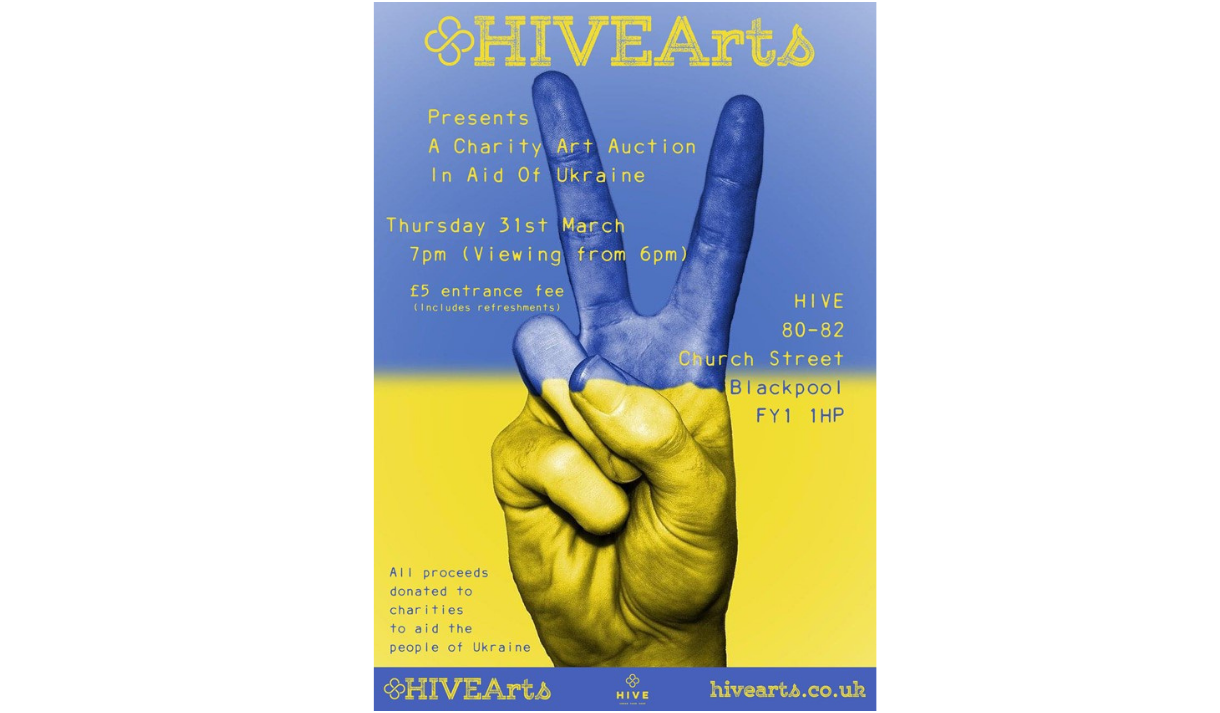 The ongoing humanitarian crisis unfolding due to the invasion of Ukraine has prompted HIVEArts to try and do a small part in aiding the efforts to help the people of Ukraine.
On Thursday 31st March HIVEArts and HIVE Café are presenting an art auction, with all proceeds being donated to charities aiding the people of Ukraine.

The event starts at 7pm, with viewing of the art on sale from 6pm. There is an entry fee of £5, which includes refreshments. A large number of locally based artists will be donating artwork to the cause.

This is an opportunity to own artwork from some talented artists, and donate to a much needed cause. Some of the artists who are contributing artwork to the auction are:Anna Ravliuc-Bloomfield, Adrian Pritchard, Anna Margaret Paprzycka, Ayten Nightingale, Beata Kuczynska, Chris Fenn (seca-one), Dawn Mander, Dylan Cross, Elizabeth Gomm, Elizabeth Ward, Helen Yates, Jacquie Cross, Jill Reidy, John Marc Allen, Kate Yates, Laura Jane, Laura Shevaun Green, Monika Mrozowska, Paul Wright, Peter Jamieson Sinclair, Przemek Malachowski (Shamack), Rachel Joy, Richard Hardwick, Richard Oughton, Robin Ross, Robert Sanderson

The event takes place at HIVE Café, 80-82 Church Street, Blackpool, FY1 1HP on Thursday 31st March.

Event starts at 7pm, viewing from 6pm.
Proceeds to be donated to:
- British-Ukrainian Aid supports people suffering from the war and humanitarian crisis in Ukraine by aligning UK and Ukrainian efforts. https://british-ukrainianaid.org
- With Ukraine Global Support Fund is a special fund to support Ukraine set up by the Embassy of Ukraine in the UK. https://www.withukraine.org
- Sunflower Of Peace is a Ukrainian charity gathering medical supplies for paramedics and doctors on the front lines. https://www.facebook.com/donate/507886070680475/?fundraiser_source=external_url
Related
0 Comments