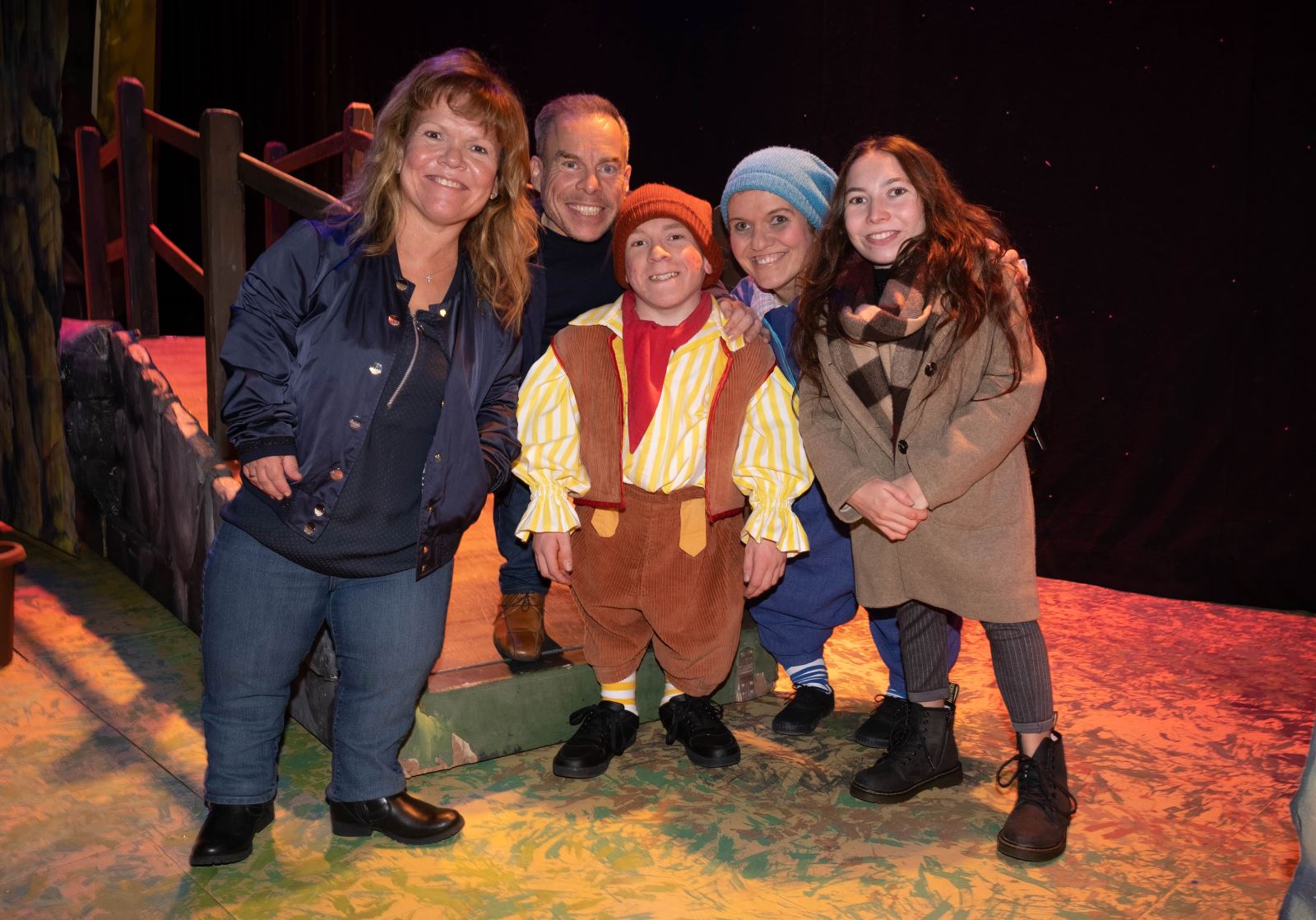 Blackpool Grand Theatre and its audience for the opening night of Snow White and the Seven Dwarfs, were delighted to welcome star of stage and screen, Warwick Davis.
Warwick attended the opening night of the panto to watch his son Harrison, who plays Soppy, one of the seven dwarfs in this year's production of Snow White.
Harrison first showed he had his father's star quality at a very young age, appearing as a Gringotts Goblin in 'Harry Potter and The Deathly Hallows' Part 2 when he was just six years old.
His next film appearance was in 'Jack the Giant Slayer', before he was launched into that famous galaxy far, far away for 'Star Wars: The Rise of Skywalker', to play Pommet following in the footsteps of his father's role who played Ewok Wicket.
Harrison is no stranger to the West End stage having performed at The London Palladium for the ITV show, 'Tonight at the London Palladium'. He has also performed at The SSE Arena Wembley, for the ITV show, 'Britain's Got Talent: The Champions'. Harrison lends his voice talents to a brand-new animated series on Boomerang called, 'Moley' in which he plays the loveable character of Cheese. Harrison is excited to kick-off his first full-length pantomime run in style, at The Grand Theatre, here in Blackpool!
Making this a real family affair, Harrison is joined by his aunty Hayley Burroughs, who plays Kip in this year's panto, whose screen credits include appearing alongside Cate Blanchett in 'Elizabeth' and the iconic 'Hitchhiker's Guide to the Galaxy' to name a few.
Harrison's father, Warwick Davis is an actor, comedian, filmmaker and television presenter. He became synonymous playing the titular character in 'Willow' (1988) and the Leprechaun film series (1993–2003), several characters in the Star Wars film sequence (1983–2019), most notably the Ewok Wicket, and Professor Filius Flitwick and Griphook in the Harry Potter film series (2001–2011). He has also presented the ITV game shows Celebrity Squares (2014–2015) and Tenable (2016–present).
Active within the industry since he was 12, Davis is the highest grossing supporting actor of all time (excluding cameo appearances), owing predominantly to his appearances in the Star Wars and Harry Potter series of films.
Warwick and his family were delighted to attend the event and could not speak highly enough about the cast and production.
Snow White and the Seven Dwarfs is on now and runs until the 2 January 2022, call the box office on 01253 290 190 or visit blackpoolgrand.co.uk. Already Blackpool Grand's 2022/23 pantomime Sleeping Beauty has gone on sale to a record opening.
Keep up-to-date with the latest information on shows at Blackpool Grand theatre on Twitter @Grand_Theatre.
For further information, please contact Sarah Jane Wright on sarahjw@blackpoolgrand.co.uk
Related
0 Comments