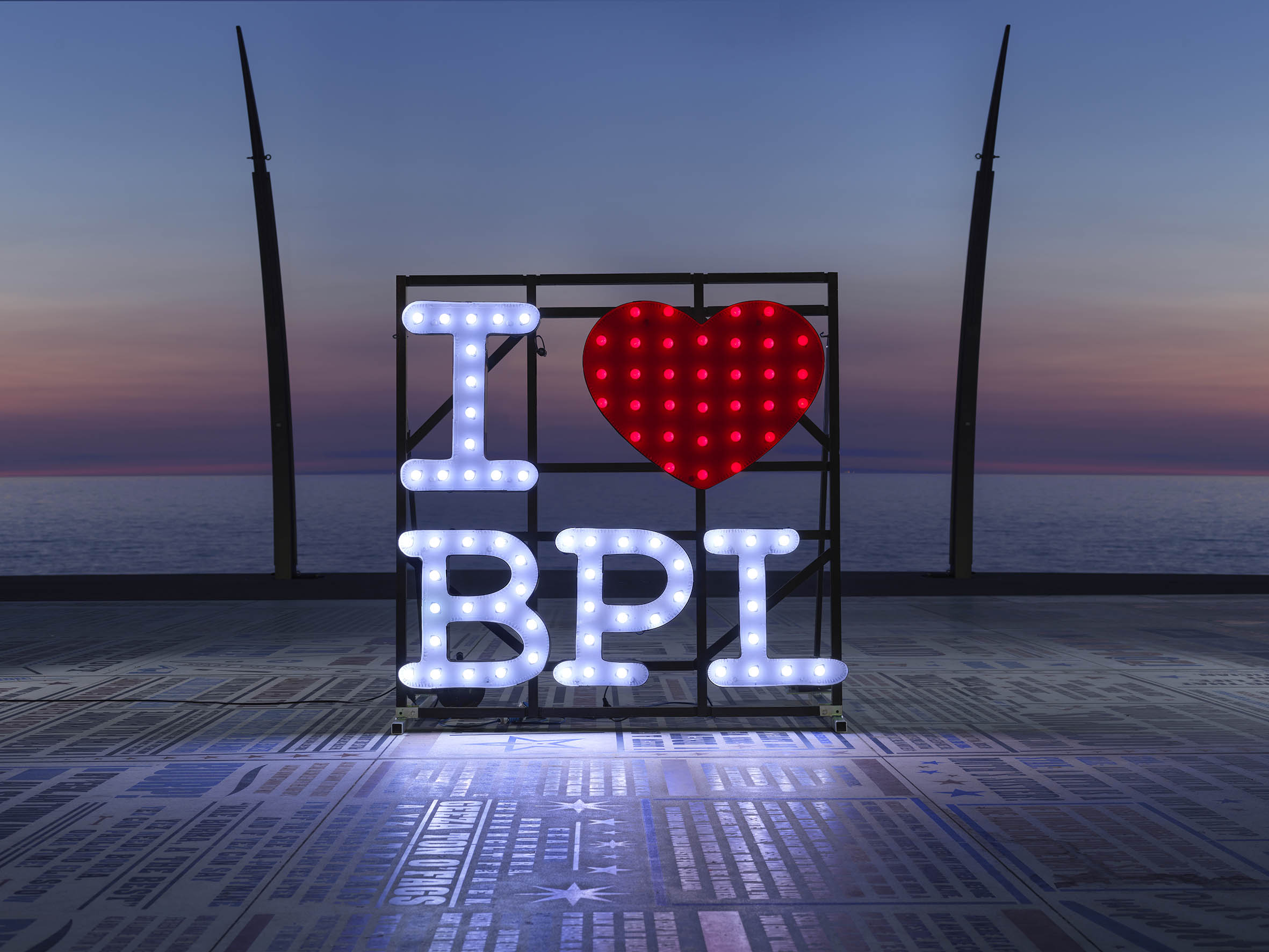 📸 credit Sean Conboy for Visit Blackpool
Blackpool-born Jack Irving, best known for creating wildly-theatrical outfits for Lady Gaga, has created Astral Dreams, a stunning laser-mapped show that will be projected nightly on to the front of The Blackpool Tower building.
And Laurence Llewelyn-Bowen, the Illuminations' creative curator and star of Channel 4's new remake of Changing Rooms, has re-imagined a spectacular water feature at South Beach, turning it into a drag-themed sound and light show, Venus Remixed.
Both of the new features will be unveiled when the Illuminations are switched on by Shirley Ballas, head judge on BBC's Strictly Come Dancing, on Friday 3 September.
The Switch-On moment will be the finale of a live concert in the Tower Ballroom and will trigger the start of four months of free-to-access illuminations, only the second time in history the famous lights have been extended through the Christmas and New Year holidays.
Jack and Laurence's designs are just two of the exciting features in the 2021 display. Others include a series of interactive new light-based installations on the Tower Festival Headland, the return of the hugely-popular Spitfire Island and a recreation of a historic section of lighting that was first visited by royalty more than a century ago!
The Astral Dreams laser show created by Jack will transform The Blackpool Tower building into a sea of light, sound and colour with five high-powered lasers beamed on to the historic frontage. It will be accompanied by a new soundtrack composed by local music composer and producer, George Cornes.
Jack said: "The Blackpool Illuminations are a huge part of my life and have been since I was a child as I grew up here. The lights were always such a huge driving inspiration behind my work so they mean so much to me.
"It's so incredible to work on this laser show and to be able to use the Blackpool Tower building as our canvas for the installation is amazing. The show is a journey through light and sound and a depiction of the abstract visions we have when we dream."
George, who is based in Lytham St Annes, added: "The Astral Dreams project has brought together a group of artistic-minded people to construct a laser show unlike anything Blackpool has ever seen before - with original musical scores and tailored laser programming to give a unique experience to those who attend."
The Venus Reborn tableau at South Beach was originally created by Laurence Llewelyn-Bowen in 2008 with Greek gods, a gigantic water tank and LED lighting. Fast forward to 2021 and it has been given a glamorous makeover as Venus Remixed, drawing inspiration from local drag talent and featuring three giant digital screens. It will incorporate a brand new sound and light show every 10 minutes.
Laurence said: "This year, perhaps more than any other year, switching on Blackpool's Illuminations marks an important moment of brightness as the country moves into autumn and winter. Turning the lights on has always inspired an optimism and positivity of which Blackpool is understandably proud."
New light-based installations on the Tower Festival Headland are guaranteed to provide some unique selfie and Instagram moments for visitors and include:
Spiro Light Tunnel: An immersive walk-through tunnel of light spanning more than 25 metres created with individually-mapped LEDs that create an extraordinary lighting effect. First unveiled at the resort's Lightpool Festival two years ago, it returns to the seafront for the full Illuminations season.
Sandcastle & Beach Balls: Two giant pixelated beach balls – seven metres tall to be exact – will be placed on the Golden Mile between the RNLI lifeboat house and the iconic Comedy Carpet. Each ball, made up of 7,000 tiny lights, is a walk-through experience giving visitors a fun photo opportunity. The projection trailer located on the Tower Festival Headland will also be transformed into an illuminated sandcastle and watch out for the giant deckchair too!
I Love BPL Installation: Show (and share) your love for Blackpool with this specially-commissioned installation. It stands eight feet tall and was manufactured at Lightworks, the home of Blackpool Illuminations, using traditional manufacturing methods and lamps.
Other features to watch out for in 2021 include:
Princess Parade: The closest to our modern-day Illumination displays first appeared in May 1912 to commemorate Blackpool's first royal visit as Princess Louise opened the new section of promenade named after her - Princess Parade. Nearly 110 years later, Princess Parade still holds its original place in the Illuminations. Look out for the revamped display which has been completely relit using traditional tungsten lamps to show how it looked during that special royal visit all those decades ago.
Spitfire Island: Back by public demand, a replica Spitfire returns to Gynn roundabout courtesy of Blackpool's Hangar 42 Visitor Centre. For this year's display, the fighter plane will once again be tastefully illuminated with sweeping search lights.
Commercial sponsors of this year's Illuminations include Access Fylde Coast; Affinity Lancashire; Barclaycard; Beaverbrooks; Better Start; City Fibre; Comedy Station; Coral Island; Fox Brothers; Fylde Coast Women's Aid; Hangar 42 Visitor Centre; Hikvision; Houndshill Shopping Centre; Nickelodeon; Northern Rail; Partington's Holiday Parks; Sooty; White Ribbon.
This year's Illuminations season will run every night from Friday 3 September, 2021 to Monday 3 January, 2022. It promises to be Blackpool's biggest autumn/winter season with:
The return of Ride The Lights, a unique opportunity to cycle along a traffic free promenade and get a sneak preview of the 2021 Illuminations. The free event takes place on Tuesday 31 August.
The staging of the annual Illuminations Switch-On concert in the Blackpool Tower Ballroom for the first time. The concert will be staged on Friday 3 September and will feature KSI, Britain's biggest breakthrough artist in 2020, Wes Nelson, the Wombats and Ella Henderson. Produced in association with MTV, the concert will be hosted by TV and radio presenter Becca Dudley, and will be watched by an audience made up of winners of a free-to-enter ballot. The concert will also be live-streamed on the night and can be viewed free of charge at: visitblackpool.com/switchon, youtube.com/mtvuk and facebook.com/mtvmusicuk
The World Fireworks Championship Blackpool back for 2021 with the free events taking place on alternate Saturdays on the seafront on September 11 and 25, and October 9 and 23
The return of the annual Lightpool Festival, a free programme of events running over 16 nights from October 15-30.The award-winning festival will provide a spectacular mix of light-based art installations, live performances, parades, lasers, 3D projection shows and a host of family-friendly activities.
The biggest programme of Christmas entertainment that the resort has staged in years. In addition to the Illuminations remaining lit throughout November and December, there will be an indoor festive market at the Winter Gardens, a Christmas By The Sea village with skating rink, light projection shows, traditional pantomimes, and for the first time outside London, the FriendsFestive exhibition celebrating all the best seasonal moments from the hit TV show.
Related
0 Comments