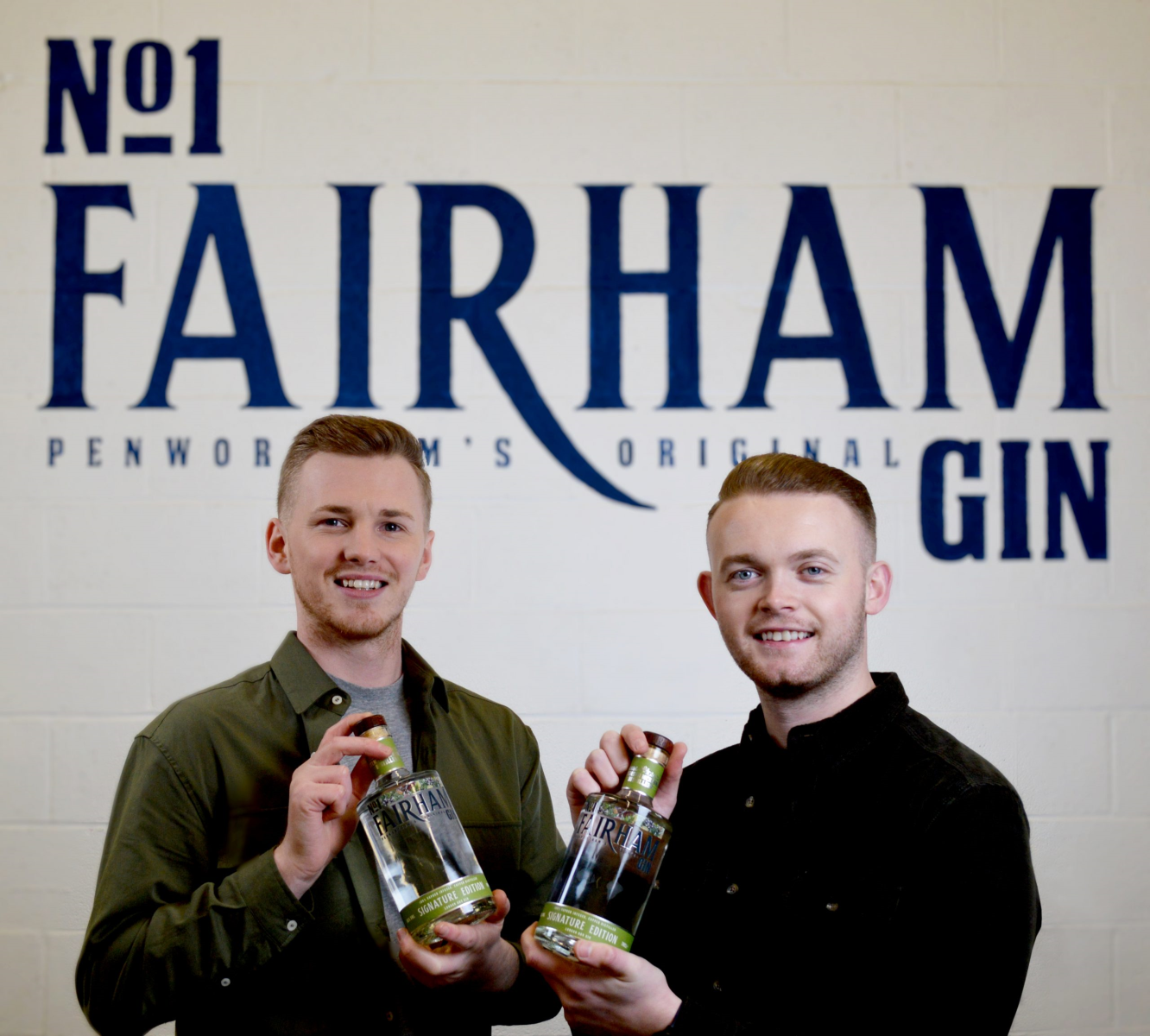 Ellis McKeown and Liam Stemson, founders of No.1 Fairham Gin, have been working hard for the past 12 months and are now finally ready to release their Signature Edition gin.
Their story began in Penwortham, Lancashire as the two wanted to make their mark on the gin industry. After being lovers of a gin for a number of years, to them, it only felt right to try and make their own unique gin that represented their taste and love for the juniper based spirit.
Ellis and Liam have used the UK Lockdowns and the more free time that came with them, to turn their dream into a reality. Ellis, 26, who comes from a social media and marketing background, said, "We're huge gin fans and it's always been on our minds to make our own. Lockdown gave us time to perfect this and has allowed us to make our move into the craft gin market."
Firstly came the idea and branding behind the gin which was very much based on the location and birth of their brand. No.1 Fairham Gin's name is a nod to the address where the idea was thought of and where the recipe of their Signature Edition gin was first infused together. With their growing ideas and the need for more space, distillation and packaging is now running at a unit in Leyland.
Ellis and Liam wanted to create a London Dry Gin that would stand out from the crowd and give every gin lover a reason to choose their gin. The pair decided to reach out to expert Gerard Macluskey, who agreed to be their Consultant Master Distiller. A renowned figure on the gin scene, Gerard has previously worked as assistant distiller at Tanqueray Gordon where he was involved in the development of the well-known Tanqueray No.10 Gin. Among other things, he has also been head distiller for Masons Gin distillery where he created the UK's first ever distilled sloe gin.
Since working with Gerard, they have been able to finalise their Signature Edition recipe. Liam, 25, who has a career in sales, says, "There's quite a citrus punch. It's 100 percent vapour infused as well, which not a lot of distilleries do as a sole method, giving it quite a delicate flavour whilst also having a great smell."
Ellis adds, "We cut out the chill filtration stage during distilling to savour every flavour, so this means you may notice a pearlescent haze when the gin is chilled, mixed with ice or your favourite mixer. This is the way we want you to enjoy it and it allows the gin to give you a citrusy hit with every sip."
Wanting to infuse the finest botanicals and exotic fruits, Liam and Ellis knew that the name, bottle and branding all needed to be in sync. Not only will you find a 100% vapour infused London Dry Gin in a No.1 Fairham Gin bottle, but you will also find an illustrative design that represents the flavour profile of the gin, with the bespoke design located on the front of the bottle and also on the inside of the bottom band to show the inspiration behind the unique flavour.
Liam said, "People have said to us that there's a lot of gin brands out there and aren't we worried about the competition, but we wouldn't just be doing it if we didn't think we could add value and bring something different to the market."
Titled as Penwortham's Original, the pair are keen to highlight the area where they live and where the gin is from. As well as looking to work with local business in the Penwortham and surrounding areas, Ellis also highlights, "We have big plans for the future and despite our current unit only being down the road from our home address, we would love to move our production permanently into the heart of Penwortham and firmly put our home town on the gin map. Watch this space!"
Ellis and Liam knew that as a new business they wanted to be aware of their footprint on the environment. One way they have combated this is by using Flexi-Hexi, a sustainable packaging company who have created a 100% plastic free alternative for packaging suitable for gin and other spirit bottles.
Liam said, "We're proud to be using an eco-friendly product which doesn't compromise on quality and functionality. To us, it's important to be aware of this type of thing and it's a high priority of ours as we move forward".
As the business grows, the two men are looking at ways to be more eco-friendly including cutting down the waste of unused fruit during their distilling process. They welcome suggestions on how they can improve and would urge people to get in touch if they'd like to discuss this in more detail.
After a year in the making, No.1 Fairham Gin is due to release its first small-batch craft gin, with details of how you can buy their Signature Edition Pre-Order Bundle being released before the end of March. Visit www.no1fairhamgin.com or keep up-to-date via their social media - they're on Facebook, Twitter & Instagram
Related
0 Comments