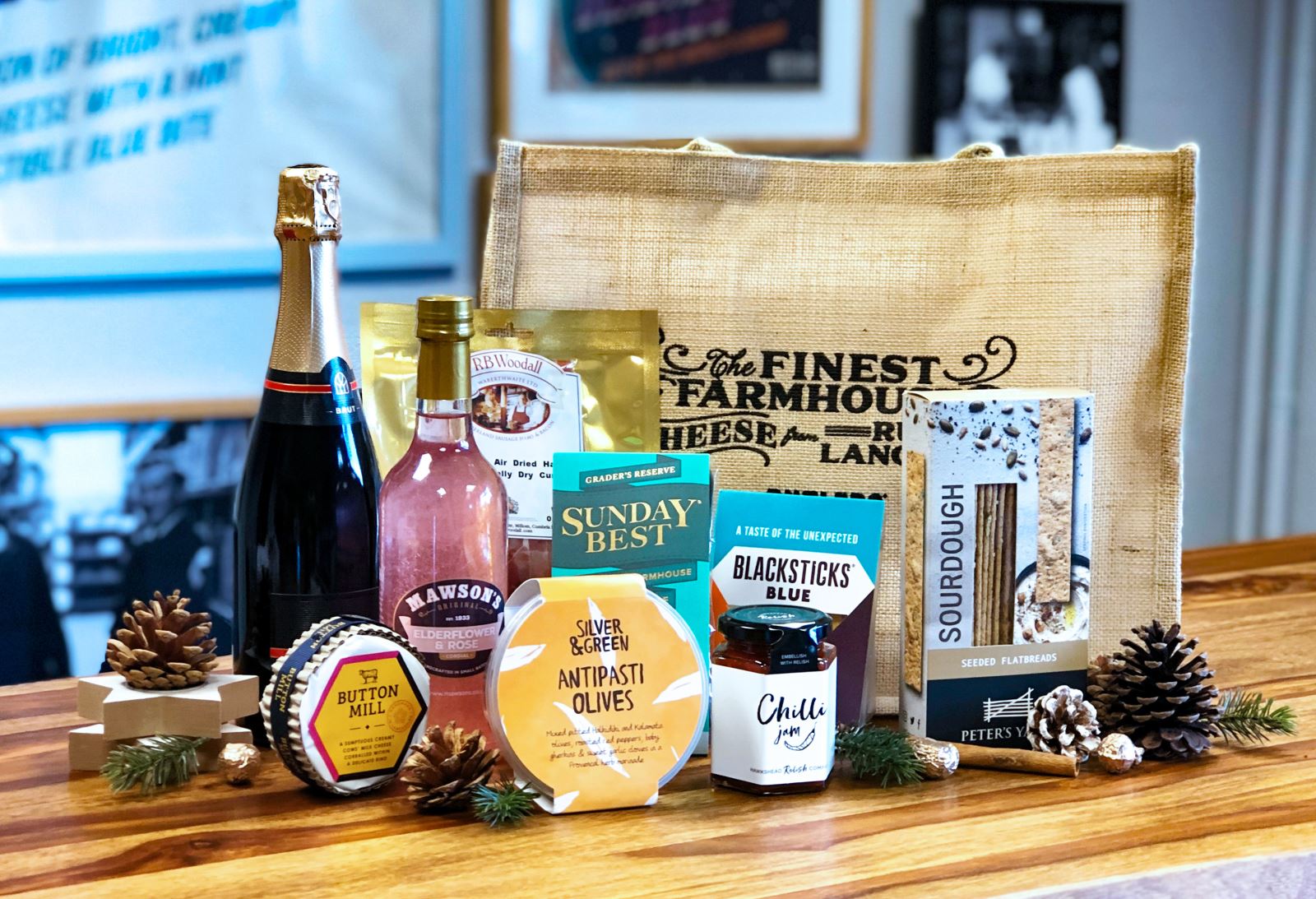 Fresh food from artisan producers delivered to homes across the North West
November 2020 – With national lockdown "two" underway, Butlers Farmhouse Cheeses has brought Christmas to the Butler's Larder.
The Butlers Larder has everything you need for a delicious Christmas, from turkey and all the trimmings to premium farmhouse cheeses, artisan chocolates, mince pies and festive craft gins. Just pick whatever you like for your box, online, and it will be delivered to your front door. Butlers also has an early-bird offer from now until December for its complete Christmas box, containing everything you need for Christmas.
Matthew Hall, fourth generation owner, Butlers Farmhouse Cheeses says, "The Butlers Larder has gone from strength to strength since we launched in April. That's because our customers love the quality produce and convenience of online delivery, while supporting small, often family businesses when they need it the most.
"Sadly, it's unlikely that the traditional trip to the Christmas or Farmers market will happen this year and that's where so many people would go to buy their festive treats from local suppliers and small businesses. Food and drink brings so much joy into the home at this time of year and that feels more important than ever in 2020, so we have worked with all of our artisans to bring Christmas to the Larder instead. We have our own delivery vans and drivers, hand-picking everything from our farm so our customers don't need to worry about a thing."
Butlers Larder
Butlers Farmhouse Cheeses, the fourth generation family business and cheesemaker in Longridge, Lancashire (famous for Blacksticks Blue) launched the Larder at the start of national lockdown "one" for people to safely do their full grocery shop online. It brought together small, artisan food and drink producers from across the North to deliver to homes in the North West (Greater Manchester, Cheshire, Lancashire, Cumbria, Merseyside). A full list of artisan producers can be found here.
Butlers has continued to grow the Larder and add new products and artisan partners. The Larder has a selection of the most exciting food & drink (from meats, fish, cheese, milk, yoghurt and eggs to fresh bread, fruit and vegetables, tea and coffee, luxe chocolate and gin), and means that people can taste the best that the region has to offer, while supporting small, often family businesses - it gives the producers the opportunity to continue to work and get vital distribution for their products, especially during lockdowns and ongoing restrictions.
Order & Delivery
Visit www.butlerslarder.co.uk to place an order, minimum of £40. Orders must be placed by noon two days before delivery day.
Delivery Day schedule (none at weekends):
Tuesday - Lancashire
Wednesday - Greater Manchester & Cheshire
Thursday - Merseyside
Friday – Cumbria
Christmas Week Delivery Day Schedule:
Monday 21st December – Cumbria
Tuesday 22nd December – Cheshire, Manchester, Merseyside
Wednesday 23rd December - Lancashire
Collection from Butlers Farmhouse Cheeses in Longridge is also available.
Want to join the Larder?
Producers who would like to be considered for the Butlers Larder or for those who want to recommend someone can contact the team at Butlers a line info@butlerslarder.co.uk
Related
0 Comments