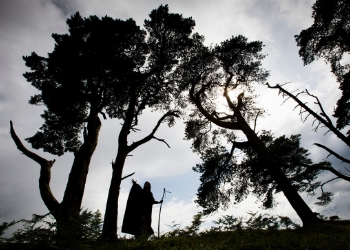 Lancashire's long and rich history is part of the county's lasting appeal, however as with every good historic tale, it usually comes with something a little more sinister.

Said to be one of the most haunted locations in the UK, Lancashire has great stories to tell, from witches to white ladies patrolling hallways.
Here we list some of Lancashire's most haunted places to visit;
1. Winter Gardens, Morecambe
Originally built as the Victoria Pavilion Theatre in 1897, Morecambe Winter Gardens is said to be home to a number of ghosts. Located mostly in the main auditorium, the apparitions vary from shadows moving across the stage, to a rather grumpy ghost who has been said to sometimes push, poke and even slap unsuspecting performers and guests. The ghost of a seamstress who dreamt of life on stage is still said to haunt one of the dressing rooms too.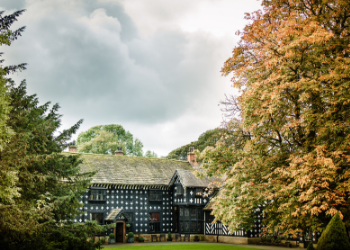 2. Samlesbury Hall, South Ribble
Reputedly one of the most haunted houses in England, Samlesbury Hall has a ghastly history from on the spot executions, to suicide and murder. For this reason, the fantastic medieval home has many resident spirits including the legendary White Lady, Dorothy Southworth who died of a broken heart and has been seen by many a shocked motorist crossing the nearby road. Ghost tours are available throughout the year or why not stay at the hall and see if you can spot a spectre.
3. Pendle Hill
Pendle was home to the 12 Pendle witches accused of witchcraft and the murder of ten people in the 17th Century. Sent to be tried, one died awaiting trial, one was found not guilty and the remaining ten were sentenced to death by hanging. It is now said the ghosts of the accused witches' roam Pendle Hill, making their presence known to anyone who dares try to contact them. Explore the Hill by yourself or take part in one of the many walking tours available.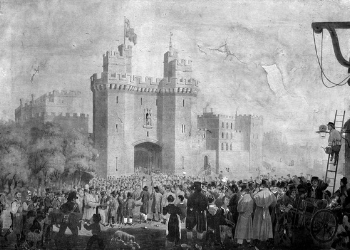 4. Lancaster Castle
The castle harbors a long and dark history. Used for the Lancashire Witch Trials in 1612, as well as 265 public hangings, and more recently a Category C Prison, it is no shock the castle has restless spirits. Spooky sightings have included shadowy figures, floating orbs, sudden low temperatures and the sounds of crying. Daily tours of the castle are available as well as occasional special haunted evening events throughout the year.
5. Hoghton Tower, Preston
Paranormal activity is so frequent at Hoghton Tower that the staff record all unusual occurrences in a special ghost file, it is no wonder it had been voted the third most haunted building in the UK. Ghosts reported include a little girl, a monk and a black dog, but most commonly seen is the Green Lady, who is dressed in beautiful green velvet and appears to be chuckling to herself. Why not spend time getting acquainted on a Ghost Tour of the venue?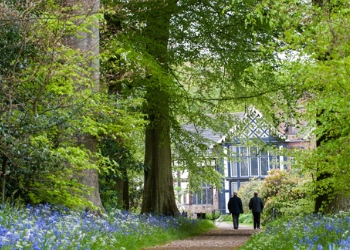 6. Rufford Old Hall
The hall is said to be haunted by Queen Elizabeth I, although it is unclear why she has chosen this location, she is always found in the dining room, perhaps awaiting a slice of cake? Another spirit who wanders the halls, is Elizabeth Hesketh a heart broken young lady who fell ill and died shortly after her husband was called to fight, and is still hoping to say goodbye.
7. Mercure Dunkenhalgh Hotel & Spa, Accrington
At 700 years old, its no wonder the 175 bedroom hotel has a bit of a haunted past. Guests report meeting the ghost of Lucette, once a governess to a wealthy family that lived in the manor house. The story suggests that Lucette was wooed by a visiting army officer one Christmas and made her believe he was going to marry her. His lies drove the governess into a dark place and she reportedly threw herself to her death from a bridge into the river close to the building. Sightings of the ghost are heightened during the festive season, particularly on Christmas Eve when the ghost is said to roam the hotel in a winding sheet.
Head over to our Halloween in Lancashire pages to find out more about the infamous Lancashire Witches and the spooky goings on this Hallows Eve.
Related
2 Comments