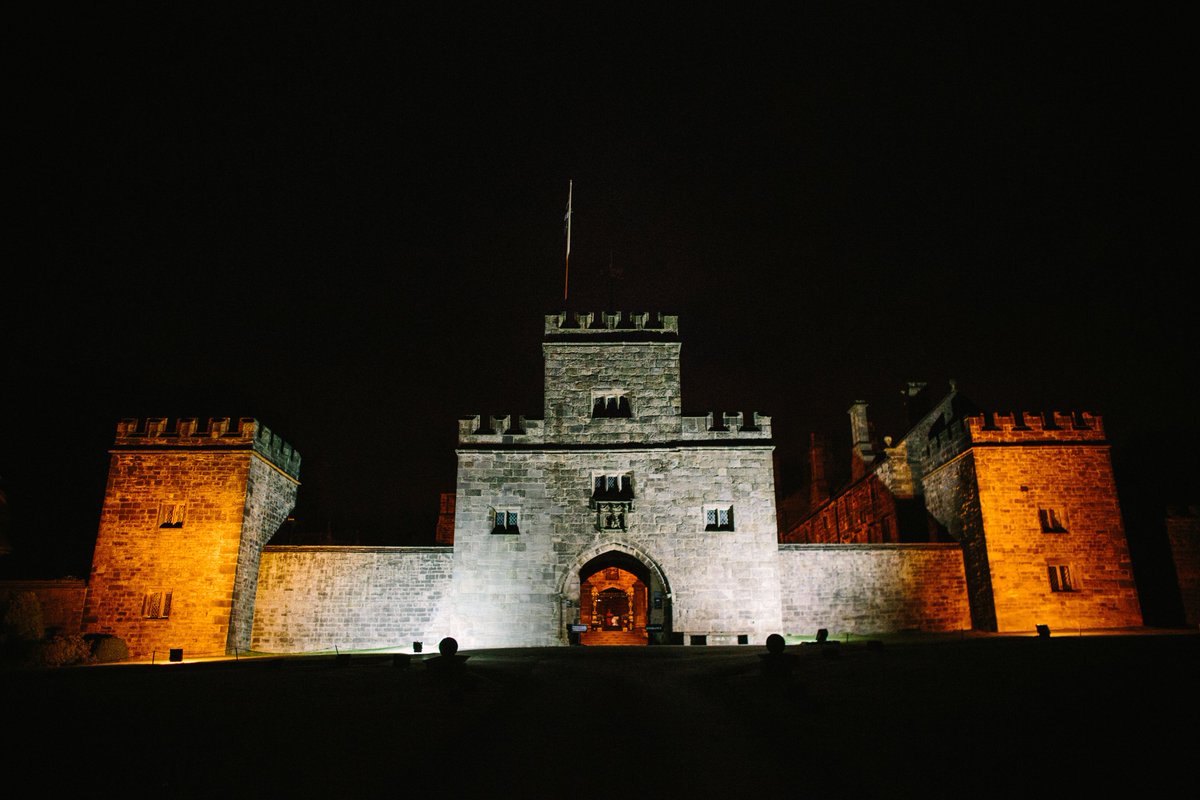 A ghost tour at the third most haunted building in the country, on Friday 13th – what could possibly go wrong for two people that are scared of their own shadows!
Having visited Hoghton Tower previously on a blustery day, that could have lifted Dorothy straight to Kansas City, Visit Lancashire's intrepid brave duo Donna and myself (Jacqui) headed off safe in the knowledge that in spite it being an old, intimidating and historic building (royalty have even visited and stayed) that we were well acquainted with the layout and would be fine – how wrong can two people be…..
Arriving promptly for the pre-ordered 2 course meal (included in the ticket price) we were shown to our table, which was beautifully set to accommodate all those in your party – there was a party of 8 on the evening so great for groups and larger families. (Please do remember this was pre COVID, although social bubbles and same household groups are still welcome) There was the option to purchase a hot, soft or alcoholic drink, a chilled glass of wine soon settled the nerves!
Without giving too much away, after the meal we were addressed by a speaker who expertly set the scene for the evening and running through the obligatory Health and Safety guidelines. We then headed off on the excursion, with only a few worried whispers.
Led through candlelit corridors by period dressed guides – all of which were very passionate and knowledgeable about the history of Hoghton Tower, we visited areas previously unseen including underground tunnels, features that began life in a local Abbey and a painting that changes after dark.
We visited many rooms and at each point we stopped we were given insights into the history and strange occurrences that have happened throughout the ages, including tales of disappearing floors, the Green Lady and connections to other influential families in the area.
Our final destination was the banqueting hall, sitting in front of a roaring fire, listening to more tales of the unexpected and strange going ons! At the end of the evening everyone was given the opportunity to stroll through the hall, speak to the guides and take pictures including the table where the now famous sirloin earned its knighthood.
The evening was a great success and everyone enjoyed their time at Hoghton Tower after dark. The ghost tour on Friday 13thMarch 2020 was the final one of the season and they will recommence from October/November. If you are interested in visiting the 3rd most haunted building we recommend you head to their website to find out more and to book, they are extremely popular so do book well in advance.
Since attending this event earlier in the year, there have been many changes due to COVID-19 – tours are still being held with some changes to ensure the safety of everyone involved and to adhere to all national and local measures.
Happy ghost hunting!
Related
1 Comments