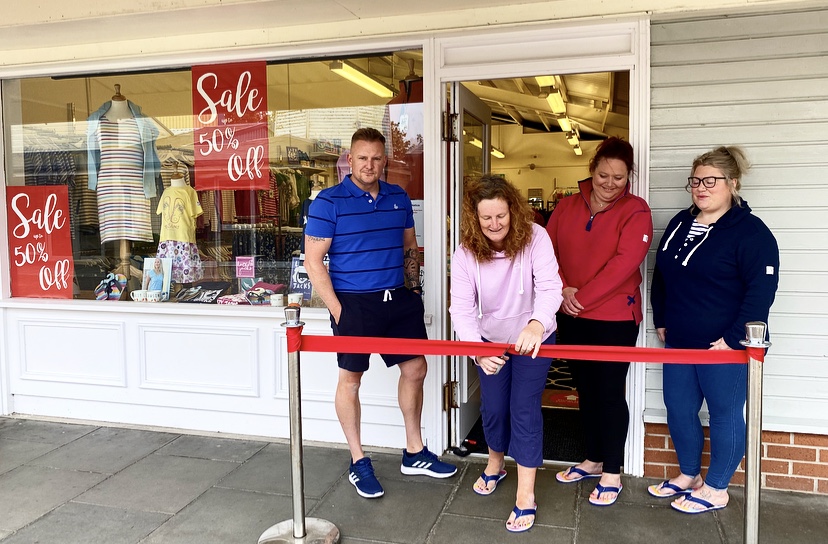 Affinity Lancashire are very excited to welcome the brand-new retail store Lazy Jacks, opening on Friday 17th July. The store will be opening in the former Jaeger unit at the Anchorage Road Outlet Shopping Centre, located in Fleetwood.
Gayle and John Robinson, the founders of Lazy Jacks started their business in 2002 from their basement in Teignmouth with just one style, the original Lazy Jacks drill shirt. As the Robinson family has grown so has the range, now supplying to over 400 independent shops throughout the UK, with selected stores across Europe.
The clothing brand took its name from the sailing fraternity, specifically certain rope used on yachts and boats to assist in sail handling called a Lazy Jack, and offers bright and colourful clothing for women, men and children.
Lazy Jacks currently have stores in Tavistock, Exmouth, Dartmouth, Teignmouth, recently opened a store in one of our sister sites at Affinity Devon alongside more than 400 independent stockists. The opening at Affinity Lancashire will mark the first standalone store in the North and further grow the exciting partnership between both brands.
Catherine Holmes, Centre Manager commented "Following a successful re-opening of the centre, we are absolutely delighted to welcome Lazy Jacks as they provide a fitting addition to our existing retail-mix whist bringing an exciting product range for our Fleetwood customers."
John Robinson, Lazy Jacks owner commented "This will be our first store opening in the North of England and we are extremely excited to be opening at Affinity Lancashire. We hope to welcome lots of new lovely faces in store soon".
Affinity Lancashire began its first phase reopening on June 15, in line with Government Guidelines have provided a safe shopping environment for its customers and staff. For more information on how the centre have provided a safe shopping experience please visit the website https://affinityoutlets.com/lancashire/event/affinity-re-opening-information/.
Some stores are currently trading slightly shorter hours, for any direct store enquires please contact them directly https://affinityoutlets.com/lancashire/stores/.
Related
0 Comments