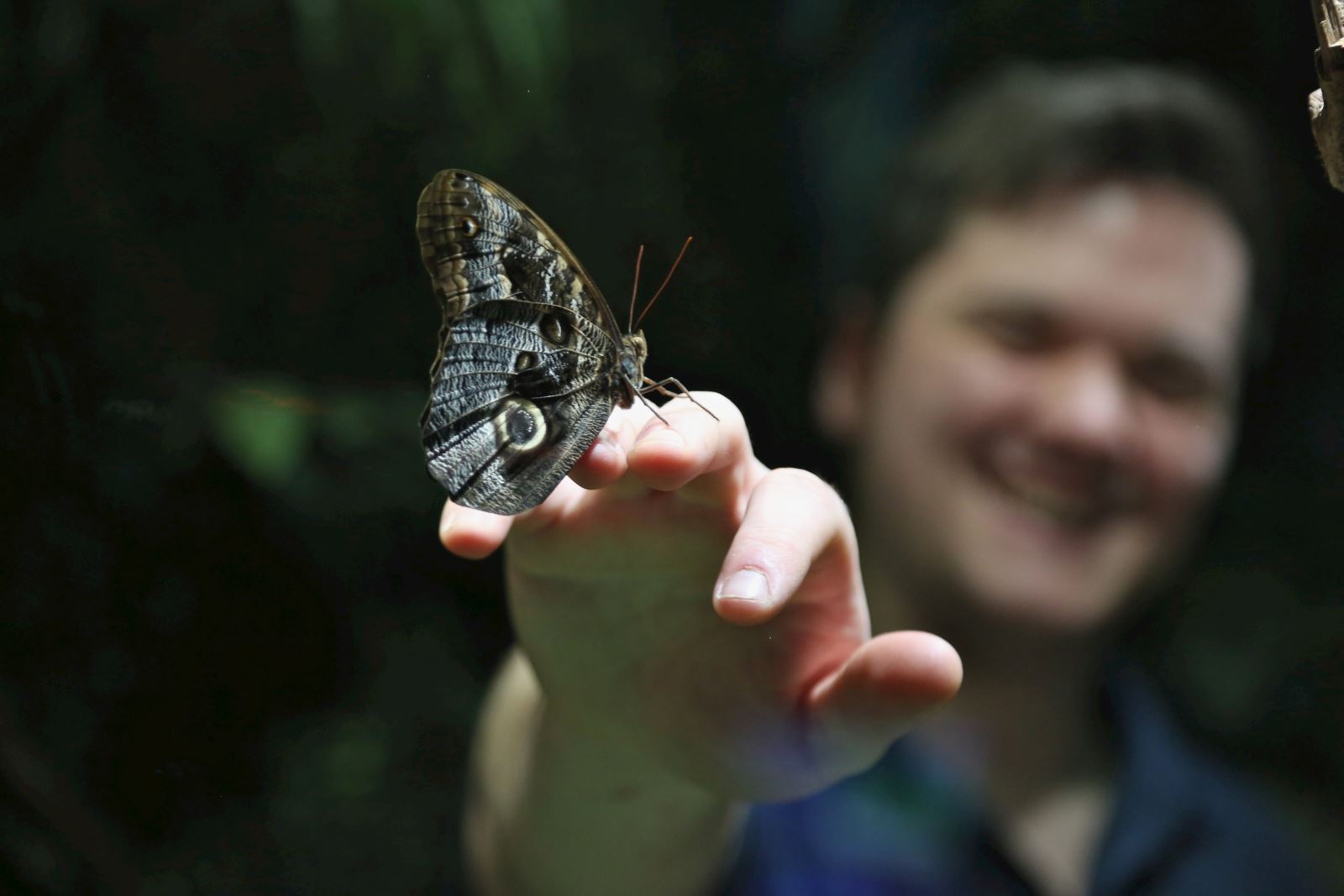 Conservationists at SEA LIFE Blackpool will be handing out packs of seeds this weekend to mark Learn About Butterflies Day to promote conservation as part of its 30th anniversary celebrations.
The popular seafront aquarium has an enchanting butterfly display, as part its Rainforest area, featuring a range of exotic, tropical and usual species, such as the Owl Eye butterfly.
Visitors can also watch chrysalis and pupa in various stages of development, including seeing beautiful butterflies slowly emerging from nature's most spectacular metamorphosis.
"It's an incredible process to watch," explained Matthew Titherington, general manager at SEA LIFE Blackpool.
"We have chrysalis at each different stage of development, so visitors can see the dramatic transformation from colourful caterpillar to breath-taking butterflies.
"Often some are in the process of magically emerging and drying their new wings.
"Butterflies are a key part of the global eco system," he added. "They help the critical role of pollination, act as a food source for other animals, increase the fertility of the soil and provide one of nature's most enthralling displays.
"As part of our 30th anniversary year, we want to show that the conversation of insects and bugs is equally as acute as the oceans."
Just as visually striking as any of the aquatic species at SEA LIFE Blackpool, butterflies come in a huge range of different colours, patterns and sizes.
Their bright colours help them to spot other members of their species to facilitate mating, as butterflies have excellent colour vision to allow them to find the flowers that they feed on.
Incredibly, taste receptors on their feet also help them locate suitable food sources or locations for laying eggs.
On Saturday, March 14, it's World Learning About Butterflies Day to encourage better understanding and to promote conservation of this delicate, ornate and endangered species.
As part of SEA LIFE Blackpool's important 'breed, rescue, protect' campaign, team members will be handing out packs over the weekend to encourage visitors to plant flowers popular with butterfly species, such as buddleja, wild marjoram, common knapweed and hemp-agrimony.
They will also be talking to guests about the different types of butterflies, their natural habitat, diet and the threats they face, like habitat destruction and climate change.
Matthew Titherington added: "We want people to find out more about where they live and what's happening to their natural habitats.
"To see children's faces light up after they have held one of the butterflies or seen their intricate patterns close up creates a wonderful and lasting memory."
A butterfly is a mainly day-flying insect, which includes the butterflies and moths. The butterfly's life cycle consists of four parts: egg, larva, pupa and adult. Butterflies have large, often brightly coloured wings, and conspicuous, fluttering flight.
Under the banner of '30 Years of Conservation – A Year of Celebration', aquarists at SEA LIFE Blackpool are staging a series of events throughout the year promoting ocean and ecosystem conservation.
To coincide as part of the landmark anniversary, the team have unveiled their best-ever annual pass offer…for an unbelievable £16.50, to allow as many people as possible to join in the celebrations and promote conservation.
Yes, that's almost the same price it would have back in 1990 when it first opened!
And it gives you unlimited access to the aquarium for an incredible price, not much more than one full-price admission. You can see the amazing butterflies as well as visit the new baby sharks; Phoenix, the rescued sea turtle; and other fantastic creatures as often as you like.
But hurry, there are only limited numbers of passes available.
SEA LIFE Blackpool works closely with its charity partner, the Sea Life Trust, as part of its popular 'breed, rescue, protect' campaign, to develop and support conservation projects worldwide, including threatened and endangered species.
Related
0 Comments