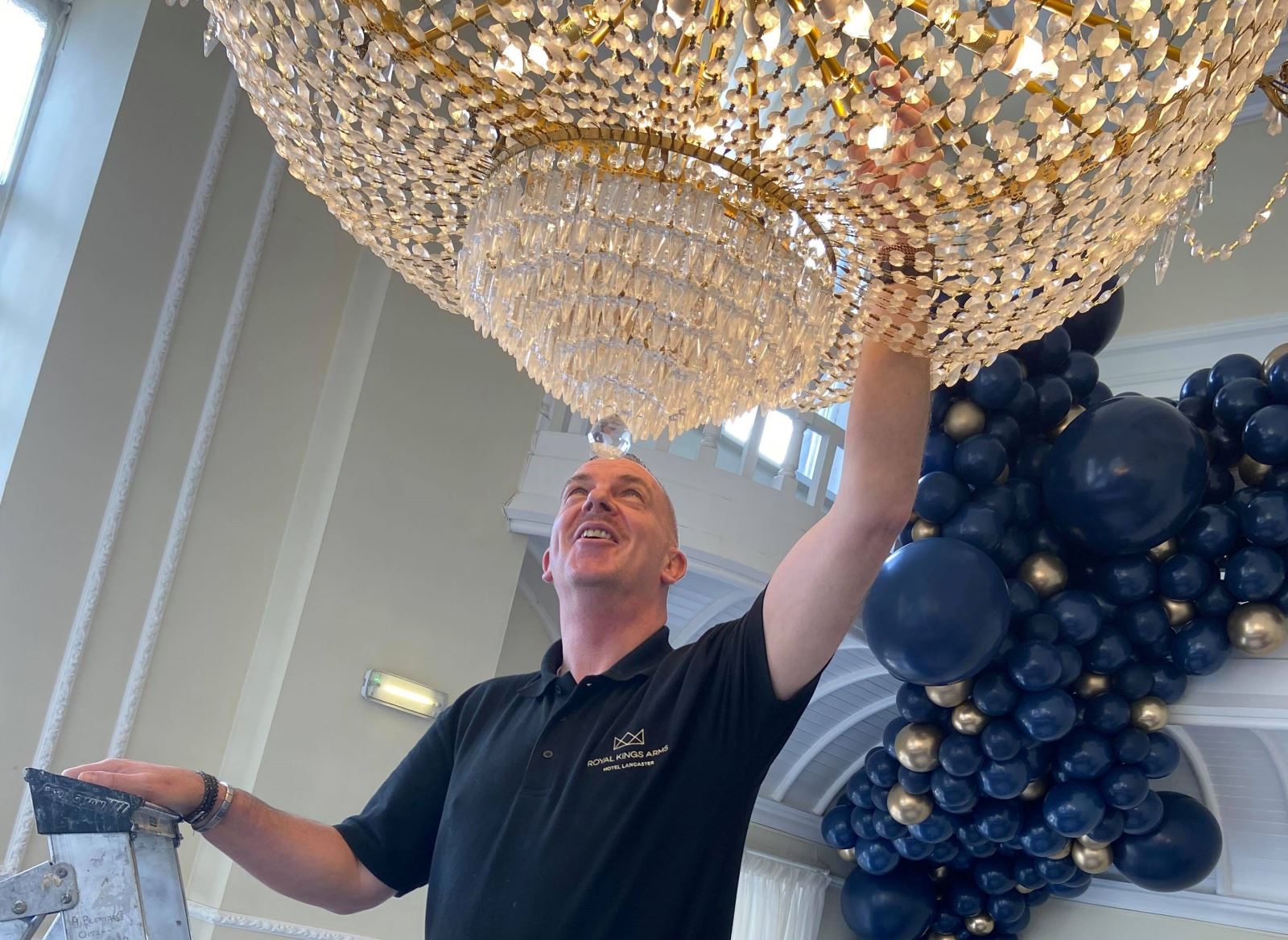 It can seem a long wait for the clocks to go forward bringing welcome lighter evenings, but one Lancaster hotel has been working hard to restore the shine to a piece of the city's historic heritage.
In restoring their impressive 10ft by 4ft chandelier, the city centre's Royal King's Arms has discovered intriguing tales of nobility and even deception about this unique piece of the city's past.
The hotel first opened its doors in 1625 and has been a keystone of Lancaster's social history ever since. Guests across the centuries included the most influential writers and thinkers, and some of the greatest crowned heads of Britain and Europe. King Louis XIV of France was so impressed by the edifice that in 1666 he actually bought it- although no one is quite sure why!
Royal patronage brought the finest craftspeople, textiles and furniture to the hotel, with high class visitors initiating a boom time for the town. Following a devastating fire in 1879, the resulting rebuild left hidden structural and décor weaknesses gradually coming to light.
Current owners "Artisan Hotels" embarked on a major restoration programme in 2018, first employing structural engineers to stabilise it. This paved the way for a top-to-tail refurbishment.
High on the list was the ballroom's stunning chandelier, which can be seen shining out of the first floor pedimented windows. Neglected for many years, its pieces were almost as dirty as the time when a former owner concocted what became an enduring local legend. Guests were impressed to be dining under a 'rare black crystal' chandelier- actually an invention to excuse for the blackness of the dirty crystals!
Local folk lore maintains that the chandelier was made by Gillow and installed sometime after the 1879 rebuild. Renowned Lancaster furniture makers Gillow were better known for making some of the finest mahogany furniture in England, and surviving light fittings, especially such fine examples as this, are very rare. Gillows were also commissioned to supply items for the first class areas of the Titanic, the epitome of luxury. Luckily for Lancaster, this chandelier stayed on dry land!
Employing local specialist restorers Lustrelight, every one of the chandelier's 5,4000 intricate pieces was removed, expertly cleaned and replaced.
Royal Kings Arms General Manager Bob Warrior is still looking up: "Our aim is to continue steadily and sympathetically restoring and upgrading this wonderful hotel from the Crypt cocktail lounge and Tapas restaurant right up to the roof. The chandelier was an important symbol of this, not just for us, but for everyone who's told us it's a real local landmark and are loving seeing it shining through the windows again. The fascinating stories we're starting to uncover give tantalising glimpses into who may have dined, danced and gossiped beneath it before us, from royalty to Chares Dickens!"
Related
0 Comments