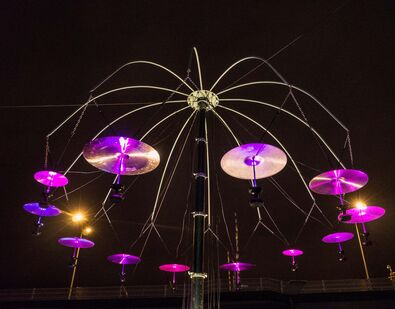 The heart of Preston will be alight with creativity for Brief Encounter on the evening of Friday 20th September. Join us for three art and sound systems that are out of this world.
Chorus is a monumental and impressive installation of kinetic sound sculptures by artist Ray Lee. Towering above the audience a series of giant metal tripods support rotating arms. At the end of each arm loudspeakers emit precisely tuned musical pitches creating a pulsating, harmonic drone, singing out a hypnotic siren call to all those present. Red lights at the end of the arms create the effect of planets in motion, like mesmerising orbits of colour.
Shimmer Tree by Dan Fox is a 12-channel sound system that uses copper-alloy cymbals as speakers, an immersive diffusion system with a natural metallic reverb. Arrays of super-bright LEDs up-light the cymbals with programmed chases creating dynamic patterns and colours.
Pendulum Wave Machine by Travelling Light Circus has twenty steel balls seeming to float, like baubles of mercury, before being set in motion to become a harmonious wave of dreamy beauty as silver spheres fall mysteriously into line, then dissolve into chaos. A marvel during daylight, more mysterious when seen at night.
Councilor Peter Kelly, Cabinet member for culture and leisure said:
"Brief Encounter and Lancashire Encounter have become established arts and performance festivals in Preston over the last few years. They are a brilliant way to recreate the fantastic buzz in the city centre that comes from Preston Guild – without having to wait 20 years!
"This year is no exception, and the artists bringing their installations to the city will amaze and delight visitors with their creative talents."
Save the date for the full Lancashire Encounter weekend to return – Friday 18 to Sunday 20 September 2020.
• Brief Encounter takes place from 6pm to 10pm on Friday 20 September in the Flag Market, in the Harris and at Preston Markets - http://lancsencounter.co.uk/future-encounters/brief-encounter-2019
• The event is free to attend
• Follow the dedicated social media channels for Lancashire Encounter:
Facebook -https://www.facebook.com/LancsEncounter
Twitter - https://twitter.com/LancsEncounter
Instagram - https://www.instagram.com/lancsencounter
• The full Lancashire Encounter weekend festival will return next year – Friday 18 to Sunday 20 September 2020

Related
0 Comments