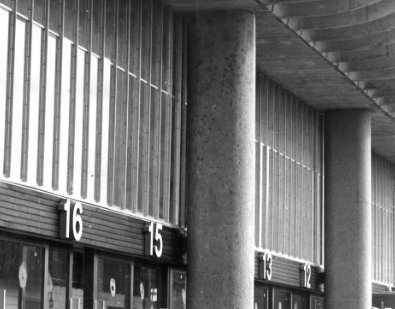 Preston Bus Station is an internationally important piece of architecture that was built for everyday use by the people of Preston.
Now in its 50th year, the Harris Museum, Art Gallery & Library and In Certain Places are celebrating this iconic building – and what it means to people – through a stimulating autumn exhibition.
Designed by local architects, Building Design Partnership in 1969, Preston Bus Station set in concrete an ambitious vision of Preston's future as the major transport hub for Lancashire. It was the largest bus station in Europe, a space-age structure built in the same year as the moon landing, with 80 bus bays and space for 1000 cars. Architects Keith Ingham and Charles Wilson were involved in every aspect of its design, from the delicate concrete curves to shelter passengers and soften its rugged modular form, to its unique Pirelli rubber floor and airport-style signage.
Preston Bus Station was saved from demolition and is now Grade II listed. It has been revitalised through an extensive restoration programme by building owners, Lancashire County Council and John Puttick Associates architects, which will be completed later this year. Its beautiful and brutal form has regained its former glory – loved by many and loathed by some. Whatever your opinion, it is one of Preston's most distinctive pieces of architecture and is a place where the daily transactions of the city take place.
The exhibition will bring together archival material – including previously unseen designs from the archives of BDP ­– with films and literature, juxtaposed against objects associated with the building and the people who use it. Exciting new contemporary art commissions by LOW PROFILE and Keith Harrison will reveal aspects of the architecture on site and in the Harris. Film maker, Anna Raczynski, will record interviews mapping people's memories and opinions from across the city and further afield.
Councillor Peter Kelly, Cabinet member for culture and leisure, said, "We are delighted to announce the Beautiful and Brutal: 50 years in the life of Preston Bus Station will be opened by the Mayor of Preston on Friday 20 September. The Harris, working in collaboration with In Certain Places have curated an exciting exhibition which focuses on one of Preston's most iconic buildings and is definitely not to be missed."
Tom Dyckhoff, writing about Preston Bus Station says, "I think architecture is at its most meaningful and heroic when it celebrates like this the seemingly ordinary and everyday bits of time that connect us all."
A complementary events programme at Preston Bus Station and the Harris will include films, talks, tours and workshops to contextualise the social architecture of the building and its role in the city.
Exhibition runs from 21 September - 24 November
FREE ENTRY Everyone welcome.
The Exhibition Opening event is on Friday 20 September 6pm - 8pm.
Everyone Welcome (Press preview 5.15pm)
Related
0 Comments