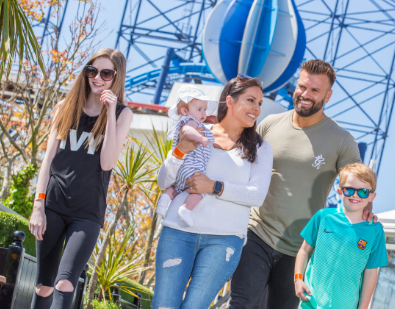 Blackpool Pleasure Beach is offering all visitors the chance to save money this summer by reducing the price of all wristbands to just £25 when booked online in advance, a saving of up to £14 on the gate price. This offer is valid on all visits up to Sunday 8th September so families can enjoy this offer for the whole of the summer holidays.
To take advantage of this fantastic offer, simply head to www.blackpoolpleasurebeach.com and use the code SUMMER when making your booking. This needs to be done before midnight the day before your visit.

With this offer you can enjoy a thrilling ride on the UK's first double launch rollercoaster – ICON. ICON launches visitors on an exhilarating two and a half minute journey where they will feel the same acceleration as a Formula 1 driver, before twisting and turning at speeds of up to 85 km/h across the park. ICON swoops and rises through tunnels and also interacts 15 times, at high speeds with five other rides and attractions. A second boost of speed will then launch riders to heights of 88.5ft, with drops of up to 82ft, giving even the bravest of thrill seekers an unforgettable experience.
There are so many other things to enjoy while at Blackpool Pleasure Beach during your visit. Test your nerves on Red Arrows Skyforce, which will have you spinning, swirling and exciting your senses while your fellow pilots take control of their own flights. Experience the breathtaking views and adrenaline thrills on the UK's tallest roller coaster, The Big One then turn your world upside down on Pleasure Beach's classic looping coaster, Revolution.

For action packed family fun, Nickelodeon Land is the place to be. Nickelodeon Land is a 6-acre area of Pleasure Beach, home to 12 rides and attractions where guests can rub shoulders with famous Nick characters such as SpongeBob SquarePants, and Paw Patrol.
Wallace and Gromit's Thrill-O-Matic takes a trip through the famous pair's adventures, from A Grand Day Out, trying out The Wrong Trousers, having A Close Shave before dealing with A Matter of Loaf and Death and tackling The Curse of the Were Rabbit.

Blackpool Pleasure Beach's £25 wristband offer is valid for bookings made every day until Sunday 8th September. Bookings must be made before midnight the day before visiting.
To book your visit, or to find out more, visit www.blackpoolpleasurebeach.com

Related
0 Comments