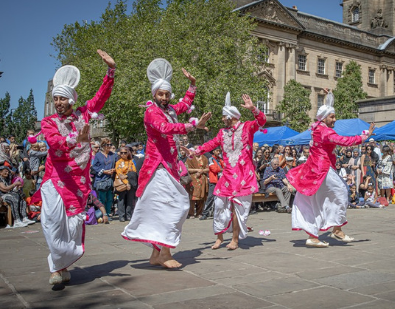 We're one month in and the Preston this Summer programme has, so far, been a roaring success.
Having already enjoyed Jazz in the City, Vintage Vehicles, Making a Mark with plastics, Preston Rocks & Prestfest, Armed Forces Day and Preston Mela there's so much more still to enjoy in the city centre.
This Saturday, 13th July, take a stroll through a Viking encampment on the Flag Market, showing what life would have been like over a thousand years ago. There's also a whole exhibition about the Vikings and other activities inside the Harris – Fearsome Craftsmen and the Silverdale Hoard.
The Preston this Summer programme still has lots to offer – every Saturday there are free activities and performances until 31st August on the Flag Market, inside the Harris and at Preston Markets.
Still to come is the Big Bus Bash, Preston Pulse, Alien Invasion, CAPTIVE dance performance, The Band at the End of the World, Wrestling, Feast for Peace and more.
Cabinet member for culture and leisure, Councillor Peter Kelly, said,
"The Summer Saturday events so far have proved really popular with everyone, especially families.
"It's important that as a city we offer free access to events and performances to residents and visitors and build on the community spirit that was so evident at Preston Guild and Lancashire Encounter.
"As the school holidays are almost upon us, I hope everyone can join us for the rest of the summer events."
Related
0 Comments