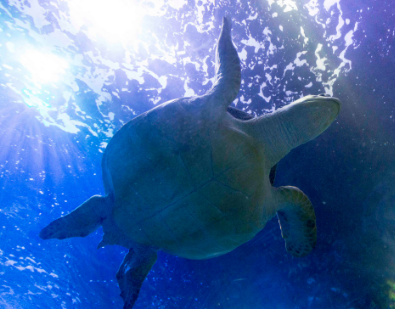 A beautiful Cayman Islands sea turtle – bred for the food industry in the Far East, where it is a delicacy – has arrived in Blackpool after being rescued from certain death.
The large creature will now recuperate at SEA LIFE Blackpool, its new home, where aquarists have experience of caring for rare and endangered sea turtles. Born into captivity specifically to end up on the menu or in turtle soup in Asia, Phoenix was rescued as part of SEA LIFE Blackpool's popular 'breed, rescue, protect' programme. This sees it working closely with its charity partner, the Sea Life Trust, to develop and support conservation projects worldwide. These have already seen over 6,600 turtles rescued and rehabilitated across the globe.
Now, for the first time, one of the rescued turtles has arrived in the North West. Weighing in at a hefty 19 stone and measuring three-feet long and two-feet wide, a military-style operation was set up to ensure a smooth journey. After arriving from quarantine in London in a specially-equipped vehicle, the team, who had practiced dummy runs, carefully transferred the giant green sea turtle on a huge stretcher into the water at the popular seafront aquarium.
Matthew Titherington, general manager at SEA LIFE Blackpool, said: "This is a proud moment for every single member of our team and throughout the SEA LIFE family. It's exactly what our 'breed, rescue, protect' campaign is all about and we're so pleased to have been involved supporting the important conservation work of the Sea Life Trust.
"We've been really looking forward to Phoenix's arrival and she will be loved and cared for by our experienced team of aquarists, who've missed looking after a large turtle. I know visitors will love Phoenix and she'll quickly gain a big and loyal fan base."
Only two months ago team members waved a teary goodbye to their former favourite and oldest resident, Lulu. The amazing 28-stone octogenarian returned to Blackpool for two years, while her home at SEA LIFE Brighton was undergoing a major upgrade. Lulu, also a giant green sea turtle, was warmly welcomed back to the Golden Mile, as she was previously a visitors' favourite at the Blackpool Tower aquarium, where she lived for many years.
Now new arrival 20-year old Phoenix, who wouldn't be able to survive in the wild, is set to steal visitors' hearts from the safety of her new home, where she will also help to further research into threatened species and possibly be involved in conservation and breeding programmes.
The precarious state of sea turtles worldwide was highlighted by TV environmentalist Sir David Attenborough in his landmark Blue Planet II series, which sparked a sea change in attitudes towards plastic pollution and ocean conservation.
Turtle numbers are dwindling around the globe due to threats, including industrial fishing, getting caught up in huge nets, habitat destruction and plastic pollution. Green sea turtles are listed as an endangered species by the global watchdog IUCN, the International Union for Conservation of Nature.
SEA LIFE Blackpool has been running a series of educational campaigns to raise awareness about the dangers to sea turtle populations. This included sand etching 1,000 sea turtles – the number killed each year – onto Blackpool beach to promote turtle conservation.
The team also created a special 'Turtle Rescue' zone to help visitors learn more about how they can protect and help care for these endangered species. Guests can also find out more about turtles from regular daily educational talks by aquarists, included within the admission price, as well as during behind-the-scenes tours and feeding experiences.
Phoenix's arrival comes just after International Plastic Bag Free Day – turtles mistake them for jellyfish, which they eat and can die choked by the plastic. It's also in the wake of World Ocean Day last month and World Turtle Day the previous month when the spotlight was firmly placed on the protection of these graceful, threatened and hunted creatures.
Scott Blacker, head aquarist at SEA LIFE Blackpool, explained: "Despite laws protecting sea turtles in most countries, threats include being hunted for their eggs, meat and shells, a legal practice in many parts of the world where they are considered a delicacy. Sea turtles are also threatened by destruction of their nesting and foraging areas, as well as becoming entangled in huge commercial and industrial fishing nets and so-called 'ghost nets', those which have been discarded.
"Sir David has really drawn everyone's attention to the massive problem of plastic pollution and other threats, which have such a critical impact on our oceans and marine life. People are becoming increasingly aware of the conservation initiatives, which are taking place around the world and how everyone can help to protect turtles and other marine life. For example, by reducing their use of single-use plastic, such as straws and cups," he added.
Related
0 Comments