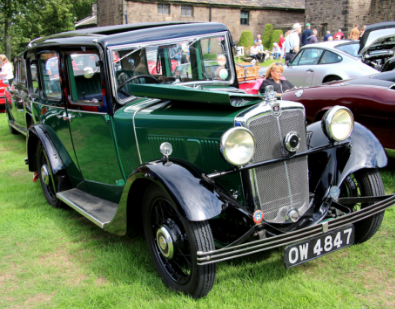 In a manoeuvre designed to delight all piston mad dads, 'Classic Cars at Hoghton Tower' is revving up to pack the historic venue with exhibitors and trade stands on a very special date: Father's Day, Sunday June 16th.
Spread across the lawns and tower courtyard of the magnificent fortified manor house, will be classic cars, motorcycles, vans, ex-army vehicles and classic 4x4s. Everyone can relax and enjoy watching displays of stunning restored vehicles in the event field, across the day, with a full arena commentary.
If dad wants to get a bit more 'hands on', there's plenty of enthusiasts and experts to chat to at the array of national club and exhibitor stands; he can even join in and exhibit his own classic!
The large auto jumble and trade stands could provide that vital missing part for a pet project that'll keep him captivated for longer than a pair of socks!
Home to the de Hoghton family since the 12th century, Hoghton Tower stands on the highest hill in the area. The 16th-century fortified manor house boasts daunting defences, grand state rooms, and a wealth of history, art and artefacts.
Hoghton Tower is located just off the A675 Preston Road, and easily accessible from the M6, M61 and M65 motorways. At just £7 per adult and £2.50 for children, show admission includes the walled courtyard, tilting yard, extensive gardens and grounds, plus tea room offering special afternoon teas. Tower tours run from 11am for a small additional fee.
With plenty for all the family, there's acres of gardens and grounds for the kids- and well-behaved dogs- to run off lots of energy. Open 10am – 4pm there's plenty of time to take advantage of the inclusive Hoghton Tower Farmers' Market. One of the oldest original Lancashire markets, it' the ideal place to pick up special treats from local farmers, bakers, confectioners and craftspeople.
Organiser Mark Woodward says; "It's the perfect Father's Day out, but Hoghton has so much for the whole family. The traditional market is always a crowd pleaser and the picturesque hilltop landscape make a unique and striking backdrop for these spectacular classic vehicles. So, bring your camera- or your own classic- for some stunning shots!"
Related
0 Comments