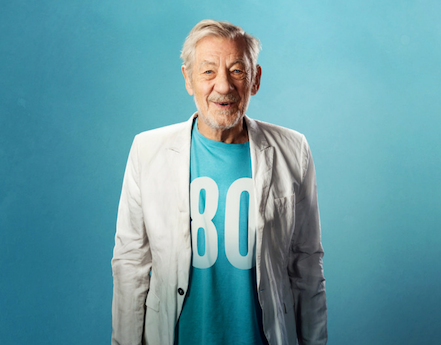 Blackpool's Grand Theatre celebrates 125 years and as part of the celebrations the theatre will welcome star of screen and stage Sir Ian McKellen thanks to the generous support of the Friends of The Grand.
This special event celebrates two birthdays as Sir Ian celebrates his own 80th birthday.
Blackpool's Grand, and Sir Ian are both heavily committed to giving Young People the chance to access live theatre, as are many theatres in the UK. Theatres know with television; video games and on-demand services young people need to be introduced to theatre early on so there is an audience of the future in the arts.
When Sir Ian's show went on sale at Blackpool's Grand, the show sold-out within hours, however the theatre held back 125 gallery seats which will be available to 18 to 26-year olds on a very special lottery basis. This one-off opportunity will give 125 young people the opportunity to see one of the greatest actors of our time live on stage for free.
Sir Ian said of the event, 'I'm celebrating my 80th birthday by touring a new solo show to theatres I know well and a few that I don't. The show starts with Gandalf and will probably end with an invitation to act with me on stage. In-between there will be anecdotes and acting.
'Live theatre has always been thrilling to me, as an actor and in the audience. Growing up in Lancashire, I was grateful to those companies who toured beyond London and I've always enjoyed repaying that debt by touring up and down the country myself, with The RSC, The National Theatre, Prospect Theatre, The Actors' Company, as well as with commercial productions.
Growing up in Wigan and Bolton, I was always intrigued by the glamour of Blackpool, its shows and Illuminations. So, I wanted to present my new solo show at the beautiful Matcham Grand Theatre, raising funds for this spectacular building. See you there, I hope!'
For a chance to win a ticket you can enter the lottery by simply going to the dedicated website blackpoolgrand.co.uk/mckellenlottery from today (only one entry per person).
The chance to apply will close Friday 29 March 2019 (at noon) and the winners will be notified by email only on Wednesday 3 April 2019 you will then have 48hrs to accept and register your tickets.
These tickets are not transferable to another person and cannot be exchanged. These tickets are for the named person only and cannot be changed at any time. If you are unable to attend, please contact our Box Office (01253 290190) immediately and another random applicant will be selected.
Tickets will be available for collection from the box office, ID will be required with date of birth (Passport/birth certificate/registered ID's Validate UK etc.).
This event has been kindly supported by the Friends of The Grand.
Related
0 Comments