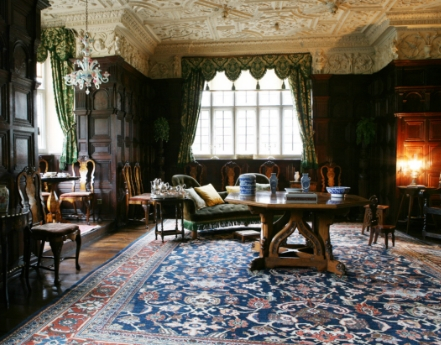 For more than a century the Grand Tour was an essential rite of passage for young, wealthy gentlemen, keen to immerse themselves in European culture. Usually taken over two to three years study and the acquisition of art were the linchpins of any tour. More than a mere holiday, this was a trip that helped shaped the identity of the country and our great houses and historic properties.

It was a pursuit that transported back to Lancashire too. Many of our county's heritage buildings are bursting with special items that have been collected during these important trips or are Grand Tour worthy. Here is our guide to some of those pieces that are a must see.
Murano glass chandelier, Gawthorpe Hall, Padiham
The Kay-Shuttleworth family, who used to call this beautiful hall home, loved travelling in Europe and brought back many things from Italy, a main destination for a Grand Tour. One of the best is this delicate, beautiful Murano glass chandelier that you can spot in the Drawing Room. Murano glass has been made on the island of the same name, just off Venice, for centuries. This striking piece is made of pink and pale blue flowers and is one of two bought in the 1870s by Lady Blanche Shuttleworth, the wife of Liberal MP Ughtred Kay-Shuttleworth.

Both chandeliers hung in the Drawing Room originally, as shown in pictures from that period. Today, there is just one and it's well worth a look. So precious is it than when, a few years ago, one of the arms broke away, it was sent back to Venice for repair as this is the only place Murano glass can be found.
Broadwood Piano, Astley Hall, Chorley
Astley Hall in Chorley is home to a special piano with an interesting tale. It was two days after Christmas Day in 1965 that this beautiful grand piano left the Broadwork workshop in Westminster. Carefully wrapped and loaded onto a horse and cart it was taken to Camden Town Goods Depot where it would travel north by 'Chaplin and Horn's Rail'. The piano was sold to George Henry Lightoller of Yarrow House, Chorley.

George - a member of the Lightoller family of mill owners in the town - was along with his brother Richard responsible for a patent for improvements in flyers for preparing cottons, and other fibrous materials for spinning. Both brothers were church organists at St George's Church, Chorley.

When George died in 1875, his brother Richard and family moved into Yarrow House. By 1881 Richard's son Frederick and his family, including his son Charles Herbert Lightoller, were living at Yarrow House.

Charles took on an apprenticeship aged 13 and began his career at sea. On April 14th, 1912, Charles began his four-hour shift as Second Officer aboard the Titanic. He played an important role in evacuating passengers from the ship and was the last survivor to be taken on board the RMS Carpathia. He was the highest-ranking officer to survive.

In the 1970s, Astley Hall was gifted the family's Broadwood piano by Chorley Parish Council. It has been on permanent display ever since. Recent research from Astley Hall, Chorley Family History and Heraldry Society, Chorley Heritage Group and Chorley's Historical and Archaeological Society has brought this story to light.
Ginger jars, Rufford Old Hall, Rufford
Take a peek inside the Entrance Hall at Rufford Old Hall and you will spot two special ginger jars. They were acquired by wealthy landowner Sir Thomas George Fermor-Hesketh in Japan in 1870 and brought back to Rufford upon his return.

It was in 1876, following the death of his brother, he became the 7th Baronet. To celebrate his inheritance, he commissioned his own yacht, the Lancashire Witch, and set sail for over two years around the world.

Whilst on his world cruise, he collected many objects and developed a passion for oriental ceramics. It's believed Sir Thomas collected this pair of blue and white ginger jars, that date back to the early 18th century and the time on Chinese emperor K'ang Hsi, during this time.
Charles Townley and Friends in the Park Street Gallery, Westminster, Towneley Hall Art Gallery and Museum, Burnley
Antiquarian Charles Townley was known for his vast collection of sculpture, vases, coins, Old Master drawings and manuscripts collected on several Grand Tours to Italy. This characterful painting of the wealthy English gentleman, born at Towneley Hall, is one of the country's most important art works. Produced by the German artist, Johann Zoffany, it shows Charles inspecting his collection of sculptures with his friends including the paleographer Charles Astle, the Honorable Charles Frances Greville and Pierre-François Hugues D'Hancarville.

The piece, initially painted in 1782, was added to by Zoffany after the discovery of the Discobolus, a Roman copy of a lost bronze original made in the 5th century BC by the sculptor Myron. Charles bought it to add to his collection. Much of this is now in the British Museum's Department of Greek and Roman Antiquities but this beautiful painting can still be enjoyed at Towneley Hall.
Browsholme Hall, near Clitheroe
In 1801 and 1802 Thomas Lister Parker made a Grand Tour of Italy, France and Russia, bought many works of art, collected furniture, and was elected Fellow of the Society of Antiquaries in 1801. A gentleman of great literary and historical taste, he was a patron of the English artists of his day – including Turner, Romney, Northcote - many of whose paintings are at Browsholme Hall. These include two portraits of
Thomas Lister Parker by James Northcote RA, a pupil of Joshua Reynolds.

Thomas Lister Parker was also a keen antiquarian, lover of fine furniture, and had an elegant London house where he moved in high society. During his visit to St Petersburg in Russia he acquired two lead busts of Mrs Jane Vigor and her then husband Thomas Ward, Consul General to Russia in 1728. She was a well known author publishing Letters from a Lady in 1775 recounting her time in Russia. It is a marvel how these rare lead busts travelled to Browsholme Hall as their impressive weight demands two people to move them!
Hoghton Tower, Hoghton
Historians are divided on the origins of the name sirloin - it was a matter debated, albeit tongue in cheek, on Jay Rayner's radio programme, Kitchen Cabinet. But us ardent Lancastrian's know that it all started at Hoghton Tower, the stunning Grade I listed property built in 1109 which is also the ancestral home of the de Hoghton family.

The Beef table, a wonderful oak table, was made from a single oak tree in the same room it still occupies - the Banqueting Hall. The table, nearly 18 feet long, takes 12 people to lift and the legend says it was at this very table in August 1617 that King James I drew his sword and knighted a beautiful joint of beef exclaiming "arise, Sir Loin".
Leighton Hall, near Carnforth
This house of treasures is renowned for its collection of Gillow furniture - a collection that has been passed down the generations since Robert Gillow first founded the famous furniture making firm Gillow and Company of Lancashire in the 18th century.

As well as their reputation for being skilled furniture designers and craftsmen, Gillow were also well known for making unusual pieces, which were often one-offs.

At Leighton Hall you'll find an exquisite example of this in the Daisy Table. It is thought it was probably made for gambling purposes because of its design. The table is shaped like a flower with eight leaves or petals which can be folded down, leaving a small octagonal table in its place. It's believed it particularly suited gambling because if you'd lost all your money on a card game or just wanted to stop playing, you could fold your petal down and leave.

Find out more about the Daisy Table, and Leighton Hall's other treasures, in a House Tour held between May and September.
Related
0 Comments