Blackpool Pleasure Beach is offering the perfect solution to beat the January blues with a thrilling sale on tickets Hot Ice tickets. Two for One tickets are available on any evening performance when booked on any date in January.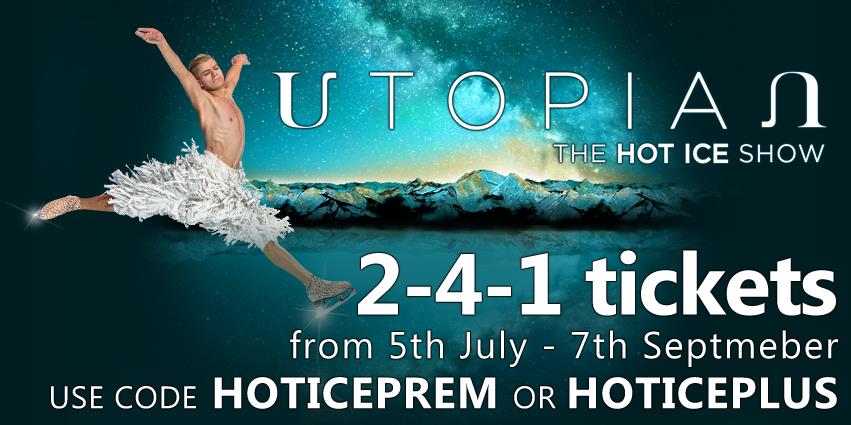 Hot Ice returns for 2019 with a fantastic new show – Utopian. Hot Ice is a captivating spectacle starring a cast of world championship performers complete with stunning costumes and mesmerising special FX. The show, which is the world's longest running ice show, opens for the summer season on Thursday July 5th and runs until 7th September.
This year's show features everything that is hot in ice skating with the very best performers from around the world taking to the ice in over 400 stunning costumes to a whole collection of mesmerising music, state-of-the-art lighting system and explosive pyrotechnic fire effects.
Hot Ice has always been the place to see the world's best skaters. Numerous national, world and Olympic champions have performed in the show since its inception. This has made Hot Ice one of the world's best known and most beloved ice skating shows with a reputation for amazing choreography and stunning costumes.
Two for One tickets are available for any evening show of Hot Ice, aside from opening night, and can be booked until the end of January. Tickets are available for premium or standard plus seating, to purchase them simply visit www.blackpoolpleasurebeach.com/whats-on/hot-ice and use the codes HOTICEPREM for premium seats or HOTICEPLUS for standard plus seats.
For more information on the show, please call 0871 222 1234 or visit www.blackpoolpleasurebeach.com/whats-on/hot-ice

Related
0 Comments