RIBBLE Valley Borough Council will lead the community in commemorating the 100th anniversary of the end of the First World War.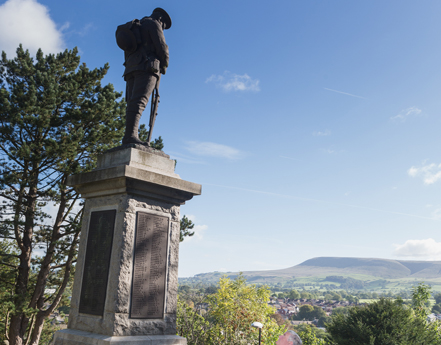 In the week leading up to the anniversary on November 11, a huge poppy will be projected on the side of Clitheroe Castle, before Ribble Valley Mayor Stuart Carefoot lights one of 1,000 national beacons marking the historic Armistice.
The Kestor Lane recreation ground in Longridge will also be officially dedicated to the First World War fallen.
The national commemoration starts at 6am with 1,000 lone pipers playing the Scottish air, the Battle's O'er, at locations throughout the UK.
The Kestor Lane recreation ground dedication will take place during the official Longridge Remembrance Day parade, which leaves Longridge Civic Hall at 10am and culminates in a service at St Paul's CE Church in Church Street at 11.45am.
At 6.55pm, buglers will sound the Last Post at 1,000 locations across the UK and at 7pm 1,000 beacons will be lit, including one at Clitheroe Castle, after which church bells across the country will peal in a celebration of peace.
Ribble Valley Mayor Stuart Carefoot said: "The centenary of the First World War has provided many opportunities to acknowledge the enormous sacrifice made by local men and women, who were killed or wounded in action, or worked tirelessly at home in the fields and factories.
"The council has marked every stage of the centenary, with tree-planting schemes, vigils and a garden of light, and is proud to join this final national commemoration with a beacon-lighting, the poppy projection at Clitheroe Castle and dedication of Kestor Lane recreation ground."
Ribble Valley Borough Council's community services committee agreed to register the Kestor Lane recreation ground as a Centenary Field with conservation charity Fields in Trust in September.
In 2014, the council planted 41 oak trees bearing plaques in memory of the borough's fallen, including one by His Royal Highness the Duke of Kent in the grounds of Clitheroe Castle.
The Great War was a turning point in world history, claiming the lives of 16million people across the world and having a huge impact on those who experienced it.
As Ribble Valley did not exist until 1974, a precise tally of the fallen does not exist, but it is believed to be around 1,000.
Pic: Ribble Valley Mayor Stuart Carefoot at Clitheroe Castle's 'unknown soldier' war memorial.
Related
0 Comments