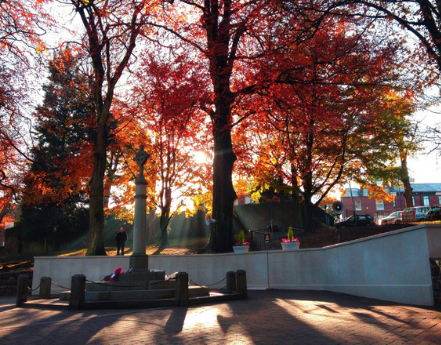 People across Chorley are invited to take part in the town's tributes to remember those who lost their lives serving their country with 2018 having added significance as it marks 100 years since the end of the First World War.

The main Remembrance Sunday service and parade will take place on Sunday 11 November with a number of changes made to the arrangements to accommodate increasing numbers of people who wish to attend.

The new arrangements include the formation of the parade on the Flat Iron Car Park at 10.10am with a short service taking place at the Pals Memorial Statue on Union Street. Following this, the parade will make its way to the cenotaph in Astley Park where the Service of Remembrance will be held, including the two minute silence and laying of wreaths.

Other events taking place include:
• The illumination of Rivington Pike with the poppy symbol from Friday 9 to Thursday 15 November
• A Festival of Remembrance concert at 7.30pm at Chorley town hall on Saturday 10 November
• Musical performances and a documentary viewing at the Garden of Reflection in Astley Park plus the chance to see the Chorley 100 exhibition at Astley Coach House as well as the opportunity to learn more about Susannah Knight and view her golden memorial books in Astley Hall from 11.02am on Sunday 11 November
• An Armistice Concert at 7pm in Chorley town hall on Sunday 11 November

Councillor Peter Wilson, deputy leader of Chorley Council with responsibility for events, said: "This year is a particularly poignant moment in our history as we commemorate 100 years since the end of the First World War so we have worked with various groups, organisations and people from across the Chorley area to make sure there are plenty of opportunities for local people to pay tribute to those who lost their lives serving their country.

"The tributes will start on Friday 9 November with the lighting of Rivington Pike every evening for one week and this has been made possible with help from Horwich Town Council.

"Following that there will be concerts in the town hall with one organised by Chorley and District Choral Society and the other organised by the Chorley Pals Memorial Trust.

"With Astley Hall being donated as a war memorial in 1922 by Sir Reginald Arthur Tatton it is fitting for us to dedicate the afternoon of Sunday 11 November to reflection and remembrance with something for all ages taking place at Astley Hall, Coach House and Park.

"The council is also paying tribute by adding poppies to council vehicles. All are welcome at the events and tributes, however, it is recommended that the illumination of Rivington Pike is viewed from afar. Please visit chorley.gov.uk to find out more about the arrangements and how you can get involved."

Tickets for the Festival of Remembrance on Saturday 10 November are £8 and are available from Chorley Council's Civic Offices on Union Street, Malcolm's Musicland or The Choral Society on 01772 455185 or 01704 822709.
Tickets for the Armistice Concert on Sunday 11 November are £10 and are available from Malcolm's Musicland, Chapel Street, Chorley PR7 1BW or by calling 0300 2011916
Full details of all of the Chorley Remembrance tributes are available at www.chorley.gov.uk
Related
0 Comments