Lytham is busy preparing for its ninth annual Lytham 1940s Wartime Weekend, taking place on Saturday 18th and Sunday 19th August. This popular event has gone from strength to strength and now attracts an estimated 40,000 people from all over the country who deem it as one of the most respected events on the 1940s circuit.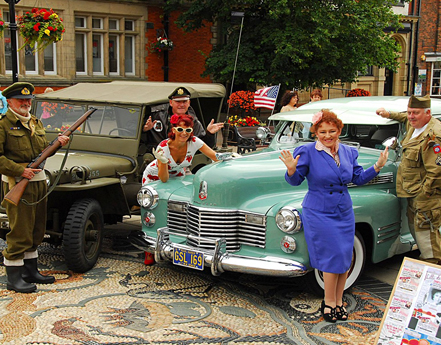 Returning this year is the popular battle re-enactment by Lytham Windmill, the historic vehicle parade around Lytham and daytime entertainment including top 1940s singers and acts performing plenty of George Formby, Vera Lynn and Winston Churchill to bring back those wartime memories!
We are also delighted to announce that The Willow Garden Project will be bringing their beautiful memorial display to Lytham. Based in Fleetwood, they offer healthy outdoor activities in gardening and horticulture primarily for people with disabilities or mental health needs. Their display, which has been opposite the North Euston Hotel, has proved very popular so it will be great to give even more people the opportunity to see their fantastic work and find out more about them.
On the green there will also be a BAE Systems marquee, Home Front recreations and static Spitfire from the Lytham St Annes Spitfire Ground Display Team and a static Messerschmitt ME109. New attractions to the weekend include Home Front re-enactment groups, military charities and more historic vehicles and static displays with the Military Vehicles Trust and MWWW2A.
The well-known local business Lytham Fizz are operating the main bar in the entertainments marquee over the weekend. Owner Izzy Shaw said "I'm thrilled to be operating the main marquee bar at this year's 1940s. We love this event and think it's certainly a main highlight on Lytham's event calendar.
"So much time and effort is put in to hosting this event in Lytham, it offers something for everyone and always sees the town getting into the 1940s spirit. We are very much looking forward to shaking up some themed cocktails and pouring pints and fizz for everyone – be sure to check out our Pimms trike too!"
As night falls the fun continues with plenty of entertainment around the town. Lowther Pavilion have lined up the popular show We'll Meet Again over the weekend as well as a 1940s dance on Saturday night.
The Leafy Blinders night kicks off the weekend on Friday in the main entertainments marquee, featuring the Silhouettes and Smooth Chalk. This is followed by the Kalamazoo Dance Band on Saturday night, recreating the big band sound of the war era.
If weather permits a World War Two film will also be projected on Lytham Windmill on Saturday night whilst Sunday night sees the Farewell to Lytham evening bring the weekend to a close at the Lindum Hotel in St Annes.
Fashion is a huge part of the weekend and it's not just the people that get dressed up! Local shops and cafes all get into the 1940s swing with bunting, sandbags and much more, ready for the best dressed competition. This takes place on Saturday, with Winston Churchill and the Mayor of Fylde judging and prizes kindly donated from Stringers, The Clifton Park Hotel, St Annes Beach Huts and Ribby Hall Spa Hotel.
Chair of Fylde's Tourism and Leisure Committee, Councillor Cheryl Little said "This weekend is a fantastic boost to local businesses in Lytham and it's wonderful to see the town come alive with the wartime era spirit.
"To see this event having grown into one of the top events nationwide is tremendous. As a Fylde Council run event, I know how hard the team work behind the scenes to pull this together and deliver a successful weekend."
For more information and full listings of activities over the weekend, visit www.discoverfylde.co.uk/lytham1940s, @lythamwartime on Facebook or call 01253 658443.
Related
0 Comments