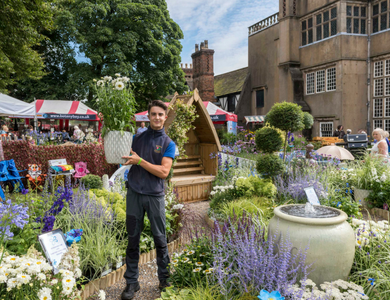 If you're looking for a great day out this summer then the award-winning Chorley Flower Show, in the heart of Lancashire, will delight you with the sights, smells and sounds from the most magnificent garden.

The annual show, which is now in its fourth year, continues to go from strength to strength and is now a firm favourite on the horticultural map. It turns the beautiful Astley Park into a blaze of colour with a mix of the country's top horticultural exhibitors and traders and an amateur marquee that will blow you away.

The show was originated on Chorley's reputation with amazing floral displays, which has seen some nickname the town the 'Northern Flowerhouse', and now rivals the likes of Southport Flower Show and the Royal Horticultural Society (RHS) shows with its focus on flowers and friendly atmosphere. It gives people the opportunity to see gold medal winners from the world famous RHS Chelsea Flower Show but at a more affordable cost with extras thrown in such as free parking.

Its popularity in the horticultural world is showcased by the fact that two of the country's top societies – the National Sweet Pea Society and the Rose Society UK now host regional shows at Chorley as part of the event. They form part of the huge 100m amateur and society marquee which has an amazing array of scents, shapes and sizes of plants with everything from floral art to fruit, vegetables and every kind of flower you can imagine. If you want to display yourself you've got until Wednesday 25 July to enter – details can be found at chorleyflowershow.com.

One of the showpieces this year will be the unveiling of a permanent garden commemorating 100 years since the end of the First World War.

The garden is being created by gold-medal winning designer and Chorley resident John Everiss who has a fantastic track record at the country's top shows.

The garden has a covered stage area with seating and a stone carving of a soldier reflecting as he takes a break from his duties.

The features will be based around material and planting from The Somme where many Lancashire residents lost their life in battle.

Famous horticultural names Adam Frost and Carol Klein will provide a draw for those wanting to get hints and tips from the best in the business but the show has a real friendly atmosphere making it a fun day out with kids too with a children's section offering arts and crafts, fairground rides, a showground trail and the chance to visit the park's fantastic play area.

For those who like their history and heritage the grade I listed Astley Hall undergoes a floral transformation with rooms decorated in the most amazing displays giving a unique view of the Hall only seen at the show. There's even a chance to walk across the floating bridge across the lake and the park's Walled Garden is a stunning show garden in itself with a Victorian glasshouse, orchard-style planting and fruit and vegetable gardens offering some amazing scents.

There are plenty of places to relax and unwind with a fantastic selection of local traders and live performances to keep you entertained or you can enjoy the Astley Tea Room marquee, which is run by Café Ambio for the weekend and offers a tasty afternoon tea.

If you like gardening but are put off by the size and prices of the bigger shows this event gives you all you need in a relaxed atmosphere making for a great day out for all generations of the family.

To summarise the two-day event, held on 28 and 29 July in Astley Park, will include:

• A professional exhibitors' marquee featuring gold-medal winning entrants from some of the country's biggest shows
• A gardening theatre featuring talks and demonstrations from special guests Adam Frost and Carol Klein
• Horticultural trade stands offering the best quality in garden products
• An amateur marquee incorporating flower and pot plant classes and floral art – you can get your entries in at chorleyflowershow.com – with regional competitions hosted by the National Sweet Pea Society and Rose Society UK
• The chance to take a tour of the historic Astley Hall, which will be decked out with floral decorations
• Family entertainment, including art and craft activities and children's rides
• A chance to relax and enjoy a wide range of food and drink and afternoon tea in the showground

If you get chance Chorley town centre is just a short walk away and the famous Chorley Markets will be open on the Saturday.

Tickets are now on sale priced £8 adults (£10 on the gate), £1.50 children (£2 on the gate), £16 for a family ticket (£20 on the gate) and parking will be free. There is also a weekend pass for £14 (in advance only) and there are special rates for groups of more than 20.

The advance ticket sales end on Wednesday 25 July – you can save 20% on the gate price by buying in advance. The show is dog friendly but they must be kept on leads at all times.

If you'd like more information visit www.chorleyflowershow.com, where you can buy your tickets online, or contact the council on 01257 515151.

Related
0 Comments