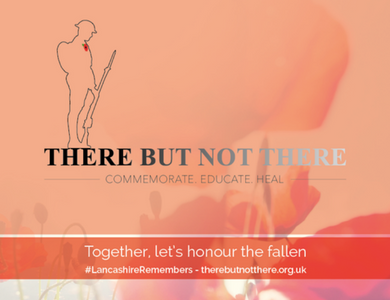 They were the men who gave their lives to secure our future. Now Lancashire is leading the way with a campaign to commemorate the county's soldiers who served in the First World War.
Lancashire was the first county partner to sign up to There But Not There, a campaign marking the centenary of the end of the First World War and aiming to raise more than £15 million for armed forces and mental health charities. Three six-foot high Tommy figures have already been installed at iconic locations in Lancaster, Preston and Accrington.
Now this Armed Forces Day, organisers are launching an appeal to the people of Lancashire to support the campaign by taking home their own Tommy. Businesses can sponsor a six-foot aluminum Tommy, places of worship can create installations of up to ten Tommy Silhouettes and individuals can purchase their own table top Tommy.
The High Sheriff of Lancashire Anthony Attard OBE DL, also chairman of Marketing Lancashire, is spearheading a committee formed of local business, ecclesiastical and civic leaders to drive donations and local community support. It is hoped those communities will honour the fallen listed on their own local war memorials, by placing a silhouette in their cities, towns and villages - one for every soldier who died during the conflict.
The Lord-Lieutenant of Lancashire, Lord Shuttleworth said: "The There But Not There campaign is a hugely worthwhile cause, honouring those men – local and afar - who made the ultimate sacrifice and raising money for those in need today. We want the whole community to show their support for the charity and encourage businesses to get on board during this important year of commemoration."
The money raised from the sale of these commemorative figures, which are made by military veterans, will be distributed evenly between The Royal Foundation, Help for Heroes, Walking With The Wounded, Combat Stress, The Commonwealth War Graves Foundation and Project Equinox: Housing Veterans.
There But Not There Patron, Lord Dannatt said: "We would encourage all Lancastrians to visit the local Tommy installations, galvanise support in their community groups to buy silhouettes and purchase their own smaller Tommies to remember their fallen relatives."
For more information relating to There But Not There or to see how you could get involved, visit: www.therebutnotthere.org.uk #therebutnotthere #LancashireRemembers
Related
0 Comments