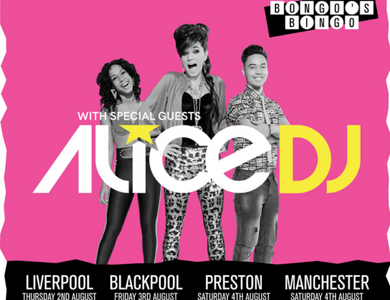 Bongo's Bingo are very proud to announce a very special summer show in the town, with the iconic Dutch trance group Alice DJ joining them for what promises to be a crazy night in Blackpool.
Once upon a time not long ago, across Europe, America or Asia, it was impossible not listen to the radio or walk into a club without hearing the huge club classic Better Off Alone. It all started in 1999, when a group of young Dutch deejays and talented producers saw their free collaboration culminate into a project selling over one million albums and 5 million singles worldwide. Now they bring their epic show to the UK for a full-on hands-in-the-air rave session at Bongo's Bingo in the iconic Blackpool Tower.
Tickets go on sale 6pm Thursday 21st June at www.bongosbingo.co.uk
Bongo's Bingo has become a pivotal and indelible part of the cultural landscape across the UK, with further wild scenes taking place at each show in Europe, Australia and Dubai.
The Bongo's Bingo phenomenon is a catalyst for a shift in the night life scene across the country, with many people eschewing the usual clubs, festivals and bars for an altogether different experience of bingo wildly reinvented into a whole new way of having fun, which has captured and inspired the imaginations of many.
Bongo's Bingo is an insane mix of a live show, a rave and heads-down game of bingo, with dance-offs, rave intervals, plenty of heckling, audience participation, countless hands-in-the-air anthems each night.

A wildly diverse demographic flock to Bongo's Bingo not just for a night of incredible joy, singalongs and false calls, but something much more - for escapism, for nostalgia, for dancing on tables and also the chance to win a pink unicorn amongst many other prizes, including Henry Hoovers, boxes of Coco Pops and life-size cardboard cut outs, to big cash prizes.

The Bongo's Bingo team are proud to be back in Lancashire once more at one of the most iconic locations in the world. The Blackpool Tower officially opened to the public on 14th May 1894 and more than five million bricks, 2,493 tonnes of steel and 93 tonnes of cast iron were used to create the iconic Grade One listed building, in a perfect union for Bongo's Bingo on the dazzling coastline.
Bongo's Bingo – Alice DJ
Friday 3rd August
@ Blackpool Tower, The Promenade, Blackpool FY1 4BJ
Doors 6pm – first game at 8pm
Tickets available from www.bongosbingo.co.uk
www.theblackpooltower.com
Twitter: bongosbingo88 / www.facebook.com/BongosBingo / Insta: bongosbingoblackpool
Related
0 Comments