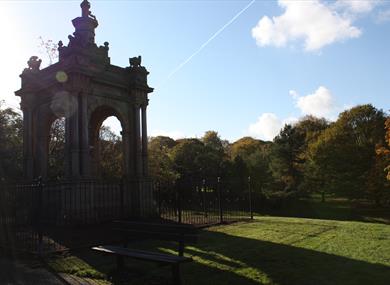 Scott Park is named after John Hargreaves Scott, a prominent Burnley businessman, an Alderman, and Mayor in 1871-73.

In 1880 he made a will leaving the majority of his estate to his wife, the residue on her death to be used to purchase and lay out a public park for the people of Burnley. Scott died in 1881 and Mrs Scott in 1884. Scott's trustees, Alderman G. Sutcliffe and R.J. Hurtley eventually purchased 7.3 ha. of the Halstead (Hood House) estate to the south of the town. The design for the Park was by Robert Murray who had been responsible for the design of Queens Park, opened in 1893 in the north-east of the town.

Murray subsequently became its superintendent. The Park was officially opened on 8th August 1895 by the Mayor, Alderman Mitchell, on behalf of the people of Burnley. A monument to Scott, designed by the then Borough Surveyor, G.H. Pickles, was unveiled in the Park in 1898. A bust of Scott, sculpted by John Cassidy of Manchester, was added to the monument in 1899.

A bowling green was added in 1897 and a second green and tennis courts added in the early 20th Century. In the late 20th Century the former 0.6ha site of Hood (formerly Lower Hood) House, lying between the Park and Manchester Road, was added to the Park.