A feast of culture, inspiration, art, food and fashion, the much loved Vintage by the Sea returns to Morecambe. Wayne Hemingway MBE and Gerardine Hemingway MBE are bringing the national sensation back to the promenade for a sixth year, with a distinctly local flavour...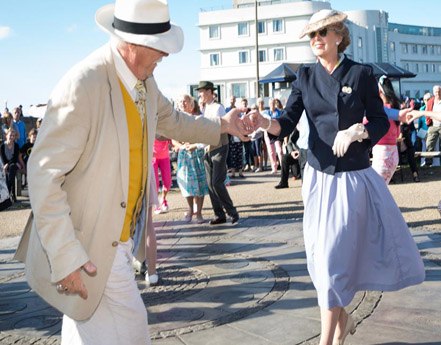 This year's Free & Family-Friendly Vintage by the Sea will use the full potential of Morecambe's beautiful seascape as the backdrop for the multi award-winning festival, whilst showcasing the area's seaside heritage to the thousands of vintage enthusiasts who travel across the land to enjoy the resort. Now in its sixth year, the festival's 2018 programme features immersive sound and theatre performances from nationally recognised artists, peerless gypsy jazz from the returning Benoit Viellefon, a knees-up celebration of The Midland Hotel's 10th Anniversary, TWO RAF Lancaster Bomber Flypasts, outreach 50's inspired dance classes for Morecambe's Sands Care home residents, free heritage bus rides up and down the promenade and all the trappings you've come to expect from one of The Great Exhibition of the North's 'Inspired By' Programme and ​The Guardian's ​ 'Best Retro and Vintage Events in the World'
Programme highlights include:
● National Performers bring Morecambe History to life with immersive sound & theatre installation on the prom. ​Vintage by the Sea are proud to present an immersive sound and theatre installation that's sure to fill you (and your kids) with wonder and excitement! After appearing at Greenwich and Docklands International Festival and Salisbury International Arts Festival, Gobbledegook bring their Ear Trumpet performance to Morecambe, intertwining local sounds and stories into a unique experience that will have you hunting the promenade for sounds using an outlandish and unwieldy collection of brass Ear Trumpets - listening devices with a twist! Visitors will join a team of Victorian explorers & scientists to discover sounds buried in the landscape itself. What will you find?
● Local Stories retold through sixties' style hair dryers.​ ​Visit artist Dan Fox's installation Voices From the Hood, inspired by Sixties hair salons. Fox has cleverly converted original hood hairdryers to bespoke listening posts. Take a comfy seat and immerse yourself in the audio of Elizabeth Roberts 'Working Class Oral Archive' capturing local stories from 1890 to 1970. Originally commissioned by Mirador, we can think of no better setting than Vintage by the Sea for this outlandish experience of local stories.
● Midland's 10th Anniversary is celebrated in style with the sold-out Torch Club Ball and classic Afternoon Teas. ​It's been a decade since the iconic Midland Hotel was reborn for the modern age, and Vintage by the Sea is proud to celebrate their anniversary with them in style. This year's Torch Club Ball, featuring Benoit Viellefon and the vaudevillian magic of Alexander Wells, sold out in record time, and tickets for the Midland's signature Afternoon Teas (available Saturday and Sunday) are running out fast. To discuss packages or book Afternoon Tea, contact the Midland hotel on 01524 428370.
● Catch the stars of the sold-out Torch Club Ball on the Melodrome Stage. ​Prince William's go-to jazz mastermind​ BENOIT VIELLEFON​ brings his ​HOT CLUB​ back to the Melodrome Stage on Saturday at 4 PM, whilst Alexander Wells makes his Vintage debut, delivering the sumptuous romance of the Golden Age of Magic & Theatre to unsuspecting visitors at 3:30pm. Keep an eye on your valuables!
● Not one Lancaster Bomber Flypast, but two!​ Come and salute the brave boys and girls of the Royal Air Force as they soar over the blue skies of Morecambe's matchless Bay. Preliminary times have been announced as follows - 1-Sep-18 @1100 / 2-Sep-18 @1615 - subject to the vagaries of the weather. Visitors are encourage to follow the Vintage Socials or contact Lancaster & Morecambe Tourist Information for up-to-the-minute information.
● Local Care Home Residents join in the Vintage Fun.​ Residents of the Sands Care Home can look forward to some special Vintage activities in the days leading up to the festival. For a second year running, the specialist dance group ​Spilt Milk ​will be delivering a series of 1950's Vintage-themed workshops to help the residents relive their Morecambe heydays and get involved in the Vintage ethos, without having to brave the crowds of the main festival.
● Vintage Mobile Cinema - as featured in Channel 4's Amazing Spaces - makes Vintage Debut.​ In 1967, The Ministry of Technology built seven of custom mobile cinema units to tour the country, promoting modern production techniques to British industry. Fast-forward fifty years and Vintage by the Sea are very proud to present The Vintage Mobile Cinema. Featured on George Clarks Amazing Spaces, this 32 seater cinema has been carefully and beautifully restored and is the last known survivor of the original seven. Jump on board for a once-in-a-lifetime celluloid experience.
● Bumper Bargains in store with record-breaking number of Vintage Market Stalls. ​The very best authentic traders have been hand-picked by Dotty's Vintage, filling the Morecambe's Platform with stalls to make you swoon. Keen shoppers will discover magnificent mid-century homewares, refined frockery, fantastic fashion from the 20s to the 90s and a cornucopia of unexpected delights.
● Vintage teams up with Morecambe BID to bring festival benefits to independent businesses. ​A new scheme devised by Vintage by the Sea and Morecambe BID is set to drive
Vintage Enthusiasts into Morecambe town centre, bringing the economic boost of the festival to local traders. An innovative programme voucher scheme will offer Vintage weekend discounts across scores of stores in the town centre - keep a look out for the Vintage poster in participating businesses and pop in to find out the special promotional offers.
● Traverse the Prom in style - on a FREE Heritage Bus.Heritage buses will be on hand all weekend to ferry festival goers from Happy Mount Park to Heysham Head. Thanks to the Ribble Vehicle Preservation Trust visitors can park & ride from any of the bus stops to beat the traffic. Curious visitors are also encouraged to explore the strange and beautiful new artwork being installed in Heysham Head over the festival weekend. ​Settlement ​ by Rob Mulholland promises an unconventional reflection of Morecambe's incredible landscape and shows our North West is a thriving place for culture and arts. Four Vintage buses will be running every 30 mins with stops including Happy Mount Park, Central Drive Bus Stop (Festival Market side for Happy Mount Park and Morrissons side for Heysham Village) and Heysham Village Bus Terminal.
● Book now for the exclusive @Vintage by the Sea afterparty!​ Saturday night at Vintage will be alive with a host of funk-fuelled performers and DJs, including MC Kwasi, Beatphreak, Wayne Hemingway MBE, Paul Thornton, Phil Austin, Shaun Foran, Lynsey Finch and Rowli. Taking Morecambe into the small hours, visitors will get down to the finest block-rockin' funk, soul, hip-hop, disco, breaks and beats - mashed up and 'rebooted' under the canopy of the Little Big Top. Advance Purchase discounted tickets are available now from https://www.skiddle.com/whats-on/Lancaster/Midland-Hotel/Vintage-by-the-Sea-Festival-prese nts-Reboot/13262170/​ and with tickets also available at Morecambe Visitor Information Centre and on the door (subject to availibility.)
● Festival regulars return to make sixth year sparkle. ​With festival favourite performers Jean & Morag and Viv the Spiv parading the promenade, our signature Best in Show fashion contest, the magnificent Melodrome Stage providing a riotous variety of family-friendly entertainment, award-winning street food from vintage vehicles, classic cars to salivate over, the Guys & Doll's Vintage Hair Boutique, Vintage fairground rides & inspired art workshops, there's something for everyone to enjoy at this year's Vintage by the Sea.

Wayne Hemingway MBE - said - ​"Six years and still going strong Vintage by the Sea has become something of an institution. It's so uplifting to see people from all over the country and now Europe coming to Morecambe, filling hotels and caravan parks for miles around. Vintage by the Sea wins awards, brings in substantial income to the town but more importantly it makes over 40,000 people very happy."
Councillor Darren Clifford, Cabinet member with responsibility for Leisure, Culture and Tourism, said: "Vintage by the Sea is always a terrific event for the area. Not only does it add a spectacular and exciting splash of colour to Morecambe promenade and attracts thousands of people to the town each year but it's also great for the local community and a welcome boost for the local economy too. It is Morecambe's flagship, multi-award winning event and we are proud to support and host this fantastic festival ".
Vintage by the Sea was the proud winner of Visit Lancashire's 'Large Tourism Event of the Year in 2016' and has been shortlisted for the UK Festival Awards 'Best Non-Music Festival' for two years running. It returns with new funding from Arts Council England.
The festival is co-delivered by Morecambe's Deco Publique, Lancaster City Council and Hemingway Design's Vintage Festival Team, led by Morecambe-born Wayne and Gerardine and Jack Hemingway.
Related
0 Comments