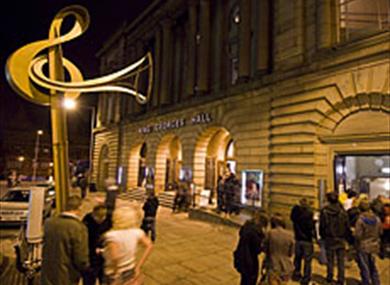 King George's Hall in the centre of Blackburn is one of the region's premier live entertainment complexes and welcomes top class performers as part of an exciting programme of music, dance, comedy and variety.

King George's Hall was built in the classical style from stone quarries at Butler's Delph in Pleasington. The distinctive look of the hall is the result of designs by two firms of architects: Messrs. Briggs & Wolstenholme, responsible for the pre-war lower portion, and Messrs. Stones & Stones, commissioned after the war. The history of the hall is clearly reflected in its exterior appearance, with the horizontal divide between the pre- and post-war sections clearly visible. The carved figures on the Blakey Moor side of the hall, which represent war and peace, also result from the hall's wartime construction.

Inside King George's many original features have been retained, including much of the original feature plaster work. In the main auditorium not only has all the original plaster work been retained, but also the magnificent Art Deco house lights. All these original features have been retained thanks to the sympathetic renovation programme carried out in 1994, and today King George's Hall tastefully combines the grandeur of its theatre tradition with the modern technology and facilities that today's productions require.
Partners