From Wordworth and the Bronte sisters to Tolkien and carol Ann Duffy, Lancashire's history and landscapes has inspired a ream of poetry and classic novels. Find out more below and read Walking in the Footsteps of Literary Greats as featured in the Lanashire Visitor magazine.





Sir Arthur Conan Doyle
Arthur Conan Doyle was a student at Stonyhurst College in Lancashire from September 1868 and the college building is said tohave inspired some of the locations in his Sherlock Holmes novel The Hound of the Baskervilles. Most notably the long drive along the avenue as Baskerville house is approached, which has, just like the West Front at Stonyhurst, mullioned windows, a central block with 'twin towers, ancient, crenellated', and 'to right and left more modern wings'.
The Adventures of Sherlock Holmes, a Granada TV series running 1984-1994 starring Jeremy Brett as the famous detective included a few locations in Lancashire. The first is Leighton Hall in Carnforth - this was used as 'Ridlingthorpe Manor' in an episode of The Adventures of Sherlock Holmes called The Dancing Men in 1984. In 1988 there was an episode of The Return of Sherlock Holmes called Silver Blaze that filmed at Knowlmere Manor, Newton, near Clitheroe. And finally, in 1991, there was an episode of 'The Case-Book of Sherlock Holmes' called The Disappearance of Lady Frances Carfax that filmed at Hoghton Tower in Preston (which was used as Rufton Hall).
---
Brontës in Lancashire
Although much more associated with Yorkshire, The Brontë sisters spent much of their lives in Lancashire walking from the family home at Haworth across the South Pennine Moors. Charlotte and Emily Brontë are thought to have frequently visited the picturesque hamlet of Wycoller (near Colne) and in particular the secluded ruins of Wycoller Hall. The Hall is said by several experts to be the model for Ferndean Manor in Charlotte Bronte's novel Jane Eyre and was used to illustrate the 1898 edition.
A second location familiar to Charlotte, not far from Wycoller, is the beautiful Jacobean Gawthorpe Hall near Padiham and it was here that her pseudonym 'Currer Bell' was blown. Sir James Kay-Shuttleworth, owner of Gawthorpe Hall, had invited his celebrity neighbour to visit him and eventually Charlotte did visit the hall for the first time in 1850 and then again in 1855. Sir James showed her the sights of his district including the ruins of Whalley Abbey near Clitheroe. During her second visit to Gawthorpe Hall it is said that Charlotte insisted on walking in the grounds of the hall and caught a chill from which she was unable to recover from. (She died two months later.)
Brontë fans can visit Wycoller Country Park to see the famous ruins of Wycoller Hall and there is also a 6 mile walk which follows in the Brontë sisters footsteps around the area.
---
JRR Tolkien
JRR Tolkien's son John, who was studying for the priesthood, had been evacuated from Rome to Stonyhurst College during the second World War, and so JRR Tolkien, his wife and other children regularly stayed at a guest house in the grounds of Stonyhurst College during this time.
'Middle-earth' is said to resemble the surrounding Lancashire countryside which encompasses the stunning Ribble Valley and Forest of Bowland Area of Outstanding Natural Beauty. A number of names which occur in 'The Lord of the Rings' are similar to those found locally, including Shire Lane in the village of Hurst Green and the River Shirebourn which is similar to the name of the family which built Stonyhurst. The ferry at Hacking Hall (still operational when Tolkien stayed) may have provided the inspiration for the Buckleberry Ferry in the book and the view from Tom Bombadil's house may have been based on that from the New Lodge at Stonyhurst, where Tolkien stayed.
Whatever the direct links which Tolkien used in his book, he certainly spent much of his time at Stonyhurst working on the Lord of the Rings in a classroom on the upper gallery of the college. As an Oxford Professor of Anglo Saxon and later of English Language and literature he even taught a few lessons at the College during his visits.
Stonyhurst College is open to the public for tours during August and there is a 5.5 mile circular Tolkien Trail that can be walked around the college and surrounding countryside.
---
Lytham Hall and Evelyn Waugh
It is said that Evelyn Waugh based the character of Sebastian Flyte in Brideshead Revisited on Henry De Vere (Harry) Clifton, who was the last Squire to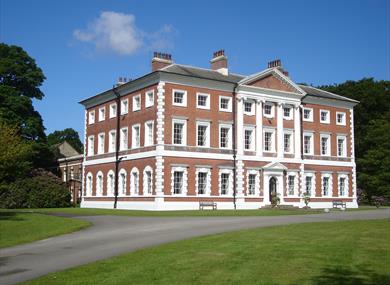 own Lytham Hall.
Waugh visited Lytham Hall in June 1935 and wrote to Katherine Asquith:
"A very beautiful house by Kent or someone like him with first-class Italian plaster work. A lap of luxury flowing with champagne and elaborate cookery. Mrs Clifton, Easter (or so she seems to be called), Orsa, a youth seven feet high with a moustache who plays with a clockwork motorcar and
an accordion. The above all Cliftons all are tearing mad. The children bright and giggling. Mrs C. more sombre and full of soul. Large park entirely surrounded by trams and villas. Adam dining room. Five hideous Catholic churches on estate. All sitting at separate tables at meals. Two or three
good pictures including a Renoir."
Harry Clifton also sent an 18th century carved lapis lazuli stone to W.B. Yeats on his 70th birthday, which Yeats wrote about in his poem "Lapis Lazuli".
Literary research is giving increasing credence to the Lancashire links of the young William Shakespeare and the role of the de Hoghton family at Hoghton Tower.
Several of Shakespeare's Stratford schoolmasters had connections to Lancashire. One such school master was Mr John Cottam whose family home was only 10 miles from Hoghton Tower, then the home of the wealthy and influential Catholic, Alexander Hoghton. It is suggested that Cottam could have been asked by the Hoghtons to recommend a promising young man, William Shakespeare, to be a private tutor to their children.

It is known that Charles Dickens visited Lancashire many times and used what he saw and experienced as inspiration for some of his writings. He might well have heard about Hoghton Tower through Harrison Ainsworth, author of 'The Lancashire Witches', 1848, in which the Tower is
described.
Finally, Lewis Carroll, author of 'Alice in Wonderland' also had a family connection with the Tower. His great, great, grandmother Lucy Hoghton lived there is the 1700's.
More information on Hoghton Towers Literary Links

---
Elizabeth Gaskell in Lancashire
The Victorian author Elizabeth Gaskell, famous for writing North and South and Cranford, was a regular visitor to Silverdale overlooking Morecambe Bay. She and her family holidayed at Lindeth Tower and Gibraltar Farm in Silverdale during the 1840s and 50s to escape the Manchester smog. She wrote her novel 'Ruth' whilst staying in the three storey tower and the treacherous sand of Morecambe Bay (overlooked by the tower) are used as the setting for the short story 'The Sexton's Hero'. Elizabeth Gaskell described Lindeth Tower in a letter see wrote on June 1858. "Lindeth Tower sounds grand but it is a queer ugly square tower in our garden – the latter is full of weeds". Although the tower is privately owned it can be seen from the road and is occassionally opened to private groups.