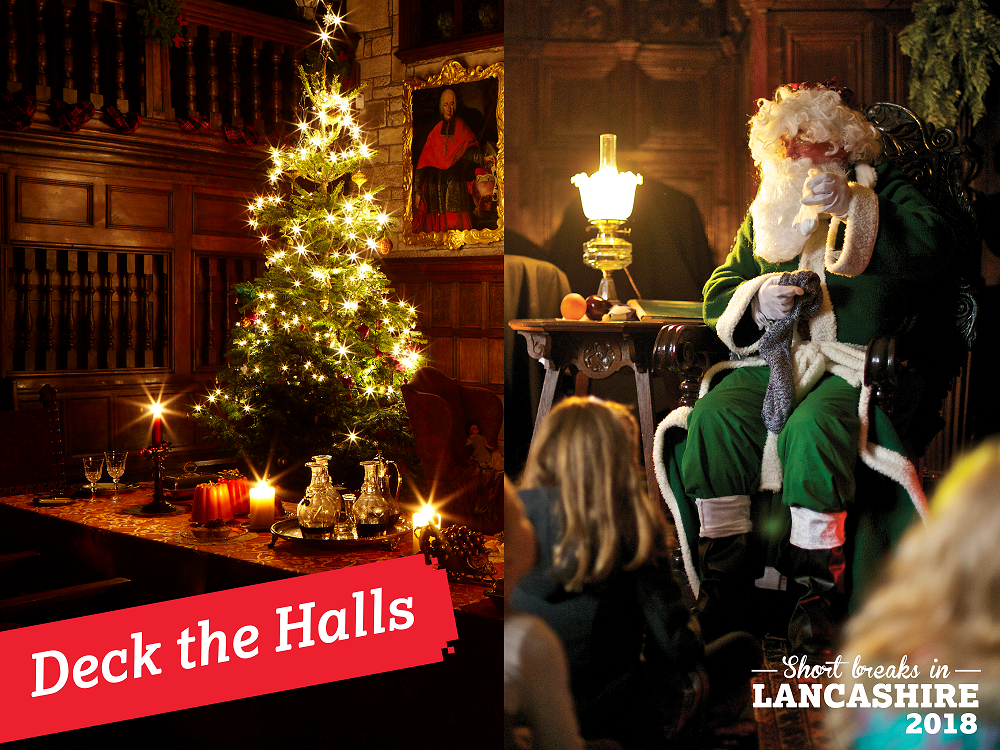 There is something magical about visiting a historic hall in the winter months, from the sparkling frost covered gardens and warming banqueting halls, to the heavily decorated foyers and giant Christmas trees. Discover a warm welcome and a touch of sparkle on your next visit and be rest assured Lancashire will be celebrating in style this winter.
Step back in time and discover how your ancestors marked the festive season.
Christmas with the Tudors
Christmas was the greatest festival event in Tudor times. Celebrated for the entire 12 days of Christmas (25 December – 6 January), the Tudors stopped working and visited friends and family in this community festivity. On the Saints' Days the most sumptuous feasts were held, and left-over food was used to feed the poor.
Christmas with the Elizabethans
Christmas was a time to 'eat, drink and be merry', a time to celebrate and enjoy a little luxury. In 1588, Queen Elizabeth I ordered the whole of England to eat goose for their Christmas Dinner to celebrate England's victory over the Armada because it was the first meal she had eaten after the Navy had defeated Spain's ships.
Christmas Victorian Style
It was during the Victorian period that the meal we now associate with Christmas began to take shape. Evergreens, flowers, and the best china and lines would have graced the dining room table. When Queen Victoria came to throne, the centre piece of the Christmas feast in the northern counties of England was most likely roast beef, whilst in the south it was turkey or goose. Later the popularity of turkey overtook the other meats as its size meant it could easily feed a large Victorian family gathering.
Lancashire's Historic Houses and Halls
Get into the festive spirit and experience the delights of a historic Christmas at one of Lancashire's stunning historic houses or halls.
Gawthorpe Hall, nr Burnley
Gawthorpe Hall is an Elizabethan gem set in the heart of industrial Lancashire. Built between 1600 and 1605 the hall was the family seat of the Shuttleworth family for over 300 years.
Hoghton Tower, nr Preston
Set in magnificent grounds, situated 650ft above sea level and approached by a steep, straight 0.75 mile long drive is Hoghton Tower, a 16th-century Elizabethan fortified manor-house.
Rufford Old Hall, nr Ormskirk
Rufford is one of Lancashire's finest Tudor buildings – it's magnificent Great Hall the scene of many feasts and festivities.
Samlesbury Hall, nr Preston
Built in 1325, Samlesbury Hall is steeped in fascinating history, retaining its original typical black and white exterior. From the Tudor priest holes to the Victorian kitchen, the Hall has history from every age.
Towneley Hall, Burnely
this 14th century grade 1 listed hall has a rich history with many stories to tell, with grand period rooms decorated with oil paintings and sculptures covering several centuries of life at the hall which was the home of the Towneley family for over 600 years.
Related
0 Comments