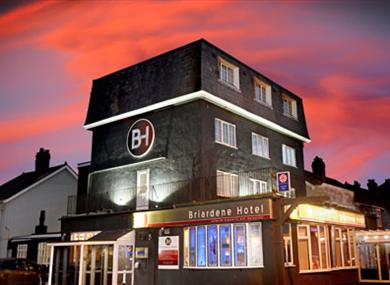 A 3 star hotel with a 5 star rated restaurant and recently assessed again by Visit England and been awarded a 3 star rating but touching almost 4 star. Briar Dene are very proud of this and continue to improve the hotel to ensure it meets the highest of standards.

The Curbside Grill and Restaurant was awarded a 5 star rating ensuring that only the best in quality food is delivered to their customers.

All 16 of the bedrooms are en-suite with a selection of complimentary bathroom toiletries amd hot drinks; biscuits; chocolates and water. 35 channel flat screen televisions; telephones and free internet connection. Wi-Fi is offered in all ground floor areas. Bath robes amd slippers are offered in deluxe rooms. Room service is also available for those that like to chill out! The bridal suite and deluxe rooms are ideal for guests requiring an extra special stay.

The hotel is situated just 250 yards from Cleveleys beach and with most rooms overlooking the Irish sea & the Lake District or the Trough of Bowland and the Yorkshire Dales, only being one hours drive to the Lake District and Dales. Two minutes walk into Cleveleys, with its new state of the art promenade, cinema, parks and miles of golden beaches.

Blackpool's fabulous tram service from Starr Gate (south Blackpool) to Fleetwood, the hotel is just 100 yards from the Express tram stop. Buses stop directly outside the hotel. A ten minute tram ride will take you into Blackpool with all its glitter and entertainment or in the opposite direction to Fleetwood with its fishing/leisure harbour, Freeport Shopping Centre and its fabulous esplanade with gorgeous views of Morecambe Bay sands. At certain times of year, guides take parties across the sands of Morecambe Bay to visit most of the known ship wrecks of bygone days. The Fylde Coast takes its name from the Norseman which means flat lands.

The hotel has a friendly and dedicated team who reflect the overall atmosphere within the hotel to make you feel comfortable and welcome at all times.

Reviews