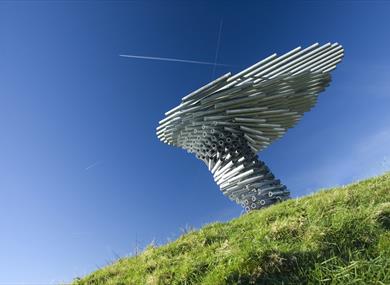 Pennine Lancashire's Panopticons are a unique series of twenty-first century landmarks, designed to attract visitors into the countryside to enjoy the stunning landscapes and wealth of attractions that this delightful area has to offer. Each Panopticon is situated on a high-point site commanding spectacular views.

From 'Colourfields', in Blackburn's Corporation Park, the visitor can enjoy a widespread panorama of the Park below, with the town beyond and distant views out towards Lytham, Southport and Fleetwood.

From 'Singing Ringing Tree', on Crown Point above Burnley, look north for a superb view of Pendle Hill or east for a glimpse of the Cliviger wind turbines on the Yorkshire border. In between there is a panoramic overview of the town of Burnley, with the famous Turf Moor football stadium at its centre. On a clear day you can see the Bowland Fells, Pendle, Ingleborough, Pen-y-ghent and Great Whernside.

From 'Atom', nestling on the hillside above Wycoller village, there are breathtaking views of the Pendle landscape all around, including the historic settlement of Wycoller, now a conservation area.

From 'Halo', the centrepiece of the former landfill site on Top o' Slate, newly landscaped and returned to public use, visitors can enjoy wonderful views of the Rossendale valley, Greater Manchester and parts of Pennine Lancashire, which were formerly inaccessible.
The districts of Pennine Lancashire are within easy reach of the M65 motorway from Blackburn east as far as the Yorkshire border.

The Panopticons project was led by Mid Pennine Arts and funded by the Northwest Regional Development Agency and the Lancashire Economic Partnership (LEP) as part of the the East Lancashire Regional Park Development Programme, supported by LEP. A complementary education and creative arts programme, Land, offered schoolchildren and local people the opportunity to be directly involved in the development of the Panopticons through artist workshops, residencies and celebratory events. Visit www.land.uk.net

The Regional Park is a unique way of joining together the countryside, towns, villages, businesses and recreational facilities across Pennine Lancashire. The Park is improving where people work, by making the best use of the superb quality of the natural environment.
The Park is also an exciting way of linking culture, heritage and the arts with the natural environment, helping to forge a positive new identity for Pennine Lancashire. Over 300 hectares of woodlands have been planted and over 15kms of new footpaths, cycleways and bridleways have been developed. This network of recreational and commuter cycle ways, bridleways and footpaths link together urban and rural areas for the first time, making it possible to mix business and pleasure.