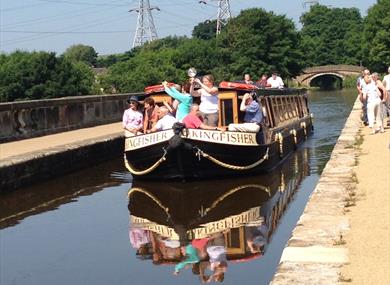 We operate year round cruises along the beautiful Lancaster Canal. During the peak season (May to October) our timetabled daily cruises run from various locations.

During the week we operate our Lancaster Cruises:
On Tuesday, Wednesday & Thursday we our hugely popular Lune Aqueduct Return Cruises – with up to 3 cruises per day. We set sail from our mooring opposite The Waterwitch Pub in Lancaster, through the outskirts of the city to the spectacular Award Winning Lune Aqueduct. In 2012 the Lune Aqueduct received a magnificent makeover which restored it back to its original splendour and creating it to a high quality visitor attraction. These cruises last 1 hour 45 minutes.

On a Thursday Afternoon we operate our southbound 1 way cruise from Lancaster to Galgate. This cruise sets sail from our mooring opposite The Waterwitch in Lancaster and takes you through Aldcliffe and Haverbreaks and into the tranquil Deep Cutting home to such wildlife as Kingfishers, Owls, Badgers and even Deer have been spotted on occasions! This cruise drops you next to The Plough bus stop in Galgate for you to catch the bus back to Lancaster. This Cruise Lasts 1 hour 40 minutes.

On every Thursday in August we operate our Lancaster to Carnforth Waterbus return cruise. This cruise sees us set sail from our mooring opposite the Waterwitch and sailing Northbound across the magnificent Lune Aqueduct towards our first timetabled stop Hest Bank which offers beautiful views out towards Morecambe bay and the cumbrian fells, passengers can disembark here for a break around Hest Bank & Morecambe if they require as we continue our journey. We then continue North through the Hest Bank swing bridge and into the village of Bolton Le Sands where we have a choice of two stops, the first is the Packet Boat and the next is The Royal. Passengers can disembark here for a break around Bolton Le Sands and a stroll to the Morecambe Bay shoreline. We then continue our Journey North as we arrive at our destination the Canal Turn at Carnforth. Here the boat turns and then has a 45 minute break allowing passengers to take a stroll around Carnforth or simply grab a bite to eat at the Canal Turn pub. After our rest break we then begin our journey southbound home, again stopping at Bolton Le Sands & Hest Bank to collect any passengers. We then arrive back at our mooring in Lancaster.
The Full day Cruise is 7 hours 15 minutes – but this includes the 45 minute break at Carnforth
The Lancaster to Hest Bank cruise is 1 hour 40 minutes with 2 hours around Hest Bank/Morecambe
The Lancaster to Bolton Le Sands Cruise is 2 hours 15 minutes with 1 hour 15 minutes around Bolton Le Sands/Morecambe

On Saturdays we operate our Barton Grange Return Cruises, from the marina next to the garden centre.
Our 1st and 3rd week is Barton Grange to Catterall return cruise which takes us out of the marina and heads northbound through the countryside scenery and views of the Bowland fells before turning and returning back to the marina. This cruise is 1 hour 15 minutes
Our 2nd week is Barton Grange to Garstang Return cruise – with the option of a single ticket to allow you shopping time in Garstang before making your own way back to the marina. This cruise sails northbound again through the countryside and continues North to the market town of Garstang. Here passengers can either stay on board for the return cruise or disembark for shopping time. This cruise is 3 hours if you do the full return cruise.
Our 4th week is our Barton Grange to Woodplumpton Return Cruise, which takes us from the marina and sails Southbound through the village of Bilsborrow and past Owd Nells &Guys Thatched Hamlet out into the tranquil countryside before we turn just before Woodplumton and head back to the marina. This cruise is 2 hours 15 minutes.

As well as our timetabled service we also run a range of fun evening cruises such as:
• Fish, Chips & Quiz Cruise
• Fish, Chips & ABBA Cruise
• Fish, Chips & Buble Swing Cruise
• Fish, Chips & Motown Cruise
• Fish, Chips & Rock & Roll "Quiffs" Cruise
• Fish, Chips & Party Cruise
• Hot Pot & Quiz Cruise
Plus Many Many More!!!

We also operate a variety of other cruises such as Cream Tea Cruises, Afternoon Tea Cruises, Champagne Afternoon Tea Cruises, Mother's Day Cruises, Father's Day Cruises, Santa Special Cruises, Santa Twilight Cruises, Santa Magical Cruises plus much much more!!!

We really do have something for everyone – for copies of our brochures simply contact the office or visit our website!

And that's not all…For Groups and Coaches we also operate our Lancashire Days programme which is a Full day tour with a canal cruise, lunch and visits to any of our attractions in our brochure as well as an on board host for the full day to look after you!! Contact us for a brochure today!!

Our Luxury Wide Beam canal boat is also available for private party hire for any occasion…From Birthdays to Weddings we cover everything!! So if you are looking for a totally unique venue for your event please get in contact and we will tailor make your quote to make your event as memorable as possible!

Gift Vouchers are also available for any of our cruises or just a set amount.

On board we have a fully licensed bar selling hot & cold drinks, beers, wines, spirits, crisps & confectionary and all our cruises come with a fully accredited boatmaster and friendly crew to look after you throughout your cruise.
Gradings
Awards
Sub-Regional Awards

Small Visitor Attraction of the Year

2013

Sub-Regional Awards

Member of Marketing Lancashire

2014
Opening Times
* Summer Season runs from May to Oct and the Winter Season runs from Oct to Apr. Advance booking advised to guarantee seats, please visit the website for timetables and details.
Prices
| Ticket Type | Ticket Tariff |
| --- | --- |
| Lune Aqueduct Cruise | £10.00 per ticket |
| Lune Aqueduct Cruise | £12.00 per ticket |
The above ticket prices are a guide only - prices vary depending on the type of cruise. Single, Return and Concession tickets available to the various destinations on route. Please contact tel: 01524 389410 for further details.