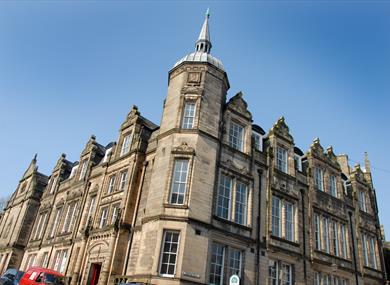 The Storey (formerly The Storey Creative Industries Centre) -
Central to Lancaster's artistic, technical and scientific innovation for 130 years. The Storey Institute was remodelled in 2009 as a purpose designed centre for the creative industries, featuring art galleries, auditoria and guest exhibitions.

The building is open to the public to visit the Information Centre;eat and drink at the café bar and restaurant; and visit the exhibitions, many of which are free.

The Storey also offers:
...Permanent offices and/or studio workspace for artistic, creative and multimedia companies
...Room hire for meetings, conferences and events including weddings, birthdays, and charity events
...Space for classes and courses
...Catering can be arranged via the NICE bar

Please contact Lancaster City Council Property Services on 01524 582 512 for details of both permanent workspace and room hire.


OPENING TIMES:
The core opening hours for general building enquiries and for the Visitor Information Centre are 10am - 4pm, Monday - Saturday.
However the NICE cafe bar and restaurant are open during the evenings, and the building is often open outside of core hours for events, exhibitions and classes.
Information