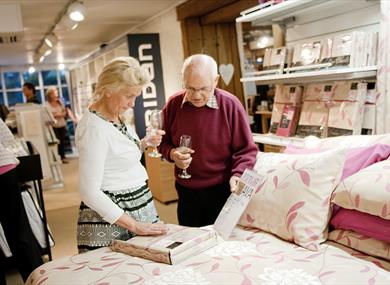 Welcome to The Courtyard, Tarleton

Welcome to an exciting new retail destination situated in the beautiful West Lancashire village of Tarleton. The Courtyard is packed full of your favorite well-known brands. You'll certainly know the names it's the prices that won't be too familiar!

A trip to The Courtyard is a must for everyone who loves retail therapy and we've got top quality brands and more bargains than ever. We know our customers love to save money – and enjoy finding something special that's why we invest loads of time and effort finding the very best brands at the best prices.

We've got something for everyone, for him, for her, for the home. You'll find The Courtyard packed with fantastic fashion, footwear, jewelers and accessories, bedding, home goods, gifts, soft furnishings, handbags, menswear, lingerie, toys and much much more. You'll find all sorts of unexpected items at truly remarkable prices. We are dedicated to giving you exceptional value on every single item so you can expect to find genuine bargains all around the store.

Dine in Style at Whittles Farm
Why not make a day of it and treat yourself to a beautifully prepared meal in our stunning licensed Whittles Farm restaurant. All food is freshly prepared in-house by our chefs and we use locally sourced produce wherever possible. If you're looking a sumptuous 3 course meal with a nice bottle of Chardonnay or just a tasty snack we'll make sure you're not disappointed. And don't forget to look out for our daily specials!

If you're looking something a bit less formal then feel free to catch your breath and enjoy a nice cuppa and home-made sandwich or treat yourself to a slice of cake or a Wallings ice cream in our coffee shop.