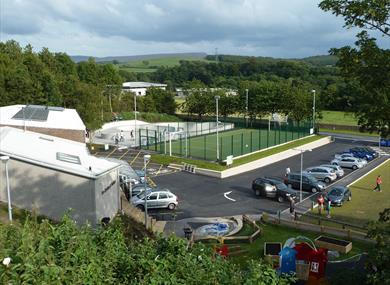 The Centre is a vibrant and welcoming community centre in the heart of Halton. It has something for everyone. Our wide range of facilities include two modern playgrounds for younger and older children, an indoor hall, meeting rooms, an outside MUGA for ball games, a popular Coffee Shop and a state-of-the-art skatepark. We have a huge number of regular classes and activities, from sports and exercise to community activities and a luncheon club for the over 55s.

If you're passing by on the popular Way of the Roses cycle route number 69, we are a very short distance close by if you want to stop off for a coffee / tea , cake or snack to refuel you. Our popular coffee shop is well used by local residents and you are welcome to pop in.

We hold an extensive range of events of interest to people from a wide area in our hall, from Family Fun Nights and Ceilidhs to bands nights and Nearly New Sales. The hall and meeting rooms are also available for hire at reasonable rates and have already been used for parties, weddings and meetings.

Everyone is very welcome at our fantastic Centre where the Coffee Shop is open most days – see www.haltoncentre.org/about/cafe/

General enquiries should be addressed to Maureen on tel: 01524 811316 and for room bookings call Carol on 01524 811444.