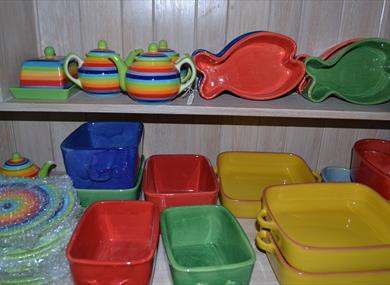 We are delighted to announce we are a finalist in the Lancashire Red Rose Awards in the Rural Business of the Year category.

Potters Barn is situated in the heart of the Roman village of Ribchester. Set in a beautiful old barn with a secret garden and warming log fire in winter. We believe in serving healthy, wholesome, home made food. We also support different dietary requirements. Alongside the cafe we do pottery painting which can be done anytime, with lots to choose from. Please enquire about our party packages. Also come and look at our little gift shop. Get a unique gift with lovely home ideas to share it or keep to yourself.

We endorse Fairtrade and support other local businesses when sourcing ingredients and products. We are on the Lancashire cycle route and are a popular destination with walkers. With the River Ribble flowing through the village and the amazing children's park opposite the cafe, what's not to visit!

Throughout the year, we do hold several events, including quarterly acoustic nights, wine tasting and tapas, story telling and knit and natter every Thursday 2pm to 4pm. You will always receive a warm, friendly welcome at Potters Barn.

A ramp can be provided if required for entrance (where there is just one step) to Potters Barn - please just ask. There is a large council car park opposite where there are public toilets.